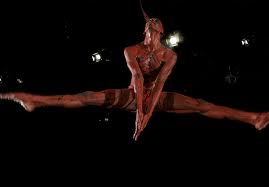 What: Autumn brings the 26th edition of the Next Wave Festival at BAM, the Brooklyn Academy of Music, America's oldest continuously operated performing arts center.

Where: Fort Greene, Brooklyn
When: September 30th—December 20th
Why: For 13 weeks, the restored Beaux Arts structure will showcase 15 works representing nearly a dozen cultures. Executive Producer, Joseph Melillo, offers a body of performances culled from his travels throughout the globe. "The diverse selection of works inherently brings dialogue," said John Wyszniewski, BAM Publicity Manager. "It is a convergence of contemporary artists and conversations happening all over the world."
One of the festival's brightest performances, Sunken Red (Oct 7, 9—11 at 7:30pm) is a soliloquy about a Dutch man who recalls his life and his loss of innocence while interned at a Japanese prison camp as a young boy. If you are one to seek out new cultural experiences, you'll be intrigued by the imagination of debut Icelandic actor/director Gísli Örn Gardarsson's Woyzeck. It's a theatrical performance characterized by all the narrative elements of a great tragedy, scored by cult rocker Nick Cave and The Dirty Three's violinist Warren Ellis. There are ethereal movements staged by Stephen Page's Awakenings, Édouard Lock's Amjad and premier choreographer Pina Bausch's Bamboo Blues that compel a second, third and fourth visit.
With so many great modern performances housed in one place, it's no wonder that the inception of the festival "put Brooklyn culture on the map," said Wyszniewski. This fall, make the short trip to this epicenter of contemporary works for a taste of art that you—and that pounding in your chest—won't soon forget.
How to get there: Take the $7 BAMbus from Park Avenue between 41st and 42nd Streets. It departs one hour before every BAM performance in the Howard Gilman Opera House and the Harvey Theater, unless otherwise noted.
Or take the 2, 3, 4, 5, N, R, M, D lines: follow station signs for BAM/LIRR. After exiting the turnstile walk straight and then bear right onto the LIRR train platform. Take the platform stairs up one flight into the Atlantic Terminal lobby. Turn left (past the Starbucks) and exit onto the street. Turn right and walk down Flatbush Avenue a half block and bear slightly right onto Ashland Place (do not turn onto Hanson Place). Walk one block down Ashland Place (note, due to construction you may need to cross to the other side of the street).
Visit BAM's site for a full schedule of events during the program.  (30 Lafayette Ave., Brooklyn, NY, 718.636.4100, bam.org)
Photos: Courtesy of BAM