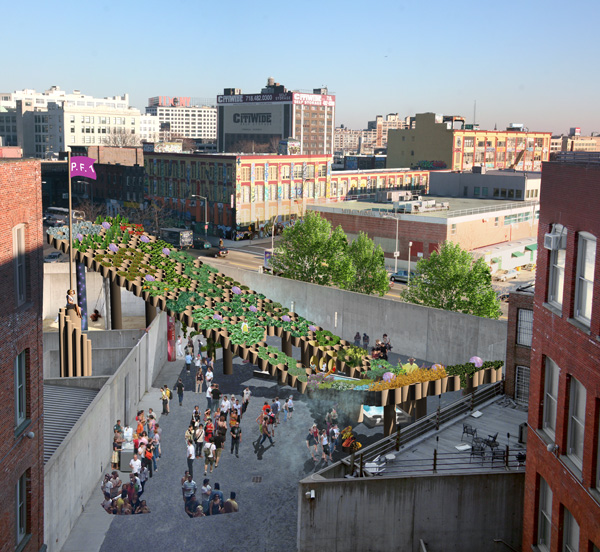 What: Warm Up
Where: P.S.1 Contemporary Art Center, Long Island City
Why: These sweltering summer days, the last thing one wants to hear are the words "warm up." But P.S.1's music series is so hot it's cool. On the museum's massive courtyard, groove to international DJs and stellar live music, amidst the talent (and winner of the annual P.S.1 and MoMA organized Young Architects Program) of WORK Architecture Company. Their project, Public Farm One, is an angled construction of several hundred cardboard tubes that serve the dual purpose of being a working farm while resembling what P.S.1 calls "a flying carpet." WORK experiments with the idea of a new leisure revolution and presents a refreshing alternative (with a pool and unique shade) to any other rooftop in Manhattan. This summer, ponder your environmental impact, buy some local farm products, and dance the night away at P.S.1.
When: Saturdays July 5–September 6, 3—9:00 p.m. Visit P.S.1.org for the full summer lineup.
Cost: $10, which includes access to Warm Up and all museum exhibitions. Tickets can be purchased at the door at P.S.1 or in advance at all agnès b. New York locations (13 East 16th Street, 103 Greene Street and 1063 Madison Avenue). MoMA Members get one free entry.
Photo: Courtesy of WORK Architecture Company
How to get there: P.S.1 Contemporary Art Center is located at 22-25 Jackson Avenue at 46th Avenue in Long Island City, Queens. Subway: take the E to 23 Street-Ely Avenue (the V does not run on weekends), the 7 to 45 Road-Courthouse Square, or the G to Court Square or 21 Street-Van Alst. Bus: take the Q67 bus to Jackson and 46th Avenues or the B61 to Jackson Avenue. For exact directions from anywhere on Manhattan, click the HopStop link below.