Off the West Side Highway, beyond the zip line of roller bladers, runners, bikers and dog walkers, rows of crisscrossed wood trusses mark the entrance to the Frying Pan. Since early July, many New Yorkers and foreigners have flocked to this Chelsea retreat, taking a small journey through the life of an old, retired and recently reincarnated ship on their way to cold beers and blue cheese-topped burgers. After a year's hiatus, Manhattan's much beloved bateaux is open for business again on the Hudson River. The docked vessel and historical haunt is a popular summer place to escape, mingle with friends, and enjoy one of the best closeups of the city skyline.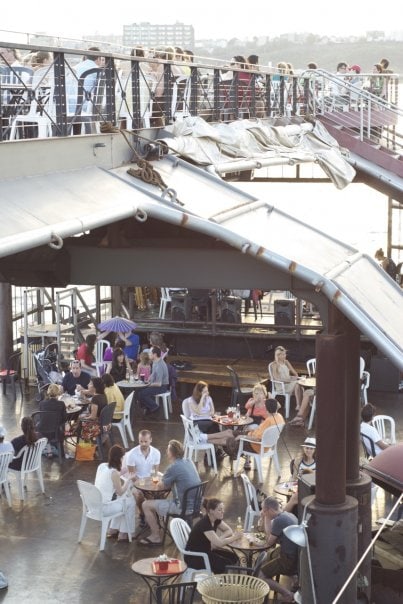 Built in 1929, the 133-foot Frying Pan—one of 13 remaining from the 100 originally built—was used by the Coast Guard as a floating lighthouse strategically designed to prevent other ships from capsizing on rocks or shoals during a storm. From noon until 1:00 a.m., in addition to playing ping pong and foosball, or sitting in twos or groups of twenty, customers can wander the creaking ship and peer inside the cabin house at the captain's original wooden wheel.
Aside from a hip crowd and better than average bar food, the ship itself, with its dark, pre-World War II stairwells and once-sunken setting makes the trek across town worthwhile.
Of course, there is a downside to dining on the river: nothing stays still. Those with weaker stomachs should secure a seat on the Lackawanna barge to minimize the urge to upchuck. The observation plank above the barge provides views of Manhattan and the Statue of Liberty, and an entertaining look at the active lifestyle on the Hudson: kayakers, sailboats, jet skiers, rowers, and the occasional water salute from the Frying Pan's neighbor, the John J. Harvey fireboat.
Before summer slips away, swing by Pier 66 to take in a sexy scene and indulge yourself. Sample the garlic French fries and Maine lobster with $5 and up drinks, and be sure to bring cash like the old days.
How to get there: The A, C, or E train will get you closest, with the 23rd St. at 8th Ave. stop. Walk north to 26th St. then west until you reach the Hudson. Click the HopStop link below for directions from anywhere on Manhattan. (Pier 66 at West 26th St. at West Side Hwy., 212.989.6363, fryingpan.com)
The co-founder and editor-at-large at offMetro, Lauren is a sustainable travel specialist and freelance journalist with frequent bylines in National Geographic, Bicycling Magazine and Shape. Follow Lauren's adventures at @laurenmati.