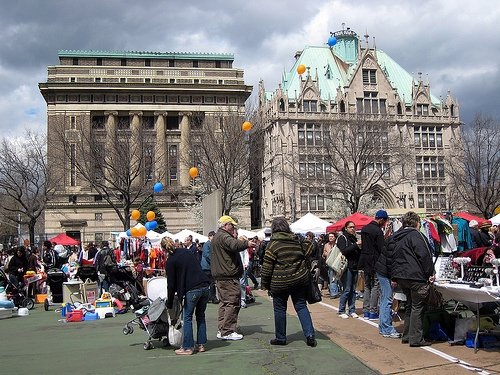 The words "flea market" usually call to mind visions of cheap socks, broken electronics, and yellowed pages of obscure fiction. This time, New York's newest (and biggest) open-air market, Brooklyn Flea, is filled with much more than boxes of old souvenirs brought down from the attic.
Brooklyn Flea, the brainchild of brownstoner.com blogger Jonathan Butler and pal Eric Demby, has entered the open-air market scene just in time to replace the fading Chelsea fairs. This new weekly addition to Fort Greene brings together merchants dealing in vintage, crafts, art, jewelry, and food, among other trades. Butler called it a "mix of a traditional flea market and new indie designers," but said that the market is evolving every Sunday, with different sellers signing on to exhibit at the Bishop Loughlin Memorial High School yard. Butler said they were expecting more traditional vendors to come aboard as the Flea gets further established.
With space for 200 vendors at the school's outdoor venue, there is plenty to search through; it is both pleasant and wallet teasing. The creative minds of Brooklyn and Manhattan have produced gobs of goodies to admire, like handcrafted jewelry (perfect for Mother's Day), cute and cleverly illustrated cards, and sweetly satisfying banana nut bread by Brown Bag Industries.
Flea is also a great place to pick up some new duds for your home space with refurnished and repurposed vintage furniture that might have otherwise hit the landfill. Some other interesting finds include old (and naughty) photographs and magazines, aptly labeled "smut" and "more smut"; and locally-crafted, vegan scents from D.S. & Durga. If you're lucky enough to be there when the Save Polaroid booth comes to town, take a minute to immortalize the day.
Brooklyn Flea is worth return trips, as several of the vendors are on alternating week schedules, and cooperatives like Supermarket have a variety of artists taking turns under the tent.
(Note to self: market-goers with dogs will need to tie them outside the lot per school rules.) According to Jonathan Butler, Flea will likely be around at least until Christmas, reopening in April. Keep up with the latest vendors and Flea news at brooklynflea.com. The Flea is open from 10 am to 5 pm on Sundays.
How to get there: Take any train that goes to Atlantic Ave. or Pacific St. in Brooklyn, including the C train to Brooklyn. Other options include taking the G to Clinton/Washington or the F to Lafayette Street. Bishop Loughlin Memorial High School is at 357 Clermont Ave., Fort Greene, Brooklyn. For public transportation directions from anywhere on Manhattan, click the HopStop link below.
Photos: Courtesy of Candida DaFonseca and Eve Roytshteyn (see individual photos below for details).