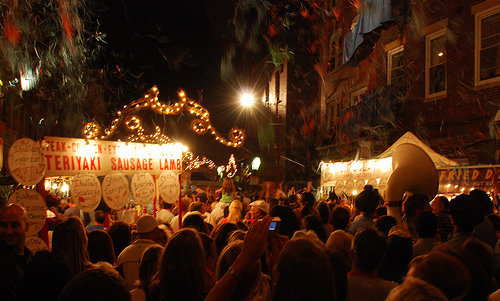 What: 100th Annual Fisherman's Feast
Where: Boston's North End
When: August 12-14, 2010; Thursday 7pm-10pm, Friday 8pm-10pm, Saturday 1p.m.-11p.m.
Why: You haven't been to mass in ages. Held in Boston's historic North End, the Fisherman's Feast is an old Sicilian tradition that's as much about food as it is about the Madonna del Soccorso, or Our Lady of Help. The Madonna makes her way through the streets of Boston's North End, carried by the descendants of the Sicilian immigrants who brought the tradition to Boston. She sits in a specially made chapel during the feast of pasta, pizza, sausage and calamari. Music ranging from traditional bands to Doo-Wop groups will set the mood for food sampling, and the festival ends with a rapturous surprise.
Cost: Free admission so you can save your money for good eats.
How to get there: Consult offManhattan's public transportation guide to Boston. Once in Beantown, take the Green Line to Government Center.
(Fisherman's Feast, fishermansfeast.com)