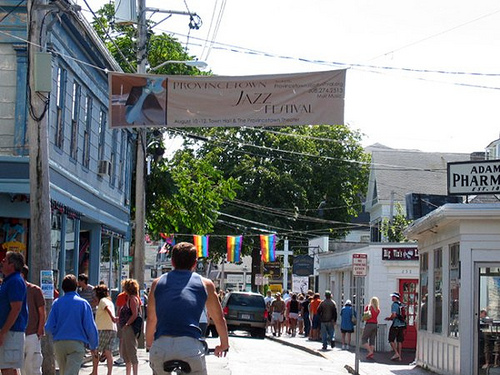 What: The 6th Annual Provincetown Jazz Festival

Where: 212 Commercial St., Provincetown, MA
When: August 13th-14th
Why: To celebrate and strengthen the presence of jazz music and the New Orleans culture in the wake of Hurricane Katrina. Both days feature a stellar lineup of venerated jazz musicians, including saxaphonist Greg Abate, vocalist Dane Vannatter, pianist Janice Friedman, and the Berklee Rising Stars, a talented compilation of students and professors from the Berklee College of Music in Boston. Whether you plan to visit all the shows or just one, a stroll through the artsy, eclectic, and classically beautiful port town is a must. For information on whale watching, boating and fishing, golf, tennis, beaches and places to stay, visit the town's web site at provincetown.com.

Cost: Tickets are $25 for each concert and can be purchased online or by calling 866.811.4111. Free admission for children under 11. A portion of the event profits will be donated to New Orleans Musicians' Clinic, an organization that provides discountd health services to New Orleans-based jazz musicians, in an effort to keep the music alive.

How to get there: The two-leg trip from NYC to Provincetown can take a variety of forms-land, sea and air.  One option is to take the Bonanza Bus Line from Port Authority and transfer to a Plymouth and Brockton bus in Hyannis.  Another option is to first get to Boston (consult offManhattan's Manhattan to Boston Public Transportation Guide).  From Boston, take the Plymouth & Brockton Street bus—bikes can be brought on the buses for a small fee. Set out to sea and hop on a high-speed ferry or take a quick flight with Cape Air. If you'd rather carpool in a rented car, consult offManhattan's guide to renting Hybrids in Manhattan, however parking can be a pain and everything in Provincetown is within walking distance. Visitors are also welcome to dock their boats in the main marina.
(Provincetown Jazz Festival, 212 Commercial St., Provincetown, MA, 508.274.2513, provincetownjazzfestival.org )
Photos: Courtesy of Provincetown Jazz Festival
Annie is a travel writer, environmentalist, and surfer based in Venice, CA. She heads up our West Coast team, keeps our grammatical errors in check, and makes sure our California writers always have a plan for their next adventure. Follow Annie's travels @annelisemcb.