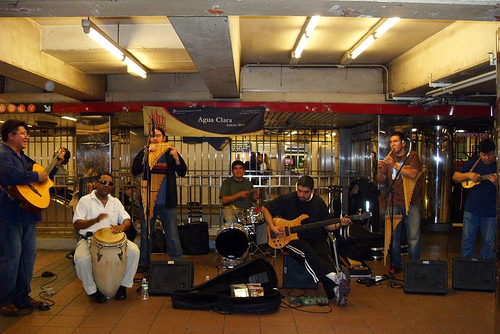 A growing number of musicians have transformed the dark bowels of the city transit system into an enjoyable space where music can hush the stress of your commute. Every day, classical violinists, Cajun cellists, jazz ensembles, Latin guitarists and other musicians can be heard in the ceramic tile tunnels and mezzanines of 25 subway stops. Over the last two decades, the MTA has recruited 350 performers for its Music Under New York program. Each year, the MTA auditions up-and-coming and established musicians for their subway roster, attracting some of the most talented performers above ground.
Commuters off Manhattan can now listen to MTA musicians in six subway stops, including Yankee Stadium in the Bronx; Atlantic Avenue, Court Street/Boro Hall, Grand Army Plaza in Brooklyn; and Roosevelt Avenue and Shea Stadium/Willets Avenue in Queens. The next time you travel underground, let the sounds of these Brooklyn and Queens performers elevate your commute to a more melodious experience.
Agua Clara, nyaguaclara.com
United behind the title of their sixth and ninth albums La música is everything, this Andean band fuses their music with the cultures and traditions of Ecuador, Peru, Chile and the U.S. Their songs can sound both exotic and familiar, incorporating modern and contemporary rhythms like jazz and blues with traditional Andean music and instruments like the Zampona, a pan flute with two more rows of bamboo pipes woven together, and the Charango, a small guitar that looks like a ukulele with 10 strings.
Nicola, nicolanicola.com
Featured in Billboard magazine as a noteworthy emerging artist in 2009, this songwriter, vocalist, guitarist, dancer and entertainer enthralls commuters with her soul-rock music and deep hazel-green eyes. Nicola's music combines influences from Billy Holiday, Nina Simone, Aerosmith, and Pearl Jam, and has been featured on ABC and NBC News, VH1 and MTV. Her independently released CDs have sold more than 20,000 copies, and charted on over 200 national radio stations.
Yaz Band, yazband.com
Yasuyuki Takagi is a native from Osaka, Japan, and has resided in Brooklyn since 1992, where he integrated himself into American culture by playing classic R&B songs from Stevie Wonder, Marvin Gaye and Earth, Wind & Fire. He leads the four-piece Yaz Band with original instrumental tunes that recall the influences of Grover Washington, Jr., Maceo Parker, and The Crusaders. Yaz Band has been featured live on WBAI FM and Lincoln Center Out of Doors 2005 festival.
Natalia Paruz, sawlady.com
Her ability to play a carpenter's saw like a violin, or a wooden case with 25 chromatic glasses like a harp, makes her one of the most unusual and memorable performers around the underside of town. Born and raised in Israel, Natalia has delighted commuters in the subway since 1996. Her CD Hark! An Angel Sings won first place on NPR's All Songs Considered. She has also performed in distinguished New York venues like Lincoln Center's Avery Fisher Hall, Carnegie Hall and Madison Square Garden.
For more musician biographies and sound clips, visit mta.info/mta/aft/muny/
Photo: Courtesy of Agua Clara