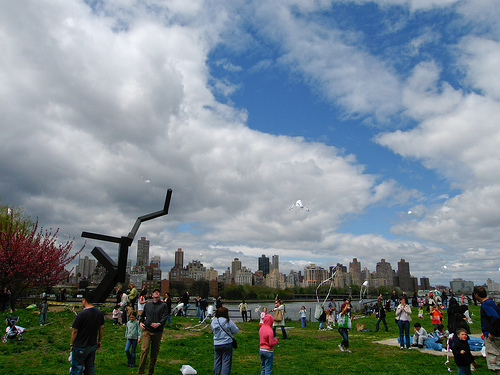 Some of us were raised to lead environmentally conscious lifestyles, others picked it up in college. Regardless of how high we rank ourselves on the eco-mater, every Earth Day we're reminded to do a little bit more to protect the planet. And since New York City is constantly being touted as the greenest city in America, it's only fitting that Earth Day events are happening all over town. Whether you're interested in listening, shopping, or getting down and dirty in the Gowanus Canal, you're bound to find something to suit your eco-taste among these nine activities off Manhattan—plus five in Manhattan.
Brooklyn

11th Annual Gowanus Earth Day Flotilla Clean-up | April 23, 11am-4pm
The Urban Divers Estuary Conservancy, a locally-based not-for-profit environmental and cultural organization, is hosting its 11th annual clean-up to kick off a series of Earth Day events in the Red Hook area. Armed with a fleet of Urban Divers' skiffs, dredgers, canoes, individual paddle crafts, and landing nets, volunteers are guided on a tour to pick up floatable debris along the historic Gowanus Canal—which has recently been named to Superfund status by the EPA—while raising awareness for ecological restoration.
Nearest Subway: Take the F/G train to Carroll Street, making sure to exit via Second Street. To volunteer, contact the Urban Divers at 718.802.9874 or by email urbandivers@urbandivers.org
5 Earth Day Events in Manhattan
Grand Central's Earth Day | April 19-24
The Beaux Arts landmark will be the home of this year's EarthFair, which includes a weeklong exhibit display inside Vanderbilt Hall, and an outdoor festival highlighting green businesses, organic food, and environmental groups. Nearest subway: 4/5/6 train to 42nd St.
Blomingdale's | Through April 30
Shop in-store and online for stylish and practical Earth-friendly products that benefit the Natural Resources Defense Council (NRDC). Nearest subway to Midtown: 4/5/6 train to 59th St.; R/W/N train to 59th St.
Inhabitat's 5th Birthday Bash at Green Depot | April 23, 7-11:30pm
Celebrate five years of the sustainability blog with drinks and treats at the new Green Spaces location. RSVP to inhabitatbirthday@gmail.com. Nearest subway: 394 Broadway, 5th Floor; R/W/N/Q train to Canal St.; 6 train to Canal St.
Off the Grid 2010: A Sustainable Music Fest | April 24, 4-8pm
Sponsored by Solar 1, a green energy, arts, and education center on the East River, Off the Grid is a sustainable music festival held on a solar-powered, recycled stage. Andrew WK is lined up to be the event's MC, and there will be giveaways and educational exhibits (including an art exhibit showcasing local eco-artists). Free and open to the public. Nearest subway: L train to First Ave. 2420 FDR Drive at 23rd Street, Service Road East; 212.505.6050; solar1.org
il Buco's 3rd Annual Earth Day Fund-Raiser | April 19-24
This eco Mediterranean restaurant is hosting a week of discounted dining to benefit the Amazon rainforest through the International Union for Conservation of Nature (IUCN). il Buco will reduce the customer's total lunch bill by 15% for the week (12-4pm), as well as its customer's Late-Lunch bill by 20% (4-6pm). il Buco will donate the 15% or 20% discounted to its guests. Nearest subway to 47 Bond Street: B/D/F/V train to Broadway-Lafayette; 6 train to Bleeker Street; R/W/N train to 8th Street – NYU; 212.533.1932, www.ilbuco.com)
Go Green! Greenpoint! Earth Day Celebration | April 25, 11am-4p.m.
Bring the family to McCarren Park for the eco holiday hoopla, where you'll find vendors with earth-friendly merchandise, live music, a health and wellness demonstration area, a recycling station, and healthy food and treats. There will also be contests in the areas of art, science and writing; winners will be announced at the festival.
Nearest Subway: Take the G train and get out at Nassau Ave. nycgovparks.org/go-green
Earth Day with Eco-Chic Home | April 22, 7:30-9pm
If you'd like to learn how to create a sophisticated yet environmentally friendly living space, listen to Emily Anderson at Greenpoint's independent book store, WORD, as she demos ideas from her new book, Eco-Chic Home: Rethink, Reuse and Remake Your Way to Sustainable Style.
Nearest subway: Take the G to Greenpoint Ave. wordbrooklyn.com
Earth Day Celebrations at Ikea/Erie Basin Park | April 25, 1pm
The highlight of this Earth Day event, also sponsored by the Urban Divers Estuary Conservancy, will be the launch of the "Giant Floating Earth Ball." The UDEC is calling on 5,000 people to join in and help raise the Giant Earth Ball to 100 feet into the air, signifying 100% commitment to combating the impacts of climate change, ocean acidification, and fostering a new green generation in NYC. There will also be tours of the Enviromedia Mobile, a roving eco-museum, hands-on environmental recreation activity stations, and a junk collection, just because.
Nearest subway: F/G train to Smith – 9th Street. From there, the B77 bus will take you to Red Hook or you can also take the free Ikea shuttle. enviromediamobile.blogspot.com
2nd Annual Spring Handmade Cavalcade | April 24, 10am-5pm
With sunny weather on the agenda, why not bike over to the new Williamsburg bar, Berry Park, to peruse sustainable and locally-made housewares, paper goods, apparel, and accessories produced by over 25 designers. Groovy green goody bags are available to the first 100 attendees.
Biking directions: Click here for the best route as mapped out by Google. handmadecavalcade.com
Green BKSTYLE! | April 22, 4-10pm
Go to Outpost Lounge in Brooklyn to mingle with local green designers, shop, sample and sip on cocktails while learning that it is that easy to green your wardrobe. R.S.V.P. to brooklynfashionweek@gmail.com
Nearest subway: Take the C or S train to Franklin Ave. brooklynfashionweek.com
Queens
Seventh Annual Kite Flight | April 25, 11am-2pm
What is Earth month really without a little kite flying? Take the train to the Noguchi Museum in Queens, where the Socrates Sculpture Park is helping to host the 7th annual Kite Flight event. Build and decorate your kite out of recycled materials before taking it for a whirlwind in the air. Across the street from the park, enjoy free admission to the Noguchi Museum. For more information visit: socratessculpturepark.org
Nearest Subway: Take the N or W train to the Broadway station in Astoria. Alternatively, a shuttle bus to the museum leaves from the Asia Society on Park Avenue and 70th Street throughout the day on Sundays. Costing $10 for a round trip on top of the $10 admission fee at the museum.
Green for Queens Earth Day Fair | April 25, 1-4pm
Head to Forest Hills for a hodge-podge of earth friendly (and age-appropriate) activities. Adults can take advantage of workshops covering such topics as greening your home and workplace, healthy cleaning products, and composting for apartments, while children can try their hand at making seed necklaces and sundial watches in between munching on healthy snacks. The Earth Fair will be collecting old cell phones and rechargeable batteries to be recycled, and staff will be on hand to assist with clean wind energy (bring along a Con Ed bill if you are interested). To volunteer at the event, call 718.268.5011
Nearest subway: E train to Forest Hills-71 Avenue. earthdayny.org
New Jersey
Liberty Science Center Premieres Eco Boys and Girls | April 24, 2-5pm
For this fashionable eco-event, model, designer and artist Maria Snyder will debut her Eco Boys and Girls brand of five earth-friendly, educational personalities: Earnie Earth, Lulu Love, Patsy Peace, Ray Recycle, and Sammy Sun, in a short animated film featuring the colorful characters. Young children can get their hands green with environmental discovery challenges as they explore Earth Day exhibits throughout the museum. Liberty Science Center President and CEO Emlyn Koster will emcee this special premiere.
Nearest train: To Liberty Science Center, take the PATH train (catch it from Manhattan at Christopher St., Fulton St., 14th St., or 33rd St., check Port Authority web site for more locations) to either Pavonia/Newport, or Exchange Place Station and transfer to the Hudson-Bergen Light Rail. Then take the Light Rail to the Liberty State Park Station exit. lsc.org.