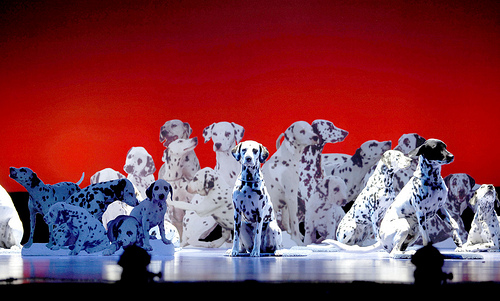 Mr. and Mrs. Pongo and their spotted puppies, the timeless story, that dastardly fur-loving villain. Now you can take the family to see Dodie Smith's children's book come to life on the stage as a Broadway musical production. Madison Square Garden is giving away four tickets to one lucky offManhattan reader to enjoy the final performance of "101 Dalmatians," playing now at The Garden through April 18th.
After the jump, find out how to enter for a chance to win!
Contrary to the highly stylized costumes and puppetry of a show like the "The Lion King," the creative team behind "101 Dalmatians" sought to present a scenario in which the real-live trained Dalmatians appear more human than the onstage actors. These canine stars also happen to be from animal shelters across the country. Read more about the dogs and their unique rescue stories online at The101DalmatiansMusical.com.
The winner can pick up the four tickets in his or her name at The Garden's will-call windows on the day of the show; a valid photo ID is required.
1) Follow us on Twitter and tweet this message (if you already follow us, just tweet!):
"Win 4 tickets to see 101 Dalmatians the Musical at Madison Square Garden. Just follow @offManhattan and RT! http://bit.ly/freewoof"
OR
2) Sign up for our email list. (If you're already a subscriber, you are automatically entered for a chance to win the giveaway.)
You can do both to be entered twice, and tweet once a day to be entered multiple times and increase your chance of winning. Deadline is tomorrow Friday, April 16th at 6:00pm EST – a winner will be chosen at random and announced the next day. Good luck!
How to get there: Madison Square Garden is located on the corner of 32nd St. and 7th Ave. Subway: Take the A, B, C, D, E, F, 1, 2, 3 or 9 train to 34th St, thegarden.com)