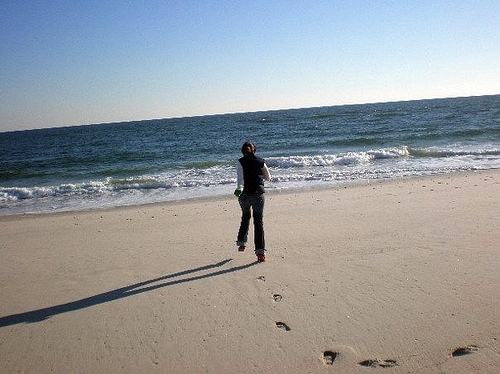 offManhattan's "semi-reformed Bostonian" contributor is taking a leave of absence and heading south for the greater good. Silvie Snow-Thomas, who brought us such insightful and entertaining reads as Julie Powell's Long Island City, My Big Fat Greek Tour of Astoria, and a Timeless Seaside Revisited in Cape Cod, decided to share some of her favorite things to do in NYC—bucket list included.

Hasta Luego, New York. I'm leaving you (just for the next 27 months or so) for the heat and the culture and the environmental restoration projects of Panama. For five years, places over the bridge and through the tunnel have seduced me with their originality, their smells, their tastes, their essence. I've been lucky enough to scarf down pizza at Grimaldi's, quaff crazy cocktails at bars in Park Slope and designer beer at Brooklyn Brewery, scout for the most original pieces at boutiques and scour for discounts on old school t-shirts at Beacon's Closet, play touch football in the Bronx, and sit staring at Manhattan on many occasions from the Brooklyn Heights promenade.
In the hopes that some of these spots will have an effect on you as well, this is my own "best of" all that's to be found off Manhattan. Here's to old favorites, new adventures, first times across the Brooklyn Bridge, and one too many outdoor café cervezas this summer. See you in a few years. I'm off to travel in a different part of the green lane.
Brooklyn
I can think of few better places for brunch after one of your best friends finishes the Brooklyn half marathon than Get Fresh Market and Table. With ample bike parking outside and a quaint, rustic inside, the vibe here is laid-back, organic, and of course, fresh. Sit out back in the garden on a sun-filled day while you enjoy BYOB mimosas, the brunch burrito, and the bread basket full of homemade muffins, corn bread, and marmalades. Simple and delicious, the way food was meant to be prepared, and served.
I may have waited until my last week in NYC, but I finally made it over the Brooklyn Bridge on foot. While a very crowded Easter Sunday may not have been the best day for the jaunt, I was able to blend in with the tourists as I, too, snapped photos of the skylines, lady liberty, and the bridge's impressive architecture. We also figured something out—most people crossing the bridge walk halfway from Manhattan and then turn around back to Manhattan. They don't know what they're missing. At the very least, walk to the end and reward yourself with eight different flavor choices of homemade goodness at Brooklyn Ice Cream Factory.
Although one of my favorite waiters works at Blue Ribbon Bakery in the city, Blue Ribbon Brasserie in Park Slope doesn't fall too far behind in my list of top restaurants in the area. I like to sit at the Oyster Bar (there is a Raw Bar & Wine Special if you get there before 6:30pm), devour the Paella Basquez when I'm feeling romantic enough, and drink a Straight Up Brooklyn specialty cocktail. Check out their clever, artistic menu here.
"Shop Néda," a friend once rightly told me. Enticing window displays, extremely unique pieces, and a beautiful, welcoming owner makes Néda a true gem—especially if you're in the market for a new flowery spring dress or funky studded belt. The Brooklyn-based store, whose Persion name means "message" or spiritual message, just celebrated its third anniversary.
When I saw Alvin Ailey at BAM last year, I think I was in awe for hours after. At the historic, ornate Brooklyn Academy of Music, there is no shortage of progressive, fascinating performances. Add the Alvin Ailey company dancing Hymn choreographed by Judith Jamison, Revelations by Alvin Ailey, and Blues Suite with live music by Ailey, and the experience is one I'd have every month if they were only here that often. Lucky for you, the company will be on stage in New York next week.
Queens
In addition to the Greek food of Astoria—where I researched and ate (and ate) for my very first story for Lauren and offManhattan–I have a penchant for PS1: P.S. 1 Contemporary Art Center. It sits at the corner of Jackson Ave. and 46th Ave., just a few blocks from the NY Water Taxi drop-off and steps away from the 7 train, one stop from Grand Central Station. One of the oldest and largest non-profit contemporary art institutions in the United States, the exhibition space (old classrooms, hallways lined with lockers, and somewhat menacing stairwells) claims to display "the most experimental art in the world." You enter through a courtyard of what appear to be furry, thatched tarp structures shielding you from the elements and enter all sorts of exhibitions that I'd certainly classify as "experimental," including Leandro Elrich's Swimming Pool.
Westhampton, NY
Silvie's NYC Bucket List
1. Finding the perfect heirloom tomatoes and fresh basil at the greenmarket in Prospect Park
2. Drinking prosecco and eating Reese's Cups on the roof deck of my friend's apartment in Brooklyn Heights
3. Biking over the George Washington Bridge to New Jersey
4. Taking the ferry to Staten Island, past the Statue of Liberty, to watch a Staten Island Yankees Game
5. Walking the Boardwalk at Coney Island
6. People watching at Grand Army Plaza
7. Shopping on Bergen Street
A two-hour LIRR trip will take you from Penn Station out to Westhampton (ticket typically ranges from $12.50-$18 one-way, depending on the season and time of day) where the trees outnumber the people and you're never farther than a mile from the ocean. While nothing beats leaving on Summer Fridays with the throngs of other sun-seeking, Hamptons-bound weekenders destined for two full beach days, German Deli jumbo iced teas, and Coronas, mussels, and more Coronas at John Scott's Surf Shack; some of my favorite trips have been in the off-season. In November, we've been known to drink Malbec and share apps at Joe's American Grill before cozying up in front of a roaring fire. In March, the annual St. Patrick's Day Parade and a kiddie carnival bring revelers of all ages. In September, birthday celebrations for my friend the Westhamptonite means an excuse to grab all sorts of house-baked goodies at the Beach Bakery on Main Street, where everything comes in a pretty pink box.
New York City
Right now is the most idyllic time to head over to Roosevelt Island to see and smell the cherry blossoms in their full blooming glory. A hop on the tram (accessible with your Metro Card) is one of the most inexpensive and exciting ways to see the NYC skyline from above, and when you arrive, the red community bus will take you all over the eastern side of the island—to numerous ball fields and ample picnic spots—for just twenty five cents. What else can you buy these days with a quarter?
Don't be frightened by tales of insane asylums or deserted parking lots, Randall's Island is one of the best date spots in and around the city and plays host to a myriad of events like Cirque du Soleil shows and rock concerts. A walk or bike ride up the East River Drive pathway will take you to the footbridge (open now that it is springtime) and over the water to the soccer-football-rugby fields, bike and pedestrian pathways, and a bit further around the island, to the Randall's Island Golf Center. A bottle of wine and some cheese, a round of putt-putt, some swings in the batting cage, and the sun sparkling off the skyscrapers—I'll look forward to returning to quintessential New York moments like this one.