In an effort to recreate my two week trip to Santorini, Mykonos, and Athens, Greece, this Brooklynite headed to Astoria, Queens to indulge in her romantic fantasies of all things Greek. And while there may be no endless white sandy beaches in Astoria, there are some delicious treasures to be found just five stops from Manhattan on the N train.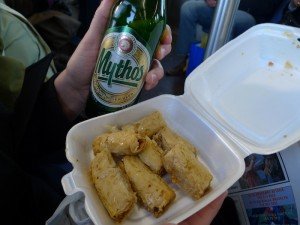 Our expedition began right off the 30th Avenue (Grand Ave) station. We quickly discovered the best way to explore the neighborhood's warm, welcoming, and seriously tasty Greek culture was simply to wander. First stop was Ya Ya's Bakery (2846 31st St, 718.932.3113)—savorably the highlight of the trip—directly across the street under the elevated subway. Ya Ya's is a non-descript little bakery from the outside, but inside, the sticky sweet smells of traditional pastries and rich, hearty scents of fresh baklava straight from the wood-burning oven "like they used to 100 years ago" keep you lingering and nibbling for long (unhealthy) amounts of time. A mix of mini cheese and spinach pies ($3) and nine small baklava ($3) will set you back the same as a venti latte at Starbucks.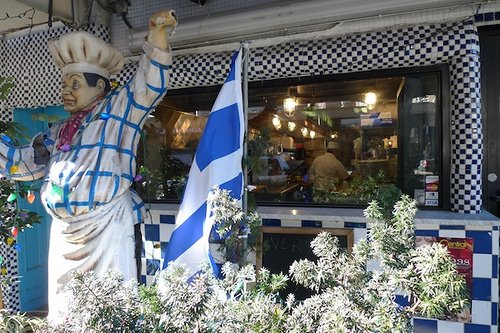 Needing a (short) break from food, we walked up the bustling street, passing the Olympiakos soccer fan club, est. 1987 and then the Hermes Travel Agency, which conjured up thoughts of a dorky Toula Portokalos from "My Big Fat Greek Wedding." But sorry ladies, there was no handsome Aidan in sight.
While not open on a Saturday afternoon, a Sunday jaunt to one of Astoria's most popular Greek Orthodox churches is certainly in order. Pray on your own, take in a service, or simply have a look around at the high-ceilings and intricate stained glass at the St. Demetrios Cathedral, Greek Hellenic Orthodox (3011 30th Dr, 718.728.718).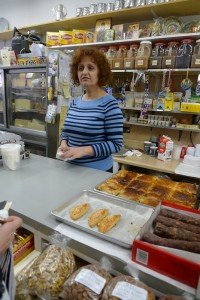 For those inspired to create your own Greek-themed party, start with the protein appetizers: meats from Akropolis Meat Market (3104 30th Ave, 718.728.1760) (heck, the meat is so fresh skinned piglets even hang in the window—if that tickles your fancy) and octopus from Best of the Sea (3101 30th Ave, 718.777.3706) fishmonger. You're also dared to try the poulpe en sauce á l'ail, better known as garlic-flavored octopus—head to Greek House Foods (3220 30th Ave, 718.545.5252) for that and many more gourmet Greek treats including Easter egg-colored, hard-shelled candied almonds ($7.00/lb). For fresh produce for the party crudités, a great place is Elliniki Agora Fruit & Vegetables (3212 30th Ave, 718.728.0751), a stand that's half outside just like the place we went for fresh fruit after a beach day in Mykonos.
For serving pieces and all sorts of hard-to-find goodies, Euro Market (3042 31st St, 718.545.5569) next to the St. Demetroios Cathedral, is your one-stop shop. For my party, guests will drink all beverages from blue and white striped espresso mugs and saucers that say "Yasou!" ("God Saves" for when you toast) on the sides. European country flags fly from the ceilings, but the Greek's blue and white cross dominate the décor. Traditional Greek music will prompt dancing down the isles on your hunt for Greek beer (Mythos is the way to go), while you pass jars of unidentified fruits and boxes upon boxes of frozen phylo dough.
My party is planned, the imaginary table is set, and the festivities will commence on March 25th, The Greek National Anniversary, if I can wait that long amidst my dreams of Greece.
Farishto, Astoria!
How to get to Astoria:
Take the N train from Lexington Av station heading Uptown / to Astoria; just five stops (mostly above ground) and get off at 30 Avenue (Grand Av). Exit near intersection of 31st St and 30th Ave. Total travel time approximately 20 minutes. Print out and bring the map below with you to help guide you to the hotspots.
KPICASA_GALLERY(MyBigFatGreekTourOfAstoria)
Map of Featured Locations

View offManhattan.com: My Big Fat Greek Tour of Astoria in a larger map
Photos: wEnDaLicious, Silvie Snow-Thomas