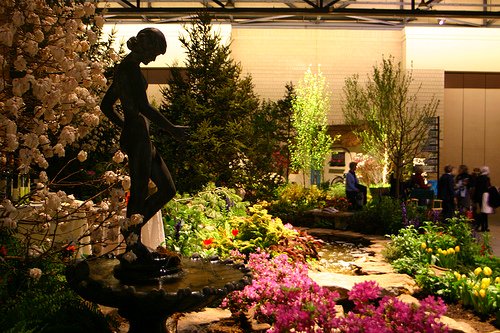 What: The 2010 Philadelphia International Flower Show

Where: The Pennsylvania Convention Center, 12th and Arch Streets,
Philadelphia, PA.

When: Sunday, February 28th through Sunday, March 7

Why: Because we could all use some vibrant color in our lives right about now. Bleak winter is out. Jungle fever is in. The Pennsylvania Horticultural Society's yearly spectacle is considered to be one of the world's premier gardening events. If you are starting to doubt that spring really is just around the corner, the stunning floral creations on display should set you straight.

This year's theme is "Passport to the World," so expect a show with lots of international flavor. 60 professional gardeners, landscapers and florists create a variety of displays, competing for the coveted "Best in Show" in their respective categories. If 10 acres of full-scale gardens and floral displays doesn't sound like a bed of roses, don't despair. Besides a slew of daily lectures and demonstrations on gardening and landscaping, the event features daily food and wine tasting, live entertainment—including Brazilian music and Bollywood dancers—and special hands-on crafts for kids, so you can bring the entire family.
Cost: Adults, $22; Students, $18; Kids, $13
How to get there: Take AMTRAK to Philadelphia's 30th Street Station. Then, transfer to a free SEPTA Regional Rail train at 30th Street Station to Market East Station (show the conductor your AMTRAK ticket stub; save it for the return trip). Follow the signs to the Convention Center. Refer to Discount code V651 and save %15 when you purchase your ticket at www.amtrak.com.
Megabus offers frequent service to 30th Street Station and you may be able to snag a bargain-priced ticket, depending on when you travel.

Consider staying overnight, as many Philadelphia hotels are offering discounted rates. Preferred Hotel Packages include one night accommodation, two Flower Show tickets and breakfast for each guest at the hotel. For information on these packages, visit the flowershow.com.
Photos: Courtesy of PHS