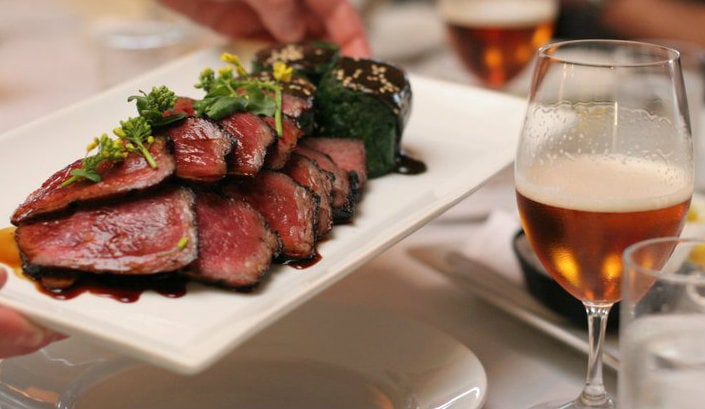 Not only is California's Central Coast some of the most stunning landscape in the country, it's some of the most fertile too. Home to the state's fastest growing wine region (Paso Robles) and an award-winning College of Agriculture, Food, & Environmental Sciences (at Cal Poly), this is the land of the foodie.
That's why it's no surprise that Sunset Magazine, purveyor of all things classic California lifestyle, chose this region as home for its annual food and wine festival. SAVOR the Central Coast offers an inside taste of all the fabulous bounty the area has to offer, and oM was there to sample and, well, savor all of it. If you missed the weekend, never fear. You can enjoy the glory of the central coast all year long. Here, some of the best food, beer, and wine in SLO County. Plus, check out these food trends from celeb chefs.
Sip and SAVOR
With its largely Mediterranean climate, the Central Coast presents the perfect place for leading winemakers to experiment with unique grapes. Take some time to explore au courant blends at Clavo Cellars (315 S. Main Street, Templeton) or the Niven Family Wine Estate  (5828 Orcutt Road, San Luis Obispo) tasting room. All are purveyors of less common (especially in these parts) varietals like Albariño and Grüner Veltliner, so it's likely you'll go home with a new favorite.
Chic and sophisticated, JUSTIN Winery (11680 Chimney Rock Road, Paso Robles) woos guests with more than just a sublime Cabernet Sauvignon. The vineyard's restaurant offers simple but savory pairings, and the stately JUST Inn makes a great weekend base to soak in the spirit of Paso Robles wine country.
Although they're tucked in the middle of wine country, the Central Coast's brews hold their own against their more delicate counterparts. Leading the pack is local beer guru, Firestone Brewery (1400 Ramada Drive, Paso Robles) with its sassy IPA, Wookey Jack.
A tough competitor emerges in SLO Brew's (1119 Garden Street, SLO) smooth and aromatic Blueberry Ale, made with 100% Organic blueberry extract. Venture over to SLO Brew for a tasting, but be sure to check their events calendar first, since nothing pairs better with a cold beer than live music.
If you're unimpressed by beer and wine, the ingenious Re:Find Distillery (2725 Adelaida Road, Paso Robles), serves up handcrafted cocktails made from distilled grape liquor. Driving the concept that one man's waste is another man's gin and tonic, Re:Find's imaginative drinking style turns what is usually considered wine-making runoff into naturally sustainable spirits.
Sweet and SAVOR(Y)
At Novo Restaurant and Lounge (726 Higuera Street, SLO), an appealing garden patio makes the restaurant's downtown location feel more like a European getaway. Offering fine cuisine and an exotic menu, with items like Lavender Lamb Chops and Baharat Quail, Novo serves up romance on a silver platter.
The Old San Luis BBQ Co. (670 Higuera Street, SLO) dishes out organic veggies and Angus beef with their authentic BBQ style fare. With salads and side dishes, plus family style meals, it presents a deliciously affordable option in the downtown area.
Head to Thomas Hill Organics (1305 Park Street, Paso Robles) to fully embrace the art of fresh fare, where in-season produce complements the menu's grass fed, free-range proteins. With weekly menu changes to keep things entirely local, Thomas Hill Market Bistro and Wine Bar promises delightful, feel-good cuisine. Plus, they're dog-friendly, so Spot can join the fun.
Don't neglect your sweet tooth—the Brown Butter Cookie Company (98 N. Ocean Avenue, Cayucos) performs magic with their original-recipe brown butter cookies, while Negranti Creamery (available at several shops in the Central Coast and in San Francisco) flips the world of indulgence upside down with (practically) healthy sheep's milk ice cream. Pick up some of either (or both!) as a souvenir.
SAVOR in Your Sleep
The Apple Farm Inn (2015 Monterey Street, SLO) will steal your heart somewhere between its down-home country charm and hot apple dumplings. Partner up with Car Free SLO and earn a 15% discount on rooms (from $239), plus a celebratory slice of pie with the purchase of a dinner entree. You can also score all of the perks from the Inn, but for a fraction of the price, by choosing the neighboring Apple Farm Trellis Court Motel where rates start at just $69.
Get serious about relaxation at the Sycamore Mineral Springs Resort (1215 Avila Beach Drive, SLO), where every room comes with a personal mineral water hot tub (from $169). Enjoy a tranquil day at the resort's Spa, unwind in the yoga dome or laze in the meditation gardens. Try the Gardens of Avila Restaurant for locally produced food in an elegant setting.
The whimsical Madonna Inn (100 Madonna Road, SLO), with its unparalleled collection of rooms, (from $189) offers a fairytale escape from a tiring day of travel. Playfully decorated, the expansive property, which includes an on-site steakhouse, gift shop, café and bakery, makes you want to claim residency. The kind of place you have to see to believe, the inn is always worth a stop, even if it's just to pick up one of the bakery's decadent desserts. With an irresistible array of cakes, cookies, chocolates, and pie, it's pretty much mandatory to sample at least one.
Take advantage of the scenery by booking a horseback trail ride at the Madonna, where a 3-mile loop exposes some of the most outrageous views in San Luis Obispo ($65). If you prefer two legs to four, simply reserve a picnic lunch from the Classic Gourmet and Wine Shop ($12 per person) and blaze a trail on your own.
Tips for visiting San Luis Obispo County
If visiting San Luis Obispo, take advantage of the great resource SLO Car Free, which encourages visitors to ditch their car by making it unusually simple to maneuver through the city without one. Arrive car free to receive access to tons of discounts and deals at participating restaurants and hotels, tours, and activities.
And if you do need a vehicle for some out-of-the-way activity, sign up for FunRide upon arrival and you'll be able to rent a car for just $7 per hour, fuel included!
Directions: Take Amtrak to San Luis Obispo or Paso Robles. From either, public transit in the area is plentiful.
Photos: Firestone Brewery, Dave Johnson, Edsel Little, Novo Restaurant, Apple Farm Inn, Sycamore Mineral Springs Resort, Clavo Cellars
[mappress mapid="117″]