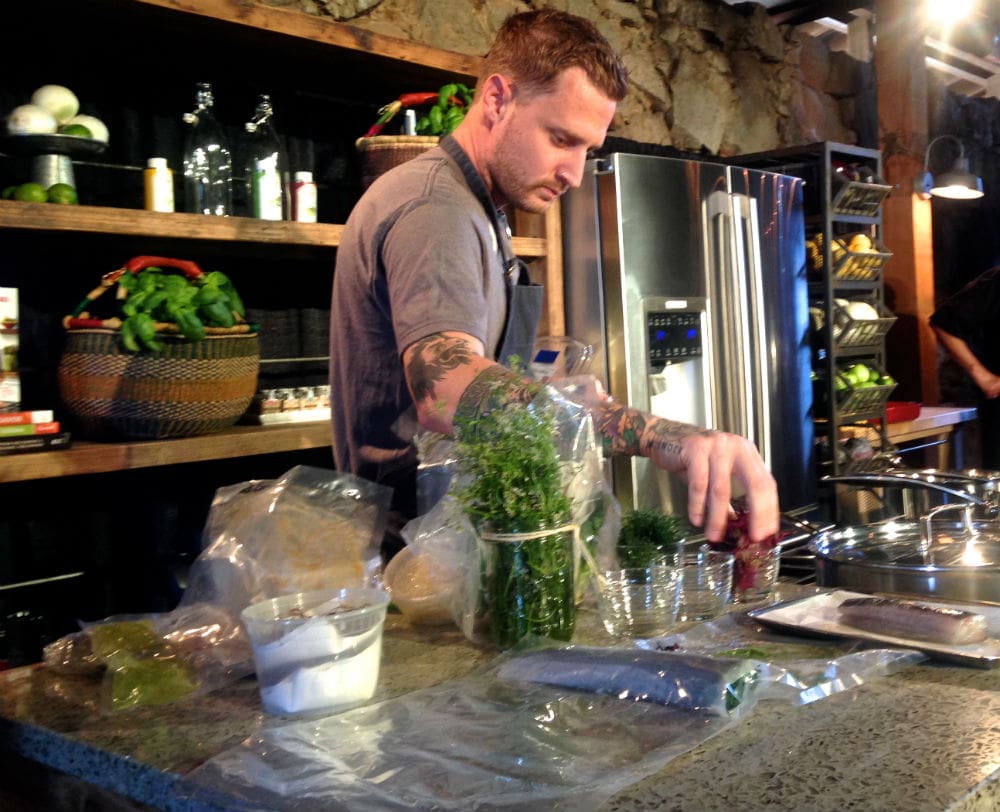 With an attention to detail that only Sunset Magazine could accomplish, the fourth annual SAVOR the Central Coast food and wine festival presented the crème de la crème of the Central Coast's culinary talent—along with their bite size masterpieces— to the epicurean devotees who flocked to enjoy them. Offering nonstop music, pours, demos, and dining, SAVOR left no flavor un-turned in its celebration of the California Central Coast and its plentiful bounty.
The Event
Entering SAVOR at the country-chic Santa Margarita Ranch felt like stepping into the pages of Sunset (something I've dreamed of many, many times before). Refined garden décor accented the event's farm-to-table theme, a concept fully embraced by the local restaurants, wineries, and breweries showcased there. In the Marketplace, an eager collection of the region's premier wineries and restaurants ushered guests to a palatable paradise with cheery faces and bite-sized bliss.
As if there wasn't enough to savor, celebrity chefs dotted the event, offering insight into the latest food trends where "cutting edge means getting back to basics," as claimed by Chef Michael Voltaggio, the season-six winner of Top Chef and owner of the effortlessly seductive ink. and ink.sack in Los Angeles. Throughout the weekend, demos from celebrity chefs focused on regional ingredients to make fresh and innovative meals, leaving guests and chefs alike swooning over the Coast's abundance of luxury ingredients like ripe avocados and sea-fresh abalones.
With sustainability in the spotlight, the event itself maintained a clean footprint by relying on 100% compostable or recyclable dining ware, keeping waste at a minimum with individual wine glasses for each attendee to use throughout the day.
The Setting
Today, three local families own and run the ranch, acting as stewards of its history while tending its cattle and vineyards. The imaginative garden-themed décor created a whimsical backdrop for the festival's farm-to-table focus.The land on which the stunning Santa Margarita Ranch(9000 Yerba Buena Avenue, Santa Margarita) sits has a long history of hosting memorable parties Joaquin Estrada, who acquired the land through a Mexican land grant in 1841 was known for holding rollicking, weeks-long  fiestas, and for bringing the first circus to the area.
While the ranch itself is open for tours by appointment only, it often holds public events, and Margarita Adventures also offers a unique perspective (via zipline!) of the ranch and surrounding areas ($99).
The Bounty
A sumptuous spread from the local vendors dazzled guests with bite-size samples of everything from White Peach Balsamic sheep's milk ice cream (Negranti's) to ocean-fresh raw oysters (Morro Bay Oyster Company) and bacon charged mini-sliders (Eureka! Burger).
Plates and bellies swelled with moist crabcakes (Steamer's of Pismo Beach), spiced lamb with mint aioli (Thomas Hill Organics), and even bacon churros with chocolate (they exist! thanks to Artisan Paso Robles). Every small bite was made with exceedingly fresh ingredients, and a thoughtful preparation that made all that gluttony feel good—really, really good. Even for Chef Nathan Lyon, author of Great Food Starts Fresh and host of Good Food America, "it [was] really humbling to see what Chefs can do to reinvent such fresh, delicious ingredients."
The Trends
Back to good: Despite securing a spot in celebrity chefdom, Chef Voltaggio insists that the key to success in the kitchen comes with "getting back to the roots of cooking—making proper sauces, making mashed potatoes, making bread with your hands, understanding the ingredients you're working with and just trying to make something delicious. Food got a little pretentious, and now we're getting back to delicious."
Experimentation: So what's delicious these days? For Chef Voltaggio, it's "smoking, grilling, charring—doing that to something you wouldn't normally do," mimicking "those craveable parts about meat" that you wouldn't typically receive from an ingredient.
Classic cooking: Also on the rise are classic practices like canning, fermentation, preserving and pickling: "charcuterie is coming back in a major way, making your own hams and salamis and stuff like that."
Get out of food's way: Chef Lyon agrees that there's no wrong turn "when we get back to allowing the food to speak for itself, and not try to outdo the food, but rather hold the food up and get out of food's way." Evolution in the kitchen comes from digging deep and reconnecting with the food—getting back to those raw ingredients that were always there. "We just kind of decimated them, and now we're digging them back up. So it's this research into very fresh, seasonal foods, which is exciting."
In vino veritas: Food trends aren't the only ones on the rise—with the Central Coast's largely Mediterranean climate, there's hardly a better place for wine country. Wine makers (and drinkers!) rejoice at having prime conditions in which to cultivate not only old favorites, but to give new life to promising and dynamic, albeit hard to pronounce, grape varieties. Some of the region's top vintners are so dedicated to a new wave of whites that they've brought in cuttings from across the Atlantic, making a home in California for Picpoul Blanc, Albariño, Grüner Vetliner, and Dry Gewürztraminer.
(As for Chef Voltaggio, he's a bit less choosey when it comes to filling his glass—his preferred wine remains "any wine someone puts in front of me." I like your attitude, Chef.)
Time for a taste 
With all this goodness, there's never been a better time to explore the Central Coast's food scene. So loosen your belt and wander down to SLO County—check out our list of favorite food and wine destinations in San Luis Obispo County and start tasting for yourself!
Photos: Rebecca Podesta, irOcko