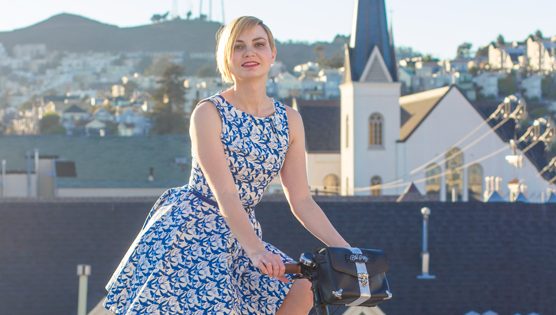 In case you missed the memo, we at oM love bikes. We like taking bike rides and bike getaways, but we also like biking around town, for errands and everyday life. But how does one balance biking attire with fashionable attire? For that, there is Bike Pretty, a site devoted to chic cycling. We caught up with Melissa Davies, founder and editor of Bike Pretty, to talk bike babes, gold jackets, and dressing for the destination, not the ride.
What is Bike Pretty?
Bike Pretty is a style blog all about fashionable cycling. It's where I get to promote my style agenda to the rest of the world. Just because you get around by bike doesn't mean you have to wear hi-viz, or lycra, or dress like a slob. Obviously that's a quite a fashion-bitchy point of view, and I'm not that blunt on my blog. Instead I show examples of people who combine great style with bikes. I'm all about encouragement.
Basically, it's an answer to the question, "How do you ride a bike in a skirt/dress/suit/heels?" You just do!
How did the idea come about?
I think I started Bike Pretty because I wanted to show a different side of life with two wheels. I love to ride, even if it's pouring down rain. But I hate to talk about gears, components, and all that stuff. It just bores me to tears. I'm way more interested in outfit solutions.
I'm a designer and I had a few ideas for products that would make my bike-life more stylish. But I was hesitant to launch a fully-realized line and hope that buyers would find me. It was important to first find the people with a similar lifestyle who are interested in biking with style.
I've read personal style blogs for years, but I found myself tired of all the "pretty girls in pretty dresses" stuff. Style bloggers have become very sophisticated. But as beautiful as the photos are, I just can't relate.
It was time to stand by my point-of-view and start my own blog.
What is your role and are others involved?
I'm the primary writer and photographer. It's a lot of work and the blog has taken over my life. Fortunately, I have talented friends and family who have been happy to collaborate with me. It's a good thing too, otherwise we might never get to see each other!
One of my best friends lives in London. We met in college at FIT. Kelly is just as obsessed with style and bikes as I am. I can honestly say that this blog has helped us bridge the distance. She's a trend forecaster by trade, and she'll send me pictures of the fashionable cycle set from UK. I call her our London correspondent.
Even though Bike Pretty is my voice (and inspired by blogs like Vancouver Cycle Chic and bikes + babes), I consider it a collaboration between me and the readers. I've learned tons from them, and the way that people respond to the idea. This special group just "gets it" immediately. They get all excited and send me cool pictures or ask me about which helmets are cool. There's a community of us who want to celebrate riding bikes in fabulous outfits.
Where are you based?
I'm based in San Francisco. My parents are scientists, and I grew up in the Bay Area during the first dot-com boom. Always interested in Fashion, I was out of place in Silicon Valley. After some twists and turns, I moved to Manhattan to attend the Fashion Institute of Technology.
I loved the program, but hated living in New York. It was wannabe Sex and The City, and I was a hella laid-back weirdo from the West Coast. But the worst was how un-bike-friendly the city was back then. I couldn't stand it. Fortunately, I transferred to the study abroad program and spent my last two years of college in Italy. It was a revelation. I got a job after graduation and stayed another year and a half.
But after a while it felt too far from home. I moved back to San Francisco four years ago. My husband and I just signed a lease for an apartment in the Mission. We both love it here and have decided that we are never, ever, leaving.
What's your inspiration for biking styles?
My style on the bike isn't any different than my style off my bike. Except that I'll opt for flats instead of heels if I know I have to walk a lot (instead of biking).
I can't resist vintage fashions, especially from the '30s and the '70s, but too much starts to look like a costume so I try to keep my look current.
I adore color and pattern, especially Liberty Prints and stripes. And I'm heavily influenced by London cool. The English style has a dose of wit that warms my fashion-nerd heart.
Oh, and I constantly buy gold jackets. My first one was pure indulgence, but after wearing it around town, I realized how practical it is to have a flashy jacket when you're riding a bike.
Do you have any advice for women commuting on two wheels?
For those who commutes by bike, I'd like to thank you! And I would encourage you to dress for the destination, not the ride.
Here are a couple tricks I've learned to keep your outfit fresh.
First, let your bike—not your back—carry the load as much as possible. Backpacks are the worst. They basically make your back all sweaty and uncomfortable. Use a rear rack, panniers, or a frame bag as much as possible.
Second: if you're warm enough during the first 10 minutes of your ride, then you're overdressed. Stow that outer layer instead of getting all bundled up. That's how to avoid dripping with sweat.
Were you to design a cyclists runway show what might it look like?
That's a good question! I've actually been to a cyclist runway show. It was lots of fun, but as a celebration of the cyclist community. It was not so much about creating an immersive fashion experience.
I'd work with a high-end label. Someone like Paul Smith or Vivienne Westwood (both designers who regularly get around by bike). And I'd use high-fashion models and arrange them into a sort of tableau vivant with bicycles. It would be like a super-fashionable cocktail party. But with bikes.
What is your favorite San Francisco getaway and how do you get there?
My bike is my primary mode of transportation, and I don't actually do a lot of recreational riding. But when we have one of those rare warm days, I'm a sucker for a bridge tour of SF. I'll ride out to the Embarcadero, past the Bay Bridge, then head north and west along the water to the Golden Gate.
After dodging the tourists, I breathe a sigh of relief in the middle of the bridge. Then I mentally prepare to do the climb up Hawk Hill. At the top, I've left the city behind. Nothing but sky, ocean, and hills. Point Bonita is a lovely spot for a picnic break. And then it's downhill, through the tunnel and back over the bridge just before sunset. San Francisco during golden hour is one of the more beautiful sights you could hope to see.
What are your goals for Bike Pretty in the future?
Now that I've found a community of people who also prioritize style, I'm (slowly) launching the Bike Pretty line.
I've started with a handlebar bag that doubles as a purse. It actually looks like something a stylish person would want to carry, whether or not she even rides a bike.
I used to design bags in Italy, but my own label is a much bigger challenge. I feel like this product isn't just for me, but for all the fashionable bike babes who are sick and tired of compromising style for function just because they ride bikes. Now that we've built this community together, I want to do right by them.
The final design is nearly finished. The next phase is to launch an invitation-only advance sale of a few bags at cost. It's a small group so I can keep track of all the feedback. I want the bag to be perfect. I want people to wonder how they ever rode along without it!