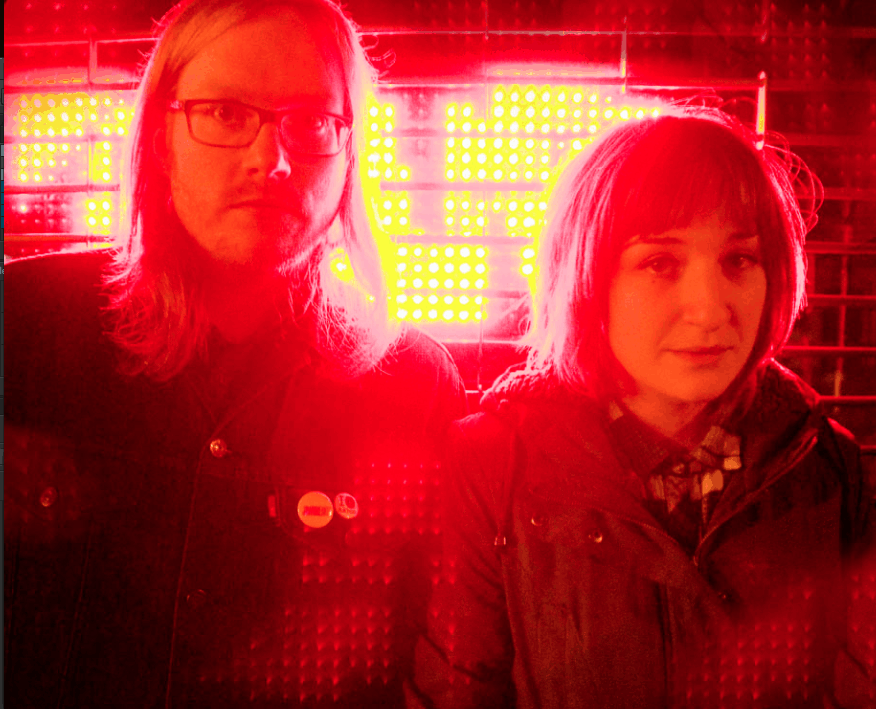 When I was growing up, my dad condemned pop music. Naturally, I was always desperate for a listen. When he'd leave the house to walk the dog or go to the store, I'd relish those minutes when I could blast Cindy Lauper, Destiny's Child, The Cardigans… Strutting in front of my bedroom mirror to pop music's punchy, feminine voices, I felt totally free from my confining Catholic upbringing.
Sierra Frost knows what it's like to be a kid infatuated with pop music. "When I was younger, I was so in love with the Spice Girls, I thought I was going to die," she tells me with a laugh. The 23-year-old grew up in the Bay Area ,where she writes about music and manages San Francisco's Studio SQ.
Frost also has a kickin' voice and is the singer in Clintongore, the electronic pop duo based in San Francisco and Brooklyn. She brings the breathy, all-attitude vocals and Chris Crawford, formerly of the band French Miami, plays drums and does the recording and mixing.
Pulsing with color and rich lyrics, Clintongore's songs make you feel like you're watching some epic eclipse or looking through a really intricate kaleidoscope. The song "I Need a Star," for example, has top-of-your-lungs, gutsy lyrics with hissing cymbals and bouncing, neon-bright notes. "The Long Snowfall" takes a slower turn, layering gentle vocals over a dense electronic beat. And my personal favorite, "Watch Out," has the right balance of smart lyrics and dance-pop energy to get your head both nodding and thinking.
I took a break from listening to talk with Clintongore about their name, being a bicoastal band, and where they like to get out of town. I'll come clean and say this was a bit of a disjointed interview—I talked with Sierra on the phone and met up with Chris at Common Grounds in Brooklyn. But, I like to think the interview brings them together.
Clintongore has another album in the works. Get more info on the upcoming shows, and check out their bandcamp.
offMetro: So, what's up with the name Clintongore? Or is it, Clin-tah-nah-go-ray?
Sierra Frost: (Groan…) It's just Clintongore. We just say it's clin-tah-nah-go-rey as a joke. You know, the way people talk about bands like Bon Iver and they're are all like, "It's bo-nee- VAIR."
I had this Clinton Gore '92 bumper stucker on my '97 car. I got the car during the 2011 election and thought it would make a funny band name. I think Chris really hated it.
Chris Crawford: I didn't mind it. Sierra came up with it. I liked it.
How did you meet and start playing together?
SF: We met in 2009. I was playing in a band called The Downer Party, and the drummer was being a dick. We drove down to L.A. to play a show, and Chris was playing in a really awesome band called French Miami (you should definitely check them out). After we saw them play, it was meat and potatoes. The bassist and I thought, "we gotta snag this guy." So we dragged Chris into the back of venue and basically cornered him and asked him to be in our band.
CC: I remember they put this business card on my cymbal case that said, "We have to talk, let's meet in the back…" It was like getting a note in high school.
What makes it work despite the distance?
SF: We both work in the music industry, so we see the pitfalls, egos, flakiness, people being self-indulgent. And we have an inverse skill set—I'm good at writing melodies and figuring out changes, and Chris is good at interesting arrangements and synthesizing. No one in the band is trying to do something someone else is doing.
How do you record?
CC: I'd moved to New York and I was working on some spacey, cosmic weird stuff. I would play alone and then send what I had to Sierra. I thought maybe we could add vocals, maybe not. I sent her a crappy recording of "The Long Snowfall," and she sent back vocals. It just made perfect sense. She's a great singer, really good at arranging, finding the melody. So she'd send a song back to me, I'd edit, stem it out, make the songs really "electronicky." I like to be one the one to record her vocals, so we do the big things together.
That must be exciting—you send it out to Sierra and don't know what you'll get back.
CC: Yeah, it is. She trusts whatever I do with mixing and editing. She trusts the vision behind it, but she has complete input.
So what are you working on these days?

SF: We've been working on a new album. It's way sadder, way more emotional than our first album. We're almost done now, and looking into going on tour in the fall or winter (of 2013).
When you get a break, what's your favorite place to get away in San Francisco?

SF: There's this Taco Bell on Pacifica Beach. I love Taco Bell, and you look out the window and see this immaculate beach. It's pretty great. I also like going to Bonny Doon.
Did you know there's a nude beach in Bonny Doon?

SF: I haven't heard of that, but I love Bonny Doon. There's a winery there. I hang out with my aunt, drink wine. It's good.
CC: I love Philz Coffee. Humphry's ice cream off 24th is really good. A bad burrito does not exist in San Francisco. Papalote has great salsa. What else… I would recommend everyone going to Trouble Coffee, near 46th and Judah, and ordering the "Build Your Own Damn House"—Texas cinnamon toast, a coconut and fresh coffee. It's what the owner ate for breakfast everyday when she was growing up.
That sounds really good. I've gotta ask—what are your fans like?

CC: A lot are fans of Sierra. She plays in other bands [in the Bay Area], and she's really involved in cultivating the music scene out there. Our fans are a lot of older guys, younger girls, college radio guys, guys who look like me… My girlfriend really likes Sierra's lyrics, and she's a booker at a modeling agency. They play our stuff at the shoots, so a lot of our fans are gay men, young girls.
Does that surprise you?

CC: Well, I never thought I'd be making music for gay men and young girls, but I'm happier that real people want to listen to our music. I don't care if some guy in his 30s is writing about us on Pitchfork. You know, for some people, Pitchfork is the bible—but I don't care about that. Don't get me wrong, it'd be nice, but it's much more exciting to have a casual listener tell me they really connect with our music.
Why?
CC: They're not as invested in going to shows and finding new music, So it's cool when our music still stands out, and someone who you wouldn't think would like your music connects with what you're doing. People say they don't care about fans, but they're full of shit. You want someone out there to really, really enjoy what you're creating.
What else do you want people to know about Clintongore?
SF: Hmm, something people don't know… Nobody ever asks me this, but Chris and I are both pretty average looking people. A lot of times, when you're the girl lead singer, either you're really cute or you're the really overt, crazy monster, sexy lead singer. I was kind of able to cultivate this energy around me that says "I'm not here to be a girl for you."
And I'm kind of on a feminist high horse but I don't think it's about what you look like; it's how you carry yourself and what energy you put out there. I'm kind of short and Jewish, and that's what feminism is—it's not breaking barriers. Feminism is just about being yourself to the best of your abilities, to the truest form of you can find.
CC: Something people don't know… Well, Sierra's really gross. She'll just send me photos of herself making really ugly faces. Maybe gross isn't the world, but she's not the stereotypical, hot lead singer—she's ok with burping, making ugly faces, being goofy. I guess she's really comfortable. Sierra's one of the most approachable people I know. You can talk to her about anything.
Photos: Clintongore, Album Artwork by Jon Bailey