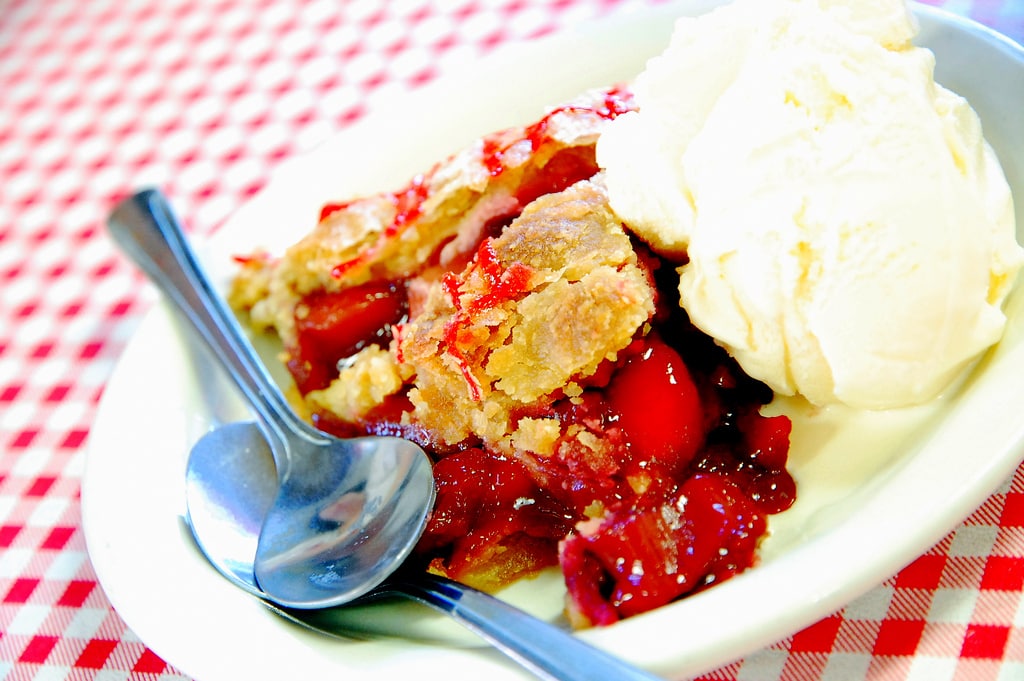 Those who know me well can attest that baked goods are the only way to my heart. I'm not picky—cake, donuts, cookies, blondies, brownies… Sweets of all shapes and sizes please me, and I give each bite my undivided attention. But lately, I've been feeling sorry for pie. It takes the backseat to cake at celebrations and gets trumped by ice cream as the favorite summer dessert. And in the age of two-faced cronuts and snooty organic popsicles, how can humble pie compete?
Like any worthwhile romance, pie is old-fashioned, wholesome, and takes some effort. So I decided to show a little love to this upper-crust treat. And you can bet I'm going the distance. I've scoped out the very best Bay Area bakeries for pie, listed below in apple pie order.
Fat Apple's  | 1346 Martin Luther King Jr. Boulevard | Berkeley
Fat Apple's fits the bill for my three favorite B's: brunch, bacon, and baked goods. You can't go wrong with the greasy spoon food and deliciously strong coffee served here, but the pie will really sweep you off your feet. And it's hard to pass up—walk in, and you're greeted by two cases full of treats.
The down-home, crumbly apple pie is a classic but the olallieberry pie is the true crowd pleaser. The not-too-sweet deep purple filling and a flaky, buttery crust will tempt you to order a full pie for the road. The attentive staff gives Fat Apple's a family atmosphere that welcomes newbies and frequent flyers alike.
Directions: Take BART to North Berkeley, and stroll over to 1346 Martin Luther King Jr. Boulevard (between Berryman St & Rose St).
Sweet Adeline Bakeshop | 3350 Adeline Street | Berkeley
No, Sweet Adeline is not an underground pie shop for Elliott Smith fans, but the place still rocks! Funky art, friendly baristas, and kickin' Mr. Espresso coffee give Sweet Adeline its warm neighborhood charm. And at Sweet Adeline, community really does come first. The café purchases fruit and dairy from local farms, and at the end of the day, Sweet Adeline donates extra goodies to area homeless shelters or swaps with vendors at the Berkeley Farmers Market.
After all this, delicious pies are just the whipped cream on top. Lemon meringue is cool and refreshing, but the to-die-for chocolate cream pie really stole my heart. Pie snobs may say it's not a "true fruit pie," but in one cocoa bite, I had enough endorphins to share my table with a stranger. (See, pie does make you sweeter.)
Directions: Take the BART from Civic Center to Ashby and follow the smell of piping hot coffee to 3350 Adeline Street.
Lois the Pie Queen | 851 60th Street | Oakland
Decked out in homey, retro '60s décor, Lois the Pie Queen has been a neighborhood favorite for years—51 years to be exact. Although Lois has passed, the restaurant is still a family business, and living up to Lois's reputation as "the pie queen." An electric crowd packs the place on weekends, filling in tables and taking seats at the counter to enjoy big breakfasts, southern cooking, and tasty pies.
If you wanna go to heaven in one bite, Lois the Pie Queen's lemon icebox pie is your golden ticket. Try a tangy forkful, and you'll be singing the Queen's praises. Banana cream, key lime, and sweet potato pie are close runners up. The staff, always warm and attentive, gives you the royal treatment, but don't forget that Lois the Pie Queen is a cash-only establishment.
Directions: Take the Bart to Ashby and then walk 851 60th Street. (Thank that half-mile—the walk excuses a Queen-seized indulgence.
Petaluma Pie Company | 125 Petaluma Boulevard North | Petaluma
Who says pie is just a dessert? At Petaluma Pie, husband-and-wife team Angelo Sacerdote and Lina Hoshino serve up pie for breakfast, lunch, and dinner. They get creative with menu items like Cheeseburger Pie (spicy, super cheesy), Filipino Chicken Empanada Pie, and sweet Shoofly, but also have plenty of standard fruit pies if you're craving that good old-fashioned flavor.
In making all their pies, the couple is dedicated to the farm-to-table philosophy. They purchase ingredients directly from local farms, and the menu changes with the seasons. One thing that doesn't change: my hands-down personal favorite. Dessert may be my favorite thing in life, but Elvis Presley comes in a close second, and Petaluma Pie has managed to marry these two loves. The Elvis Pie has layers of peanut butter cream, sliced bananas, chocolate cream, chopped peanuts, and a dollop of whipped cream. (They tell me there are other pies on the menu, but I "Can't Help Falling in Love" with that one every time.)
Directions: Take Bus 80 to East Washington Street and Petaluma Boulevard North. From there, it's just a two-minute walk over to 125 Petaluma Boulevard North.
Heidi's Pies Restaurant | 1941 South el Camino Real | San Mateo
After a night out, there is nothing like a 24-hour hole in the wall to satisfy a craving. Heidi's Pies, which is open 365 days a year, 7 days a week, and 24 hours a day, has no rules when it comes to satisfying your stomach. Have Yankee-doodle pot roast for breakfast, a large stack of sweet potato pancakes for lunch, or pumpkin pie for dinner.
Heidi's no dainty little thing. She's got all the greasy goods of an average diner, but pie is king at Heidi's. The blueberry sour cream is a crowd pleaser, and pumpkin sells out fast during the holidays. From Dutch apple and German chocolate to gooseberry and lemon meringue, there's a flavor for any hour of the day. The friendly staff and casual atmosphere will make you feel right at home, and of course, time is on your side.
Directions: Catch the 397 bus toward Palo Alto, and hop off at El Camino Real and 20th Avenue.
Pie Ranch | 2080 Cabrillo Highway | Pescadero
Just when I thought my pie adventure couldn't get any sweeter, I stumbled across Pie Ranch. Owner Nancy Vail and her husband Jered Lawson run this pie-slice-shaped homestead as an education center for sustainable agriculture. Pie Ranch does a lot of cool stuff, from raising their own animals, to teaching youth about growing practices, to hosting farm tours and classes.
And yes, there's pie. It's sold on the farm, at the nearby Companion Bakery, and at other area bakeries, including San Francisco's Mission Pie. On the third Saturday of every month, Pie Ranch hosts a community work day followed by a potluck dinner and barn dance. Come out, dirty your hands, learn about agriculture, and take home a pie or some farmstand produce. It's a great way to enjoy the outdoors and support a group that's working to connect people to the food they eat. What can I say? "Oh me, oh my—love that country pie."
Directions: It's best to drive to Pie Ranch, which is located along Highway 1, about eight miles south of Pescadero.
PieTisserie | Oakland
Sometimes the best pies are pure fate. Jaynelle St. Jean, founder of PieTisserie, started up shop after she set a few pies out on her mother's windowsill. She gave away slices to people passing by, and the neighborly gesture transformed into a thriving local business.
The salty-sweet chocolate pretzel is my favorite, but Mojito Custard, Coconut Cream, or Okinawa Sweet Potato will all have you swooning by the spoonful. You can order pie by the slice, but PieTisserie specializes in making personal-sized pies. As someone who only begrudgingly shares desserts, I love the idea of having a pie all to myself.
Presentation is everything at PieTisserie. Order a box of mini pies, and Jaynelle goes all Martha Stewart, wrapping them up in a brown paper package tied up with string. They make a great dinner party gift, if you can restrain yourself from nibbling at the crust! From creative flavors to cute packaging and a friendly atmosphere, Jaynelle has pies down to an art.
Directions: PieTisserie is currently relocating. Check out the website for more information about the new location and how to order pies online.
Photos: Steve Snodgrass, Sweet Adeline Bakeshop, Petaluma Pie Company, dopub