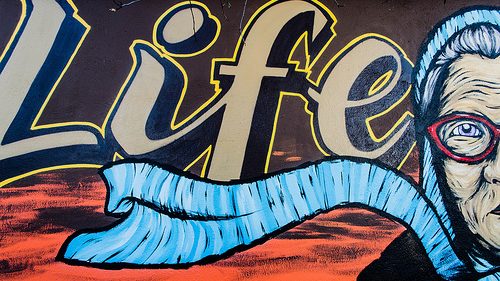 Funky Town indeed exists in Santa Barbara. Sandwiched between polished State Street and the sparkling Pacific, the formerly industrial Funk Zone now offers up plenty of options for a weekend infused with art, ambling and adult-style fun. In this neck of the woods, folks stroll leisurely, cruise along on two wheels, or kick back in a pedicab and let someone else do the cruising.
Any way you choose to travel, the area is cool, casual, and (yes) just a little but funky. Here, your guide to art-hopping and wine tasting in Santa Barbara's Funk Zone and Urban Wine Trail.
Drink up
Santa Barbara's Urban Wine Trail winds through the Funk Zone's 10 square blocks, with 17 different locations to taste and walk, and taste and walk again. Because 17 tasting rooms is rather ambitious for one afternoon (or even weekend), here's a wine walk to whet your tasting buds.
1. Start off on the edge, at Deep Sea Tasting Room (217 G Stearns Wharf), where you sip light, well-balanced Conway Family Wines and savor 306-degree views, encompassing the coastline, the Channel Islands, and all the activity in the Santa Barbara Harbor.
2. Stop into Santa Barbara Winery (202 Anacapa Street) for a dose of history (along with your exquisite wines). Opened in 1962, this baby kicked off the wine boom of Santa Barbara County. It was the first winery to open in the region since Prohibition, and within 10 years its founder, Pierre Lafond, was planting his own vineyards in the region.
3. Get a little funky down unda' at Kalyra by the Sea (212 State Street), where tiki room decor sets the stage for fun yet sophisticated wines (we especially loved the unusually dry 2011 Barrel Select Gewurztraminer) ). Australian-born winemaker received training in California and named his winery "Kalyra," the Australian Aboriginal word for "A Wild & Pleasant Place," and come weekend evenings things become especially wild (and pleasant).
Most tastings cost around $10, and some tasting rooms offer discounted weekday tastings. If you prefer to leaving the planning to someone else, Captain Jack's Tours & Events runs a $50 Santa Barbara Wine Tasting Tour, which includes tastings at three wineries (including Kalyra and Santa Barbara Winery), and transportation between tasting rooms, with a stop for lunch (not included in the price).
Art attack
A re-purposed neighborhood with a downtown vibe, the Funk Zone boasts the street cred of having once been an industrial area. Its only-in-California brand of cool combines galleries, murals, surf shops, and wine stores for a unique day of browsing and sightseeing.
The Arts Fund Gallery (205C Santa Barbara Street) showcases local artists and operates a variety of programs to nurture the Santa Barbara art community. Just down the road, MichaelKate Interiors & Art Gallery (132 Santa Barbara Street) exhibits contemporary art among sleek wares of the furniture store. Wall Space Gallery (116 E Yanonali Ttreet C-1) originally got its start in Seattle, opening a branch of the photo and mixed-media driven gallery in Santa Barbara in 2010.
Urban adventure.
For a change of pace (literally), try paddle surfing. Blueline Paddle Surf (24 East Mason Street) will outfit you with the right equipment and get you on your way in style. Lessons are also available for newbies.To set the tone for an afternoon of drinking, spend your morning getting some fun in the sun.
Live out your own beach-side Oklahoma fantasy, pedaling your own "surrey with the fringe on top." Great for groups, these fun bicycles can seat three to six adults. Whether you pedal beach-side or through the Urban Wine Trail, your real-life rom-com fantasy awaits. Wheel Fun Rentals (23 East Cabrillo Boulevard) has surreys, cycles, and more.
Where to eat
Even the most dedicated drinker will need a break for food, but don't worry. In addition to awesome eats, Reds Bar & Tapas (211 Helena Avenue) still has plenty of red, white, and rosé options—along with delicacies like tri-tip sliders or homemade hummus to  sop up some of that bounty.
If it's time to switch to the harder stuff, the margaritas (in flavors like Spicy Blood Orange and Prickly Pear) at Casa Blanca Restaurant and Cantina (330 State Street) pack a punch. From sea breeze and open fire to twinkle lights strung between leafy trees, this place summons romance. On our visit, even Neil Young's "Hey Hey, My My" seemed to collude in washing away any worries from the outside world. (Of course, the killer drinks didn't hurt either.) And the food: Whether you opt for traditional Mexican (think mighty fine enchiladas) or one of the more adventurous options (the Especial de la Casa is pasilla chile stuffed with Oaxaca cheese, shrimp, and veggies), Casa Blanca does not disappoint.
Speaking of not disappointing, if the Harissa Bomb at Metropulos Fine Food Merchants (216 E Yanonali Street) doesn't make your mouth water, nothing will. This turkey sandwich combines harissa oil olive spread, chipotle aioli, pepperoncinis, and melted cheese to create its own brand of masterpiece.
Over on Stearns Wharf, Santa Barbara's iconic 19th-century pier, a whole array of delectable eats await. Santa Barbara Shellfish Co. (230 Stearns Wharf) offers up seasonal specialties like local Dungeness crab and spiny lobster at market rates. They even serve a local beer, from the Figueroa Mountain Brewing Co., for those looking to experience the full range of this region's bounty.
Where to sleep
Streamlined and modern, the Hotel Indigo (121 State Street) takes the boutique hotel experience to a whole new level. The local art hung on the walls of the rooms, halls, and lobby make this gem fit perfectly within the ethos of the Funk Zone. Its brand spanking new restaurant, Anchor Woodfire Kitchen & Bar, continues the artful theme with local and exquisite offerings, like Salt Roasted Spot Prawns. Plus, as part of the Santa Barbara Car Free program, the hotel offers $10 off room rates (from $170) for any guests who come without a car.
The Eagle Inn (232 Natoma Avenue), a sweet family-run spot just a couple blocks up from the beach, also offers car-free discounts on its homey guest rooms (from $120). Set in a pretty Spanish-style building, the bed and breakfast offers free bike rentals, breakfast, and afternoon cookies. Small cottages are great for groups.
For Spanish Colonial with a touch of modern, the Villa Rosa Inn (15 Chapala Street) is just the thing. Its 18 guest rooms (from $159) offer lots of windows (some with ocean or mountain views), elegant decor, and modern amenities. Rooms vary and can include any combination of kitchenette, balcony, fireplace, or a small patio.
Getting there: Amtrak's direct route runs from Jack London Square directly to Santa Barbara.
Photos: torbakhopper, Damian Gadal, seven types, Santa Barbara Conference and Visitors Bureau, Villa Rosa Inn, Casa Blanca Restaurant and Cantina, Loco Steve