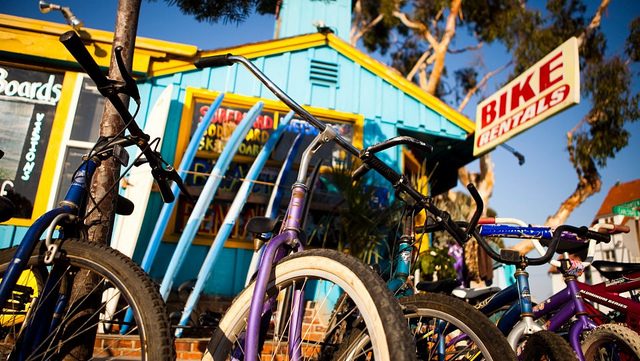 Despite the name, there are many good-for-you experiences to be had in Carlsbad. United Airlines offers nonstop flights from San Francisco that can get you to San Diego International Airport—about 30 minutes from Carlsbad—in about an hour and a half. Here are some suggestions to help you have a healthy and happy vacation that's good for you, the community and the environment.
1. Stay at West Inn & Suites (especially if you don't have a car)

West Inn & Suites is a charming boutique hotel in Carlsbad committed to both guest comfort as well as going green and working with the community. For guests without a car, the property features an onsite shuttle that will take you anywhere you want to go within five miles, with some attractions including the Carlsbad Village, The Flower Fields, Carlsbad State Beach, Legoland, the lagoons, the Museum of Making Music and Carlsbad Outlet Mall. Along with helping the environment through recycled paper notices, promoting the re-use of towels and sheets, using biodegradable carpeting and eco-friendly Aveda-products, the hotel takes part in a local WorkAbility program and hires autistic individuals to help them enhance necessary work skills.
Additionally, the hotel owns a three-acre farm which provides the ingredients for their onsite restaurants, Bistro West and West Steak and Seafood. Upon request, guests can tour the farm with Executive Chef Eugenio Martignago to go beyond farm-to-table and see firsthand where their food is coming from.
2. Dine and Drink at Bistro West and West Steak and Seafood
West Inn and Suites has two onsite restaurants, Bistro West and West Steak and Seafood, both of which incorporate a farm-to-table philosophy and source ingredients from their property-owned three-acre farm. Head to West Steak and Seafood for before-dinner cocktails where you can experience their stem-to-stem philosophy at the bar. Their new "Chameleon Martinis" feature fresh garden herbs as well as ice cubes infused with spirits and fresh fruit so that as you stir, the flavors and colors of the drinks transform. From there, you can choose whether you're in the mood for an upscale ambiance with rare steaks and sustainable seafood or a more casual affair with house-made pizzas, pastas, burgers and classics at Bistro West. In terms of flavor and sustainability, both offer meals you can feel good about.
3. Spend the Afternoon Exploring Village Faire
Located in the center of the Carlsbad Village is Village Faire, filled with palm trees, New England architecture, benches and a tranquil fountain as well as local restaurants, boutiques and art galleries that will allow you to savor Carlsbad culture and help local business owners. For a healthy and sustainable lunch, head to Naked Cafe, a restaurant focusing on flavor, nutrition and fresh ingredients. Almost everything is made in-house, and each menu item is broken down by protein, fiber, carbs, fat and calories. Enjoy items like the "Plate of Prosperity," a dish featuring organic quinoa, scrambled egg whites, spinach, soy sausage, feta cheese, green onion and tomato served aside grilled zucchini, spinach tortilla and salsa; a "Goddess Wrap" with sauteed ginger sesame tofu wrapped in a spinach tortilla with brown rice, vegetables and black beans topped with shiitake mushrooms; or their house-made organic wholegrain "Fuzzy Monkey Pancakes" topped with roasted grains, sliced almonds, golden raisins and fresh bananas served with unsalted butter, fresh fruit puree, powdered sugar and 100% pure maple syrup. Additionally, you can peruse artwork crafted by local artisans on the walls and listen to indie music in a relaxed atmosphere. Bonus: If you're craving a hot beverage Naked Cafe uses 100% organic fair trade beans for their coffees. For a dessert that's good for you and your wallet, head upstairs to Vinaka Cafe for decadent gluten-free cookie that's only $1.
4. Practice Morning Yoga While Paddleboarding
For those who have never done Stand Up Paddle (SUP) Yoga, Carlsbad's Floating Yogis can introduce you to this unique sport. While immersed in nature, increase your physical and mental stamina as you stretch and bend your body into yoga poises—atop a paddle board. The calm morning waters and singing birds will relax you while the balancing movements work your core.
5. Get an All-Natural Spa Treatment at Ocean Crest Spa

Located in the brand new Hilton Oceanfront Resort & Spa, Ocean Crest Spa is dedicated to offering only the highest quality products, most of which feature locally sourced ingredients from California and the ocean. The only time the spa will stray from sourcing locally is when a product, like Osea, comes along that is of exceptional standards. Osea sources pure seaweed from the clean waters of Patagonia. Based in Malibu, Osea is a 100% vegan skincare line and was the first company in 2002 to sign The Compact for Global Production of Safe Health and Beauty Products to remove toxic chemicals from beauty products. Experience Osea during a "Motion in the Ocean" treatment (110 minutes for $250). This reenergizing journey begins with a set of healing gestures, followed by a soft body brushing and undaria scrub. Your masseuse will show you the undaria seaweed in its natural state, before hot water is poured over it, transforming it into a gel applied to the body like a mask for hydrating and firming effects. You'll be wrapped nice and cozy in a cocoon to reap the full benefits. After a hot shower and a hair mask, the treatment finishes with a relaxing Lomi Lomi massage, with its long strokes and cradling motions to make you feel as though you are rocking gently in the ocean.
6. Break a Sweat on the Beach
Along Carlsbad Boulevard, the beach—and scores of people running, cycling, skateboarding, and rollerblading on the paths—will beckon. Lush gardens of purple lavender add to the ambience for an inspiring workout.
7. Go For a Hike

Carlsbad is home to an array of hiking areas, most notably around Batiquitos Lagoon. One of the few tidal wetlands left on the southern California coast, the area is run by the California Department of Fish and Game as a nature reserve and is free for all to enjoy. There are an array of hiking trails circling the lagoon, and visitors can see unique flora like pickleweed, lemonadeberry, and iceplant, vibrant wildflowers, and about 185 bird species, some of which include the American Avocet, Marbled Godwit, Great Blue Heron, Peregrine Falcon and Red-winged blackbird. Make sure to hike to the top of the hill for aerial views of the lagoon and surrounding wetlands. Other places to go for a scenic stroll include The Flower Fields at Carlsbad Ranch, Leo Carrillo Ranch Historic Park and La Costa Canyon Park.

8. Bike the San Diego Coastal Rail Trail
The paved San Diego Coastal Rail Trail runs along Amtrak's Pacific Surfliner and Metrolink/COASTER Corridor for 33 miles through the coastal communities of Oceanside, Carlsbad, Encinitas and Solana Beach in San Diego. Along the way, cyclists, hikers and runners enjoy stopping off in the different cities to explore the local attractions and enjoy the art and garden offerings on the trail itself. In Solana Beach, there is an elevated pedestrian bridge that crosses the tracks allowing easy accessibility from the east and west sides of the tracks. Each city has "Coastal Rail Trail" signs that can point you in the right direction. Additionally, bikers can access the trail from any city via the local trail station. Rent a road bike from Synaptic Cycles and get it delivered right to your door.
9. Indulge Locally

Located in Carlsbad Village is the Chocolate Bar, an artisanal chocolate and wine shop committed to sustainable indulgence. About 1/3 of the chocolates they sell are made on premises, with the others being sourced from small California chocolatiers. Additionally, many of their wines come from local wine regions like Sonoma and Napa, as well as International wine destinations like Spain, Italy, France, New Zealand and Argentina. Along with offering vintage and novelty wines, the shop sells quite a bit of budget-friendly bottles under $20, like an Abel Clement Grenache Blanc from France ($12), a Cedar Brook Sauvignon Blanc from Napa ($12) and an El Furioso Tempranillo from Spain ($17). If you're in the mood for a gourmet coffee, the Chocolate Bar's beans are roasted locally, with many organic blends available.
10. Go on an Adventurous Beer Tour
Scavengers Beer Adventures offers tours that show you Carlsbad's best craft beer experiences. While this may not sound healthy, beer in moderation actually has natural antioxidants and vitamins, especially dark beers. Keep in mind beer is made of 90 to 95% water, so it's also very hydrating. Additionally, some of the company's tours also allow for wildlife spotting and scenic beach views so you can learn about the local ecosystem.
For more tips on great Carlsbad attractions, go to visitcarlsbad.com