Even in a state enviable for a laid-back culture and countless natural and culinary assets, San Diego is a place apart. The sprawling, sun-drenched city has a paradisiacal feel, with a number of attractions (including zoos and beaches) that often rank among the very top in the nation. Indeed, California's southernmost city offers so much it would be impossible to see it all in one weekend, but we've outlined the nuts and bolts of cool things to do in San Diego.
What to do in San Diego
1. Take a walk on the wild side. From cute koalas (the largest colony outside Australia) and lovable pandas to majestic gorillas, fascinating meerkats, and and incredible Elephant Odyssey, it's no surprise that the San Diego Zoo (2920 Zoo Drive) is often ranked the top zoo in the nation. Giraffes, zebras, rhinos, and more roam together on an open plain at the Safari Park (15500 San Pasqual Valley Road, Escondido), while lions, tigers, and other predators can be viewed from platforms.
Both parks are operated by San Diego Zoo Global, the renowned conservation organization that has been instrumental in saving the California condor (the rare birds have their own ridge at the Safari Park), as well as increasing the number of pandas at China's Wolong Breeding Center. Tickets to each park cost $56 ($46 for children), but there are a number of combination passes available.
Directions: To reach the zoo, take Bus 7 to Park Boulevard and Village Place. The Safari Park, located in Escondido, can be difficult to reach via public transit so we recommended booking a tour that includes transportation.
2. Isle away the hours. Spend a day wandering in Coronado, a breezy beach community just a scenic ferry ride ($5.00 each way) away from downtown San Diego. Stroll down Orange Avenue, exploring its myriad boutiques, cafes, and restaurants until you reach the historic Hotel Del Coronado, known for its famous visitors and cameos in many a Hollywood film. And don't forget to bring your suit (or even a volleyball if you're feeling sporty) to enjoy the fine soft sands of Coronado Beach. Set against a backdrop of Victorian homes and the fairy-tale-esque hotel, with tide pools, gentle waves, and a pristine dog beach, this is yet another San Diego spot that is regularly ranked as one of "the best."
Directions: Take the San Diego-Coronado Ferry. Feel free to bring your bike along for free.
3. Put the pedals to the metal. What better way to explore San Diego's wonders than on two wheels. There are a number of rental spots downtown and on Coronado Island. The Discover Bike Share brings bike stations to spots around downtown San Diego. For nicer wheels (road, mountain, hybrid and cruisers) and a helmet rental, try The Bike Revolution (522 6th Avenue), where you can rent wheels for $25 a day. Then cycle along the waterfront, or, for a more intense ride, head over to East San Diego, where mountain bike trails abound. Mission Trails Regional Park is a favorite among cyclists, boasting plenty of wilderness to be enjoyed by bikers and hikers alike.
4. Park it. The word "park" just seems an understatement when it comes to Balboa Park (1549 El Prado), one of San Diego's signature attractions, and, not surprising, another source of the city's many superlatives—clocking in at 1,200 lovely acres, this is the largest urban cultural park in the country. And it's got something for everyone. There are 15 major museums (running the gamut from art to history to air and space), that amazing zoo, and plenty of green space.
In one day you can see art in the making at the Spanish Village Art Center, tap into international goodwill at the International Cottages, and relax in the Japanese Friendship Garden, all before taking in an evening show at one of the many performing arts spaces. Day passes and the weekly Explorer Passport (from $59) offer fabulous savings to those who intend to visit multiple museums.
Directions: The park is about a 20-minute bike ride from downtown, or you can take bus routes 120, or 7.
Where to eat in San Diego
1. It's a gas.  Wander San Diego's Gaslamp Quarter, and you're bound to find numerous bars and restaurants perfect for passing a pleasant evening. This is the sort of district where the hosts offer up their menus as you pass, which can feel touristy and continental (rest assured, these eateries are popular among locals and visitors alike). Try Cloak and Petal for a funky night of Japanese cuisine. Start your meal with garlic edamame or blistered shisito peppers and a tasty cocktail (we liked the cucumber and mint medley of the elyx fix). For dinner, don't miss the koji dry aged steak which, though pricey is some of the best beef we've ever tasted. The atmosphere is hip and funky, the dishes fresh, and the position a perfect jumping-off point for a night on the town.
Directions: Take bus 7 or 120 to 4th Avenue and Broadway.
2. Farm-tastic. A farmer's market is so much more than a shopping trip. Awash with colors, flavors, smells, and, often, live entertainment, these weekly pop-ups are a feast for the senses and a fun community activity in one. And just about any day in San Diego you can find one to attend. Tuesdays are for the small-town vibe at the Coronado Farmers Market (Ferry Landing, 1St and B), while Wednesday evenings in Ocean Beach (4900 Newport Avenue) bring llama rides, art vendors, and more. Thursdays, congregate in North Park (N Park Way & Herman Avenue) , and on Saturdays it's la dolce vita at the Little Italy Mercato (2210 Columbia St) or an Eastern affair at the Third Avenue Farmers Market and Asian Bazaar (Third Avenue and J Street). On Sundays, pick up your beach snacks (and flowers) at the La Jolla Open Aire Market (7335 Girard Avenue).
Directions: Vary by location. Visit sandiego.org for a full list of Farmers Market locations, days, and times.
3. Beachy (burger) keen. Out-of-staters tend to wrap at least one pilgrimage to In-n-Out into their California visits, but we have other burger with equally (if not more) understandable cult followings. In San Diego,  that would be the Burger Lounge, where a burger is also a way of life. Founded in 2007 in La Jolla, the burger joint with a purpose has made a big footprint on the community and an small one on the environment, through a devotion to sustainable practices and all the best ingredients, from grass-fed beef to locally sourced cheeses. Whether you go all out (house-made onion rings and a chocolate caramel salted brownie shake? yes and yes!) or keep it healthy with a salad of quinoa veggie burger, it's certain you'll be eating well. Hit up the La Jolla (1101 Wall Street) or Coronado (922 Orange Avenue) outposts, and then enjoy your burger on the beach. There are also locations in Gaslamp, Little Italy, and more.
Directions: Varies be location.
Where to stay
1. Fame slept here. If you're looking for something extra special, spend your nights at the famed Hotel del Coronado (1500 Orange Avenue). A National Historic Landmark since 1977, the hotel celebrates its 125th birthday in 2013, and and it's still as lovely as always. The iconic property has been setting for many a movie, including Marilyn Monroe's Some Like It Hot, and has housed presidents, princes, and starlets galore. And it's no wonder the hotel's been around so long—with airy rooms (from $309), stunning views, a decadent spa, beach access, and more, it covers all the luxurious bases.
Directions: Take bus 901.
2. The rock. Situated smack-dab in the the heart of things, the Hard Rock Hotel (207 5th Avenue) offers modern luxury with easy proximity both the Gaslamp's bustling nightlife and the tranquil views from the harbor. Rooms (from $183) are done up rockstar-style, complete with a green-room-inspired bar, plus VIP access for two into Hard Rock's Clubs. The Hard Rock and Rock Star suits offer even further swank.
Directions: Take bus 7 or 120 to 4th Avenue and Broadway, or bus 3 to 4th Avenue and G Street.
3. Sweet and simple. Travelers with a more modest budget will be happy at the Ramada Gaslamp: Historic St James Hotel  (830 6th Avenue). Originally built in 1913, this baby combines historic charm (old-school elevators and crystal chandeliers) with modern style and amenities. Plus, its hear-of-the-Gaslamp location places you in the center of the downtown action, and just a half mile from Balboa Park and its many attractions. The hotel also provides complimentary airport transportation (rooms from $84).
Directions: Take bus 7 or 120 to 4th Avenue and Broadway, or bus 3 to 4th Avenue and G Street.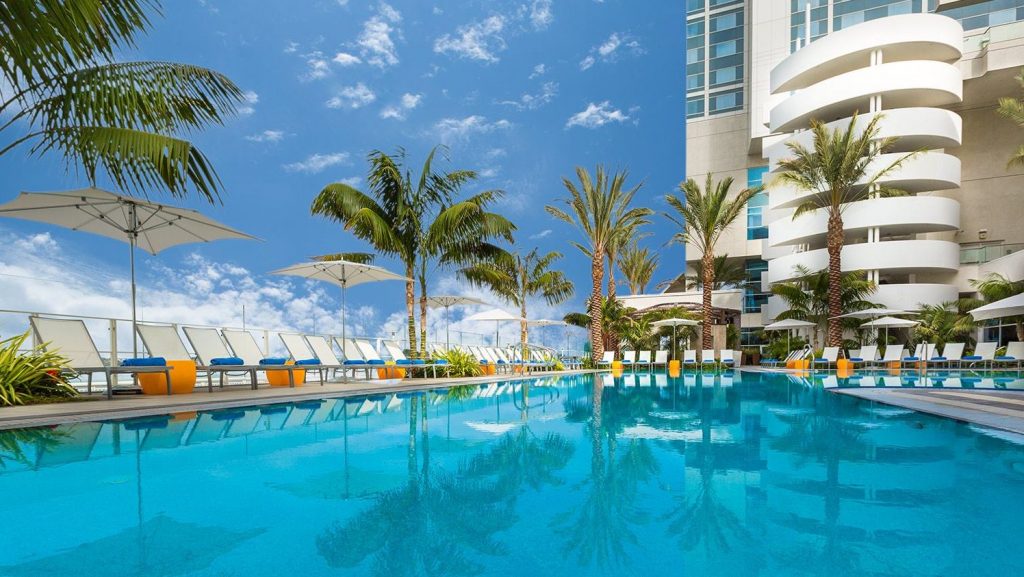 4. Luxurious beach vibes. We know that sometimes sitting poolside with a cocktail is just what the doctor ordered. If that's the type of experience you're looking for in San Diego, head to the perfectly located Hilton San Diego Bayfront for expansive views, a heated pool and easy access to buses and trolleys.
Public Transit in San Diego
Trolley
The San Diego Trolley ($2.50 per ride) has three main lines: Green, Orange and Blue all meeting up in the Downtown area. You'll use the Green line to get to the popular Gaslamp and Little Italy areas. The Blue line will take you to various stop at UC San Diego and all the way to the border with Mexico. There's a fourth  Silver Line Vintage Trolley that makes a loop around downtown on the weekends and is fun to see and experience.
Buses
The San Diego Metropolitan Transit System's buses cover large areas of the city through dozens of lines including a line that connects to the airport. Bikes are welcome on bus bike racks and you can even take a bus to one of San Diego's many beaches!
Ferry
Take a 15 minute ferry ride ($5) to Coronado Island for a special treat! Bringing a bike is free and encouraged.
Two wheels
The perfect weather and miles of boardwalk make San Diego a great place for outdoor transit options like bikes and scooters. The Discover Bike Share offers rides from stations clustered around downtown starting from $5 for 30 minutes. Scooters seem to be on every corner of the city with companies like Lime and Bird providing dock-less scooter rentals from $1.
Those who need electric bike rentals can find them in key areas like the Bayfront Pedego which costs $20 and hour and is just a block walk from the Amtrak station.
Getting to San Diego
Take Amtrak to San Diego from Los Angeles (or San Francisco).
This article was originally published in March 2013 and edited and re-published in January 2019. 
Photos: San Diego Zoo Global,  Miss Shari, SDZ Safari Park, Joanne DiBona (SanDiego.org), OrangeandPark.com, Hotel del Coronado