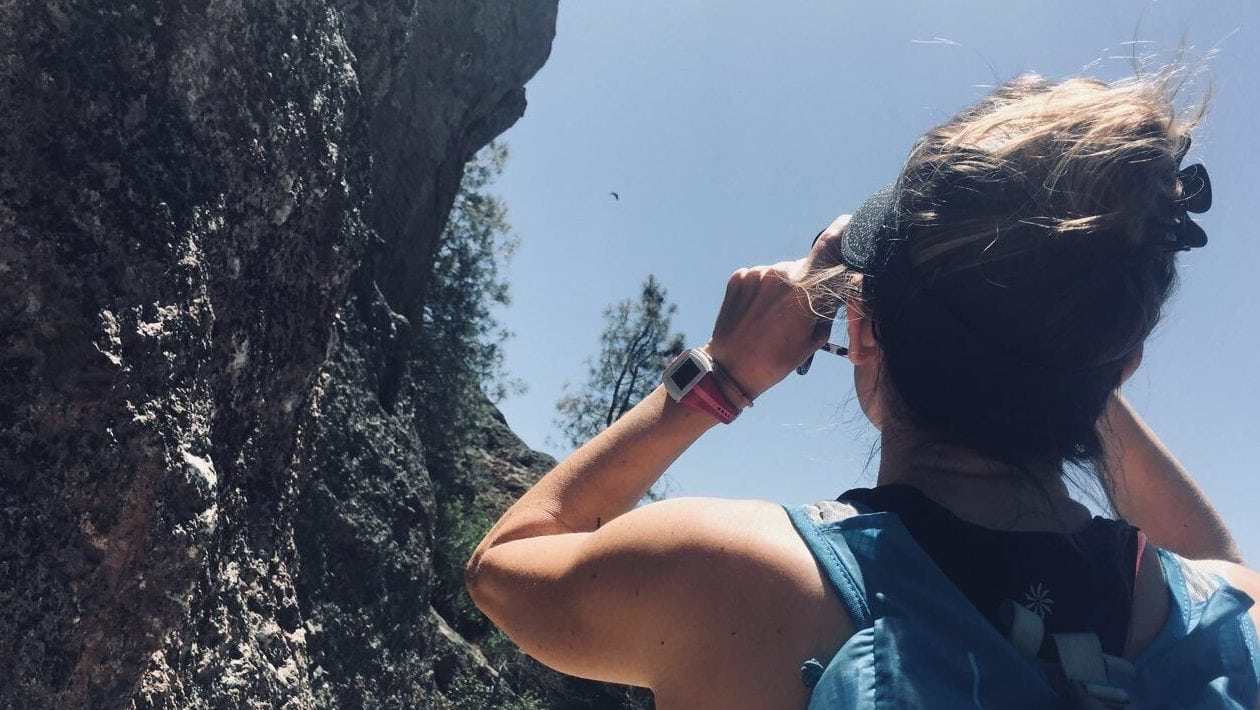 Pinnacles National Park, declared the 59th National Park in 2013, is truly a national treasure and has got to be one of my favorite day trips from San Francisco. You will likely need a car to get here, but you can cut your carbon footprint by joining a group trip through an outdoor community like REI. A two-hour drive south of San Francisco will land you in the midst of an ancient volcanic landscape, where you can hike, climb, and do some epic birdwatching.
Getting to Pinnacles:
You will pass through a tiny town called Tres Pinos. This sleepy town was once the end of the Southern Pacific Railroad and a prominent stagecoach stop, surrounded by saloons, corrals, and a brothel. It's the location of the 1873 "Tres Pinos Tragedy," a legendary robbery by Tiburcio Vasquez and his gang of bandits. Fun fact: Vasquez is thought to have inspired the Zorro character.
The last 30 minutes of the drive, through rolling golden hills, is particularly stunning, so make sure to pull over for some photo breaks. Both times I visited, I entered on the east side of the park (see my recommendations for east vs. west entrances below). After a nondescript righthand turn over some cattle grates, you will arrive at Pinnacles Park.
Details to Consider:
Get here early, particularly if you are visiting during the summer – it gets VERY hot and the majority of the trail is exposed.
Come prepared, but if you need last-minute supplies, hit Hollister (35 miles north of the park) on your way.
There are both eastern and western entrances to Pinnacles Park, but the entrances do not connect by road within the park. The only way to access the other side of the park is by hiking.
The entrance fee is $25 per vehicle.
What to Bring:
Sunscreen is imperative. There is little to no shade on the trail. Sunscreen your party and take extra with you.
Water is equally vital. Bring at least two bottles per person – you will need it! There is a fountain near the trailhead where you can refill before/after your hike.
A hat and sunnies.
Snacks + lunch – stating the obvious here, but pack out what you pack in – don't be a litterbug!
Camera – if not for the condors, for the spectacular views and rock formations.
Hiking shoes – the trail is rocky and you want footwear with a good grip.
Bandana – for use as a tissue, bandage, sweat wipe, hat, or hair tie.
Binoculars – I loved having these, especially when we came across a perched condor.
Flashlight/headlamp – only recommended if you plan on doing any of the trails with caves.
Finding Your Trail:
You will park at the Visitor's Center and can either take a shuttle or hike to the trailhead. The extra hike will add about 2 miles to your total trek and is at an incline. The shuttle just goes back and forth all day and is super easy. We hiked the High Peaks Condor Gulch Trail. The All Trails app will tell you it's 4.6 miles, but I clocked 5.2 on Strava. This trail does require some vigor as the first 2.5 miles are uphill. The ridgeline offers spectacular views and some fun exposed rock staircases and narrow passes. The hairy bits along the ridgeline are not dropoffs though, so even those with a fear of heights should be just fine.
Along the way, keep your eyes peeled for the famous California condors. I've seen them up close both times – they are simply incredible and HUGE. California condors were down to a population of only 22 in the 1980s, so scientists started a breeding program to rehabilitate the population. Pinnacles is one of five release sites where the condors are slowly making a comeback. They are still very much endangered, so it's extra special to be able to see them. We happened to catch a biologist up on the ridge collecting some tracking data and he told us there is a condor nest currently in the park!
Check out all the hikes in the park here. Have little kids? Looking for something a little more low-key? There are plenty of trails to choose from with varying degrees of elevation depending on what you are up for.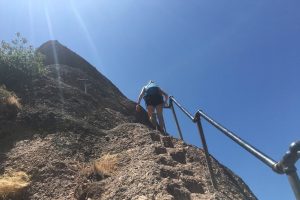 Other Activities in the Park:
Caves: Bear Gulch Cave is the most accessible from the east side of the park, but it's currently closed because of a maternity colony of Townsend's big-eared bats (cute!) residing there, so check before you go. Check the Pinnacles website for updates as the caves can close due to weather as well.
Rock Climbing: I'm not a climber myself, but there seems to be a reasonable amount of climbing allowed in the park. Again, check the site as they close certain areas depending on bird nesting, etc.
Wildlife: Obviously I'm obsessed with condors, but I'm actually obsessed with birds of prey in general – there are plenty of turkey vultures and hawks around here as well. We also saw woodpeckers, wild turkey, and ground squirrels aplenty. If you are into bird watching, this hike will offer you some great scouting spots.
Make it an Overnight:
Camping: There is a sizable campground in Pinnacles that's only accessible from the east side of the park. It starts near the Visitor's Center and goes back about ¾ of a mile toward the gulch. There are picnic tables, fire rings, and plenty of trees to find a spot under. There is also a swimming pool! You can check Pinnacles campsite availability here.
Lodging: On the west side of the park, there are a few hotels near Soledad including Inn at the Pinnacles. Staying east? Joshua Inn in Hollister looks charming.
Whichever adventure you choose, Pinnacles is well worth the trip. You will not be disappointed. See you out there!
Photos and article by oM adventurer and writer Justine Doughty.