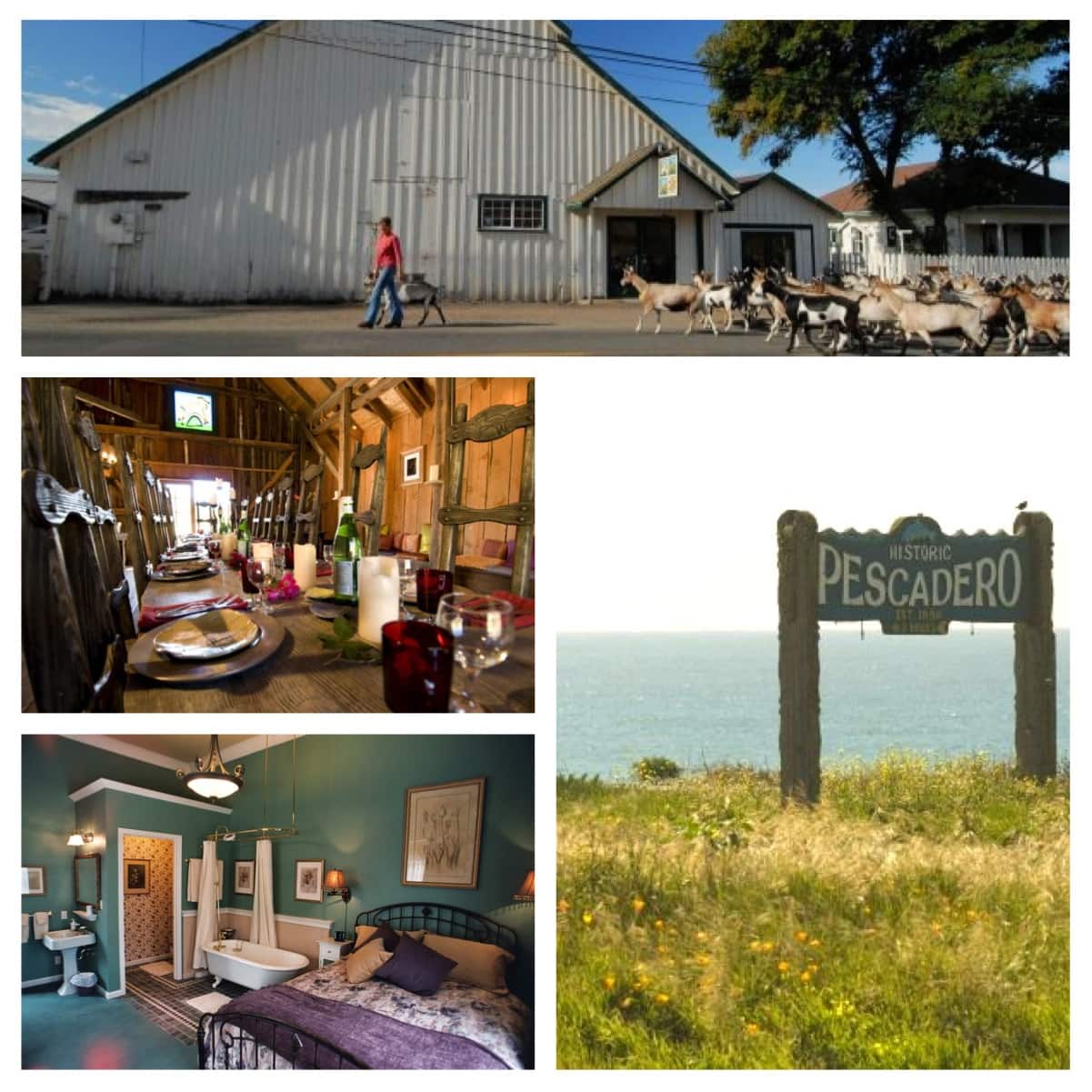 With family ties to Midwestern farming culture, I occasionally feel like something is missing from my metropolitan life in the East Bay. "Where are the endless rows of corn, larger-than-life skies and barn dancing parties?" I ask myself at the end of another evening at a crowded, expensive bar.
One day, after spending an hour Googling the nearest line-dancing venues in the Bay Area, I decided that it was high time for this gal to get a little bit country in California. I found my a place to satisfy all my country cravings just 45 miles south of San Francisco, in Pescadero. Small enough that the locals notice "out-of-towners," this town's quiet main street seems worlds away from Telegraph or Market.
I spent my weekend eating local produce and getting down and dirty at evening barn dances, and even got a treat not available in my country haunts back home: fresh ocean breeze. Here, your guide to a country-style weekend getaway in Pescadero.
What to do
1. Get cheesy. A 102-year-old dairy farm, Harley Farms (205 North Street) prides itself in producing high quality dairy products from the farm's 200 healthy, happy alpine goats. Visitors are invited to go on a tour of the farm, and can follow the milk from its goat, to curd, to cheese stages. Start off the tour by getting up close and personal with the very friendly goats, and end in The Farm Shop, where at least one heavenly variety of goat cheese will more than likely return home with you (my favorite was the honey-and-lavender chèvre). The farm is open daily from 11 a.m. until to 5 p.m. Schedule a two-hour tour ($20 per person) online. Try to snag a seat at one of the upcoming farm dinners in the hayloft. It's worth planning your trip around.
2. Beachy keen. Though perhaps Pescadero isn't known for having perfect beach weather, it is still home to some beautiful stretches of coastline. Drink in dramatic views of waves crashing against the rocks while you stroll along the shore at Pescadero State Beach (Cabrillo Highway South). If you visit in the winter, keep your eyes peeled for grey whale spouts in the distance. Open daily from 8 a.m. until sunset.
3. Big red(woods). Just 4.5 miles southeast of Pescadero, Butano State Park (1500 Cloverdale Road) is a secluded Redwood-filled canyon with a number of quiet trails that wind through California's homegrown giants. Pack a picnic lunch from one of the local grocery stores and dine alfresco on a shaded table. Open daily from sunrise to sunset.
4. Get a down on the farm. A working farm, Pie Ranch (2080 Cabrillo Highway) is so much more than its quality produce and famous pies (which are also sold at San Francisco's Mission Pie). The farm's seed-to-table mission is to educate and connect people to their source of food. Visitors are welcome on the third Saturday of each month. After volunteering in a community work day, you can partake in a potluck dinner and barn dance. Volunteer days begin at 2 p.m., and dancing starts at 7 p.m. (and costs $5-$20).
5. Browse or buy. The stunning and artistic Made in Pescadero (216 Stage Road) features custom-made furniture, art and accessories from local craftsmen and artists, many of whom are also available to create a custom piece to fit your personal taste. Open Monday to Friday from  12 p.m. until 4 p.m., and Saturday and Sunday from 11 a.m. until 6 p.m.
Where to eat
1. Sink your teeth into the area's best wood-fired pizza with dinner at Pescadero Country Store (251 Stage Road). True to its name, this cozy local restaurant also has a store that sells local, organic produce and wines. Weekend barbecues and live music are frequently held on the front lawn. Open daily until 7  p.m.
2. Sip a pint and munch on pub fare at Duarte's Tavern (202 Stage Road). The popular neighborhood diveis one of the only places open in the evening, which means there will be crowds. Grab a seat early, especially if you're planning to eat here. Open daily from 7 a.m. until 9 p.m.
3. Part bakery, part specialty store, Arcangeli Grocery/Norm's Market (287 Stage Road) serves up a wide selection of gourmet food items, including delicious breads made from local vendors. Grab a loaf of the cheddar-artichoke bread to snack on while exploring Pescadero's nearby national parks. Open daily from 10 a.m. until 6 p.m.
4. Taqueria de Amigos (251 Stage Road) is not your ordinary taco stand located inside a gas station, and its popularity is proven by the long lines that tends to form just before lunchtime. (Did I mention the complimentary chips and salsa?) Open daily from 9 a.m. until 9 p.m.
Where to stay
1. Ken Donnelly is a something of a genius when it comes setting a fabulous B&B scene—his Pescadero Creek Inn (393 Stage Road) is a haven with quiet, richly decorated rooms (from $175), and a lovely garden area that beckons visitors to curl up under with a good book. Breakfast comes in courses: Carrot-and-mango juice is followed by yogurt with fresh blueberries and a plate piled high with frittata, homemade garlic-and-basil sausage, and hash browns. Fresh blueberry cakes to finish it off, and in case that somehow doesn't stuff you for the day, there is also wine, nuts, and cheese each afternoon. (We recommend requesting the spacious Creekside Room to enjoy perks like soaking in a giant, free-standing tub.)
2. The Pescadero Creekside Barn (248 Stage Road) is a true treat. It retains its rustic, turn-of-the-20th-century charm with treasures like a brass bed and claw-foot tub, but modern extras like a TV and DVD player are also on hand. Plus, a small kitchenette (microwave, toaster, and fridge means you really can hole up in your barn-loft built for two (from $150).
3. Budget travelers don't have to sacrifice atmosphere at the Pigeon Point Lighthouse Hostel (210 Pigeon Point Road). From its perch next to the historic Pigeon Point Lighthouse (the second-tallest on the West Coast), this green-certified hostel offers affordable dorm (from $25) and private rooms (from $73) where guests can fall asleep to the sound of the waves. Plus, you can play board games in the cozy common room, cook up all your farm produce in the fully-equipped kitchen, or watch for gray whales from the boardwalk. But the best part is the cliff-top hot tub with spectacular views (sign up as soon as you check in!).
Getting Around
Pescadero is small enough that most attractions are within walking distance. Bring or rent a bike if you're planning on taking longer trips to the beach or the Redwoods. The Pescadero Creekside Inn rents bikes out to guests.
Directions
A car is necessary to reach Pescadero. Check out car-sharing services like Getaround to affordably rent a car for the weekend.
Photos: dbaron, Harley Farms