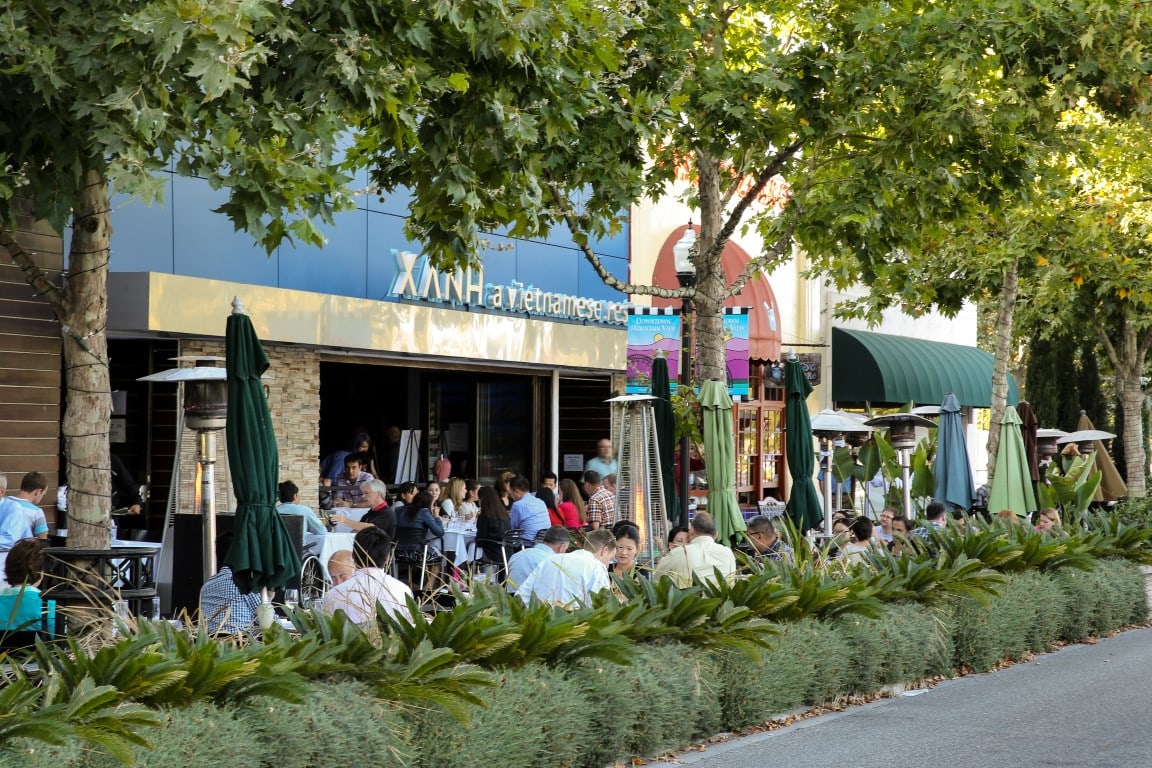 Fixed in the heart of the Silicon Valley, Mountain View has modernized along with the tech boom surrounding it, but still manages to maintain the classic, laid-back California feel. That the action is centered on one main drag, Castro Street, enhances the small-town vibe. The happening drag is lined with restaurants and bars, plus an impressive amount of bookstores and a few quirky sights throughout in.
Here, seven things to do in Mountain View.
1. Books, Inc. (301 Castro Street), "The West's Oldest Independent Bookseller," has an outpost on the corner of Castro and Dana. We recommend planning some time to wander through this behemoth.
2. Grab a tasty snack at Rose International Market (1060 Castro Street), which offers outdoor seating and a wide offering of sandwiches and kebabs at affordable prices.
3. Stop by for all things vintage at Book Buyers (317 Castro Street), home to an extensive collection of used books, old magazines (think $.50 issues of National Geographic), wall-to-wall cases of vintage records, and everything you might imagine necessary for a Rolling Stones comeback tour (save, alas, for the Stones themselves).
4. Chill out on the sunny patio of Bierhaus (383 Castro Street), where 18 beers rotate on tap and another 40 are available in bottles. Save room for an outstanding burger, too, made with grass-fed beef on a freshly baked bun by none other than New York's Shake Shack.
5. Get lost in the world of locks (really) at The Jehnings Family Lock Museum (175 Castro Street). Proprietors Audrey and Al Jehnings have been in the locksmith business since 1972, and have been collecting antique lock paraphernalia all the while. Set in the stunning 1903 Ames Building, the museum exhibits from its vast collection of  locks, keys, safes, and key rings from around the world. (The museum is open Wednesdays from 12-5 p.m., Thursdays from 6-8 p.m., and Sundays from 10 a.m. to 3 p.m; admission is free.)
6. Take advantage of drink and appetizer specials during happy hour (daily from 4:30-6:30 p.m. ) in the trendy lounge at Xanh (110 Castro Street), an Asian-fusion hotspot that draws heavily on its Vietnamese influences.
7. Indulge in homestyle Italian cooking (along with friendly Italian treatment) at Vaso Azzurro Ristorante (108 Castro Street). If the garlic bread does not get you through the door then their service will. Offering a great selection of pastas and notable classics Vaso Azzurro has something for everyone.

Directions: Take Caltrain to Mountain View. The stop is just off of Castro Street.
Photos: Xanh, Bierhaus, Books,Inc.
[mappress mapid="128″]