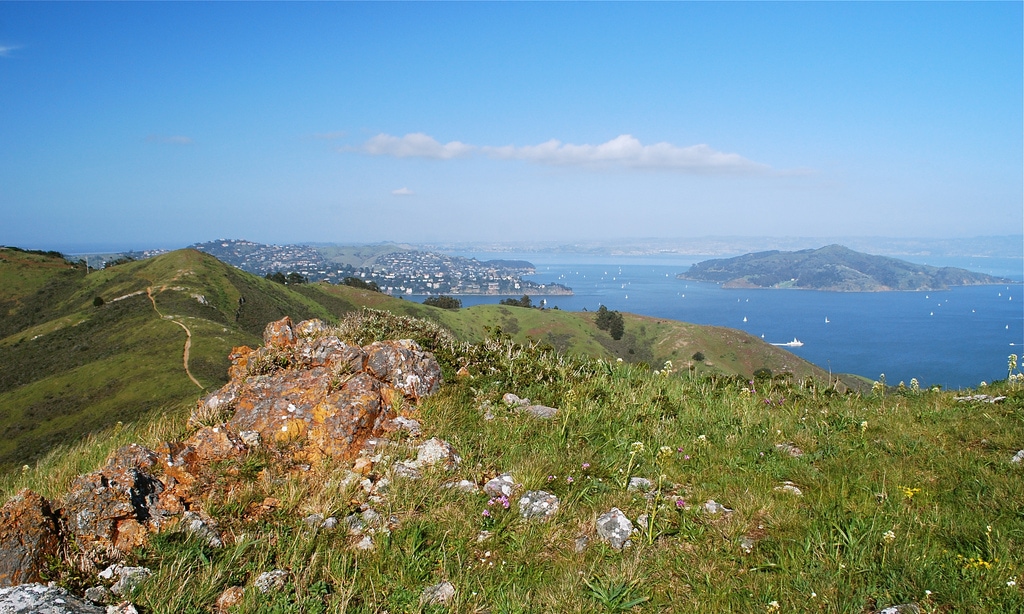 The team at offMetro SF is still sighing over the gorgeous photos submitted to the Go offMetro SF Photo Contest. It seemed every shot was better than the next, so we truly struggled to narrow things down. Fortunately, we had the help of some fabulous celebrity judges, all seasoned wanderers, discerning tastemakers, and Bay Area experts.
In addition to adding their own personal brand of expertise and flair to the judging task, our judges shared their favorite places to get out of town. From bike paths to beach escapes, here are eight great San Francisco getaways. Plus, check out the winning contest photos for even more getaway ideas and insider tips.
BIG SUR
"I've had a love affair with Big Sur for many years. This little hamlet stretched between the sea and the redwoods is unlike any other place on earth. It has become a second home to me…where mind, body and soul are restored upon each visit. It is, quite simply, magical." —Chip Conley, Most Inspiring Photo Judge
About Chip: Chip Conley turned a seedy inner city motel into the second largest boutique hotel brand in the world, Joie de Vivre Hospitality. The New York Times bestselling author of Emotional Equations is a passionate and seasoned world traveler. His experiences at some of the world's most transformational festivals inspired him to launch Fest300 based on his belief that, "The more virtual we get, the more ritual we need." He is now also sharing his brand of hospitality with Airbnb hosts in nearly 200 countries. Explore the world with Chip on his travel blog and find out more at chipconley.com.
Photo: "#bigsur" by jorgeabianstudio's (oM contest entry)
Directions: Take Caltrain to the San Jose Caltrain Station. From there, walk to Cahill/Diridon Station and take the MST 55 Bus to the Monterey Transit Plaza – from there you can either catch the 22 Bus or hop on your bike.
STINSON BEACH
 "You can hike down to Stinson from the top of Mt. Tam, which affords stunning views of the city, Bolinas, and the Pacific Ocean. It's well worth the trek down to hang at the laid back beach. After the hike down, I love having breakfast at the Parkside, followed by hours lazing on the sand and playing frisbee. Then, a hike back up the Steep Ravine trail (or any of the other steep uphills) towards Pantoll. That is a dreamy day. " — Mary Polizzotti, Dreamiest Photo Judge
About Mary: Mary runs the website for 7×7 and is also the digital director at California Home+Design. A Boston native, Mary traveled to 41 countries in between stints at the East Bay Express, Denver Westword, Lonely Planet, NileGuide.com, 10Best.com and a non-profit gig in Uganda. You can find her in the Lower Haight when she is not wrangling freelancers.
Photo: "Late afternoon in summer on the Matt Davis trail above Stinson Beach in Mount Tamalpais State Park" by Miguel Vieira
Directions: Take Golden Gate Transit Bus 70 to Marin City at Donahue and Terners. From there transfer to Marin Transit Bus 61 toward Brighton Avenue. Get off at Panoramic Highway and Pan Toll Road for Mt. Tam (to hike from there), or take the bus all the way to Shoreline Highway, a short walk from the beach.
TOMALES BAY
"My favorite place to get away from San Francisco is Tomales Bay. Here you can have a picnic with friends and family over the freshest oysters you've ever had. It's a gorgeous spot to boot." —Dan Rosenbaum, Best SF Bay Area Photo Judge
About Dan: Born in New York City, raised in Los Angeles, and living in San Francisco. Dan currently works at San Francisco Travel running their social media channels. When Dan's not working, he's hosting people for his underground dinner series (#dinnerwithdan), traveling the world and always exploring San Francisco.
Photo: "Kayak camping under the stars. Tomales Bay" by initika (Adventure Photo finalist)
MARIN HEADLANDS
"My favorite place to get away near San Francisco is just across the Golden Gate Bridge in the Marin Headlands. You are just a stone's throw from the city, but feel worlds away. The amazing photo opportunities of the bridge are an added bonus to a hike or drive along the headlands." —Krista Rossow, Most Adventurous Photo Judge
About Krista: Krista Rossow is a travel photographer, photo editor, and educator from Eugene, Oregon (currently living in Cape Town). A photographer for @NatGeoCreative, Krista is a former photo editor for National Geographic Traveler magazine and a yogini who fell in love with San Francisco in 2012 during a shoot for @NatGeoTravel.
Photo: "Nothing better for the soul than a long #run in the #marinheadlands" by getfitwithla (Most Inspiring Photo contest finalist; says Judge Chip: "These trails are like an old friend…just minutes away from the city.")
99 RANCH MARKET
"99 Ranch Market (http://www.99ranch.com/) in Richmond is a wonderland of far-out ethnic food. This giant Chinese grocery has aisles upon aisles upon aisles of ingredients from China and other Asian countries: fruits and veggies you've never heard of, all kinds of seafood and weird cuts of meat, prepared foods, and more types of frozen dumplings than I have ever seen in my life." —Brendan Spiegel, Best Food Photo Judge
About Brendan: Brendan Spiegel is a writer for the New York Times, the Washington Post, Wired, New York Magazine, Travel + Leisure, The Village Voice and offMetro.com. He is the managing editor of Narratively, an online publication dedicated to in-depth storytelling about New York. He is also the publisher of Endless Simmer, an independent food website that draws 300,000+ monthly readers. He got his start as a political reporter and editor at Congressional Quarterly.
Photo: 99 Ranch Market.
SANTA CRUZ
"One of our favorite places to get away is Santa Cruz. It's beachy and beautiful and we will never get tired of walking up and down the boardwalk." —The Bold Italic Team, Boldest Photo Judge
About The Bold Italic: The Bold Italic is an online magazine, shop, and events hub in San Francisco. It's a chorus of voices that celebrates the free-wheeling spirit of the city, supports local businesses, and incites conversation. The Bold Italic inspires readers to live life out in the city.
Photo: "Boardwalk Feet" by Refracted Moments
THE BIKE HUT
There's a bike ride out there in Northern California that I dream about from New York. Starting in Half Moon Bay, you weave through the Santa Cruz Mountains, passing wild backcountry that only a few farmers and lucky cyclists seem privileged enough to enjoy. There are hard climbs and thrilling descents, with spectacular verdant vistas and the Pacific Ocean glistening all the way down to Tunitas Creek, where a little red gem awaits. You'll step inside the bike hut and linger a while, looking at vintage cycling photos and chewing on chocolate covered banana chips that you paid for in accordance with the honor system. The place is full of surprises that make off-the-beaten-path rides like this worthwhile. As you head back along a nice wide shoulder on Route 1, you feel like you've been gone from San Francisco much longer than a day. Follow this map on Strava for the ride.
About Lauren: Lauren runs offMetro's New York, San Francisco, and Way Off websites. A New York native with Southern California roots, Lauren also contributes to The Huffington Post and Bicycling Magazine, and was named a top 10 female blogger by Cosmopolitan. Lauren writes the "Car-Free Traveler" column at Budget Travel, and in her spare time, works with the non-profit organization Transportation Alternatives. Lauren can be found on two wheels wherever she goes.
Photo: Lauren Matison
TASSAJARA ZEN MOUNTAIN CENTER
"Last spring, I had the good fortune of attending a yoga retreat at Tassajara Zen Mountain Center. Operated by the San Francisco Zen Center, Tassajara is the first Zen monastery outside of Asia, and it opens to the public every summer. Tucked into the Carmel Valley (and accessible only by a rugged, and harrowing 14-mile road), it has a magical, trapped-in-time, brigadoon quality, augmented by the fact that it is completely off the grid. Being only a casual practitioner of yoga (and a never practitioner of Zen), I was initially both excited and anxious, but it turned out that four days away from the constant stimulation of emails, texts, and Internet is the perfect refresh button. I quickly melted into meditation, enjoying the tranquil setting, pleasant company, and famous Tassajara food, and then stepping back into the "real world" feeling more grounded, focused, and at ease. (And I can't wait to go again this year!)"
About Suzanne: Suzanne is offMetro SF's managing editor, bi-coastal gal dividing her time between the Bay Area (where she was born and raised) and New York. She explores both East and West Coasts, and beyond, and reports on her adventures for a variety of publications, including EuroCheapo.com, CBS Watch! Magazine, MarieClaire.com, National Geographic, and Matador Travel. She also runs the New York (San Francisco-originated) literary pub crawl, Lit Crawl NYC.
Photo: Tassajara Zen Mountain Center
Lead Photo: nickton