When was the last time you looked at that adventurous to-do list you made ages ago? Summer is a beautiful season to be a bird, and to make the experience less intimidating, oM scouted the best skydiving drop zones near NYC, including outfitters in Long Island, Jersey Shore, and upstate New York. Whether you're a first time flyer or know your stuff, use these tips and take the kick-ass plunge.
Requirements: Anyone who wants to skydive in the U.S.A. must meet the USPA's Basic Safety Requirements. This includes being healthy and in the right physical condition to dive. Make sure you tell your instructor about any medications you might be on, or heart conditions you may have. If you've been scuba diving or donated blood recently, you might need to wait a few days before you jump. Most sites also have a weight limit of 220 pounds, and some will charge extra for those over the maximum. Skydiving schools also typically require their students to be at least 18 years of age.
Learning: First time jumpers must complete a training course, and it is common for instructors to give students written and practical tests before the first jump. The tests are used to practice reactions and decision-making skills for a safe first jump, and to give first jumpers the confidence they need to make that leap.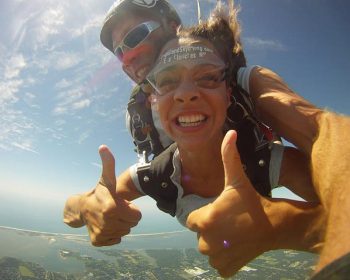 The Jump: Your first jump will most likely be a tandem jump. Jumping with an instructor will take the stress out of your first experience. You will either have a "one-time fun jump," which takes half an hour of preparation, or a "tandem progression," which requires a first jump course that can take up to four hours. The instructor will carry the parachute, and the student will wear a harness that attaches to the instructor. Another popular first jump style is accelerated free fall (AFF), which is a seven level program and more involved than the tandem jump. For levels 1-3 of the AFF, the student will free-fall with two instructors to assist the student in becoming stable in the air. Mentally prepare yourself for your adventure with these tips.
The Drop Zones:
1. One of the nearest skydiving sites is Long Island Skydiving at the Brookhaven Airport just fifty miles outside the city. Though they do not offer extensive classes, they have a brief introduction before their tandem jump (the only kind they offer). See beautiful views of the city and the south shores of Long island for $229-$298 per individual (book online for a discount). Reductions are offered for groups. You can also get a video of your jump for $100-$119.
How to get there: Take the LIRR from Penn Station to Majestic/Shirley station. Call the local cab company (631.882.4489) for the five-minute ride to the airport.
2. Head to beautiful western New Jersey and find the 2,500 square foot hangar of Sky Dive New Jersey. This facility has everything from tandem jumps for beginners ($205-$215 per person) to options for those looking to achieve a sky dive certificate (call them for details). During your jump you can spot everything from the Delaware River to the NYC Skyline and videos are available for $99.
How to Get There: On popular weekends, Sky Dive New Jersey offers a shuttle service from the Hoboken Path train ($30) to the airport. Otherwise, take the PATH or NJ Transit to Newark to hop on the Raritan Valley NJ Transit line to the Annandale Station. Call a cab (908.268.4088) for the quick 10-mile trip to the airport.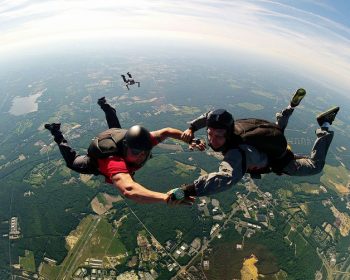 3. Both tandem and AFF jumps are available at Sky Dive Jersey Shore, but first jumpers can only jump tandem. After the thirty-minute class, an instructor will take you up and jump over the shore for views of the ocean and the New York City skyline. If you bring eleven or more people, the organizer gets a free ride!
How to get there: Take the 139 Bus from Port Authority to the Freehold Center, then the 836 Bus to Wyckoff Road and take a taxi (732.223.1500) to the airport.
4.  Skydive The Ranch and 5. The Blue Sky Ranch in New Paltz are sister skydiving sites. Skydive The Ranch is a school dedicated to training first jumpers, and offers tandem jumps called instructor-assisted freefall (IAF) up to level thirteen. First jumps are $219, or $119 a person for groups of five or more. If you are a thrill junkie looking for more advanced jumping, The Blue Sky Ranch may be for you. You must be a member of the USPA and have an "A" license to jump with Blue Sky Ranch. You can jump for $25 ($2 off for those sixty and older), and they hold events such as the North American Skydiving Championships, in case you're the competitive type as well.
How to get there: Take Adirondack Trailways to New Paltz, and take a fifteen-minute cab ride (845.256.1111) to the 45 Sand Hill Road.
Photo credit: Silveira Neto.