Searching for a few useful tips for how to look fashionable and be comfortable when traveling? You've reached the right place.
We all love the idea of traveling!
Meeting new people, learning new diverse and rich culture, and all the decadent food you will enjoy. But, for all the fashionista girls, one thing occupies our thoughts till the day we board that flight.
What should we be wearing while traveling?
Going on a ten-day trip requires twenty outfits and two spares. Alongside all the scenarios that we imagine would happen, and prepare a fitting outfit for it. However, more often than not, that never happens.
Therefore, mindfully packing your travel outfits ensures you do not overpack and look your best throughout your voyage.
This excerpt below will discuss some of the best outfit combos you should pack in your suitcase. A travel wardrobe that focuses on fashion and keeps you comfortable through the Riviera air and the museum tours, and still makes you look classy, biting into those rich chocolaty treats in the cafes.
You get the picture!
Now, without any further ado, let's jump into the perfect travel wardrobe!
Travel Wardrobe – Blending In Fashion & Travelling
It is a known fact that packing too many items can be a nuisance when you are travelling. You wouldn't know where half of the items are and must constantly check the airline's weight limit.
Plus, you have to leave some space for the souvenirs and items you buy from the land you travelled to.
Why not let go of some baggage?
Traveling can be an exciting experience, but it can also be stressful when it comes to packing. As a fashion lover, it's important to balance comfort and style when putting together a travel wardrobe.
With limited space and weight restrictions, it can be challenging to pack everything you need while still looking fashionable. However, by following some simple guidelines, you can create a travel wardrobe that blends fashion and function.
Fashion ideas when travelling are crucial to ensure your comfort during the journey. Let's explore some outfit ideas to keep you comfortable and stylish throughout your journey.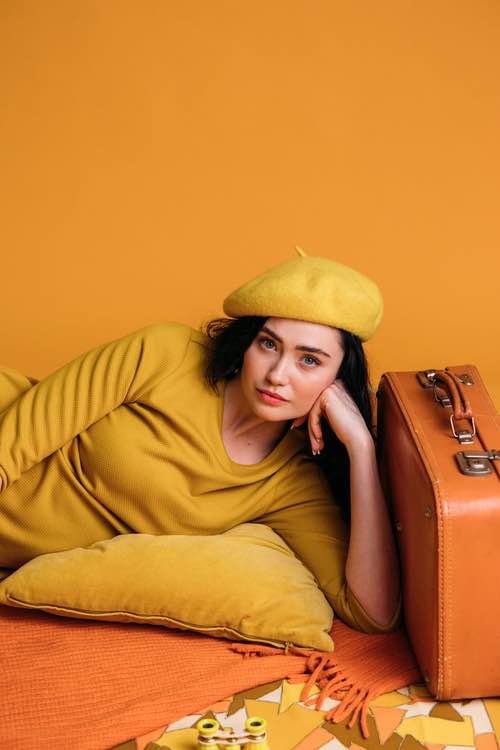 Choose Wrinkle-Free Fabrics
When it comes to traveling, choosing wrinkle-free fabrics can be a great way to stay comfortable while also keeping up with the latest fashion trends. These types of fabrics are often designed to resist wrinkles even after being packed in a suitcase, making them ideal for anyone who wants to look their best while on the go.
So, if you are planning a trip and want to keep your wardrobe looking fresh and stylish, be sure to consider investing in some wrinkle-free clothing options!
Choose Simple But Chic Makeup And Hair
If you're looking to stay fashionable while travelling, it's important to choose makeup and hairstyles that are simple yet chic. This will help you look put-together without being too fussy or overdone and will ensure that your travel wardrobe remains versatile and easy to mix and match.
Whether you prefer a natural look or something a bit more glamorous, plenty of options will keep you looking stylish and on-trend no matter where your travels take you.
Try to keep tiny makeup products to keep the baggage lite while leaving enough space for travel shopping. Only embrace travel-friendly beauty and skin care products to balance your wardrobe.
Watch this video for some more tips on makeup when traveling:
Wearing Layers Can Help You Adapt To Changing Temperatures
Wearing layers can be a great way to cope with fluctuating temperatures. By layering up, you can easily adjust to changes in the environment, whether you're moving from indoors to outdoors or experiencing a sudden change in weather.
The beauty of layering is that you can add or remove items as needed, allowing you to maintain a comfortable body temperature throughout the day.
So, next time you head out into the world, consider adding an extra layer or two to your outfit – your body will thank you!
Watch this video for some tips on layering:
Pack A Different Outfit For The Plane
Regarding travellng, packing smart is key to making your trip as comfortable and stress-free as possible. One tip that frequent travellrs swear by is packing a different outfit for the plane ride.
Not only does this ensure that you will have a fresh change of clothes upon arrival, but it also allows you to be prepared for any temperature changes or unexpected delays during your journey.
Watch this news piece from 'Inside edition' on how people are dressing for their flights:
Additionally, it's always nice to feel a little more put-together when you are travelling. Well, even if you just sit on a plane for hours, it may work for you psychologically. So, next time you are packing for a trip, consider setting aside a comfy yet stylish outfit specifically for your time in the air.
While on holiday, you don't want to stink much. So, think before you go and make it perfect this time.
Carry A Stylish Bag
Carrying a stylish bag has no better exception. It is an extension that will add a fashionable sense to your outfit.
Carrying a stylish bag while travelling adds a touch of fashion to your look and is a practical accessory to carry your belongings. Now, you will be able to meet your needs and showcase your presence simultaneously wherever you go.
Minimize The Number Of Shoes You Bring
Minimizing the number of shows you bring with you while travelling. It is a crucial step to avoid overloading your baggage. It's not just about being heavy but also about keeping your wardrobe with necessities only.
We know that you want to look fashionable, and that's where you want to keep extra. Yes! Fine! But three pairs are enough! Not more than that.
Watch this video for some tips on choosing the right shoes for your trip:
Choose Monochromatic Tones
Choosing monochromatic tones is a great way to blend fashion with your travel wardrobe. Not only does it create a cohesive and stylish look, but it also makes it easier to mix and match your outfits.
When selecting your travel wardrobe, try to choose pieces that are in the same color family. This will allow you to create a variety of outfits using just a few basic pieces.
For instance, you can pack a few black-and-white items to create a chic and classic look. With these simple tips, you can create a travel wardrobe that is both fashionable and practical!
Choose a cute dress paired with a comfy cardigan and a lightweight scarf to be used in modern fashion while travelling. Overall, your sense of fashion will be judged by others throughout the journey. We might say that it does not matter to you until you are feeling comfortable, but it creates an awful experience no matter how you train your mind.
We all want to be admitted and admired, and this is common human nature. If you deny that, no worries, but it's up to you to be comfortable and fashionable throughout.