Have you ever wanted to visit the United States of America? Imagine exploring diverse landscapes, experiencing different cultures, and creating unforgettable memories. Sounds inviting, right?
However, financial constraints can make your dream vacation challenging. Expenses like transportation, lodging, and food can add up quickly, causing concerns for budget-conscious travelers.
Don't worry if you're one of them; this article has your back. After all, traveling doesn't have to be expensive. Read on to discover ten economical options, including travel tips and advice to maximize your budget:
1. Asheville, North Carolina
Nestled in the Blue Ridge Mountains, Asheville boasts stunning natural beauty and a thriving arts scene. Why not discover the River Arts District's numerous art galleries and studios at no cost? Then, take advantage of the Blue Ridge Parkway, a scenic drive with breathtaking views and hiking trails free of charge.
Are you searching for a place to stay? Consider an inexpensive bed and breakfast or rent a cabin with friends or family to split the costs. Asheville offers plenty of complimentary or cheap activities, like roaming parks or attending local festivals and events.
Watch this video to get a glimpse and some tips:
2. Philadelphia, Pennsylvania
Rich in heritage and culture, Philadelphia is perfect for frugal travelers. Did you know you can visit Independence Hall and the Liberty Bell at no cost? The metropolis also has museums with complimentary admission or discounted rates on certain days.
To save on lodging, stay in a nearby suburb and take public transportation into the urban area. And remember to try Philadelphia's thriving food scene with wallet-friendly options.
3. Savannah, Georgia
Famous for its beautiful historic district, oak-lined streets, and Southern charm, Savannah offers reasonably priced walking tours to examine the city's rich background and architecture. Savannah's green spaces and squares provide complimentary entertainment like concerts and festivals.
Regarding accommodation, look for economical hotels or bed and breakfasts outside the historic district. And remember to use the municipality's free public transportation, the DOT Shuttle. It can take you to popular attractions and helps you save on parking fees.
Watch this video to learn what else you can do in Savannah:
4. Moab, Utah
Are you craving an epic outdoor adventure? Look no further than Moab, Utah! This paradise offers access to two breathtaking national parks – Arches and Canyonlands – and the scenic La Sal Mountains. Did you know you can get an America the Beautiful National Parks Pass for a reasonable price, giving you access to these parks and many others for a year?
In addition, camping is inexpensive in Moab, with campgrounds inside and outside the national parks. The town also has complimentary or cost-friendly activities like hiking, biking, and stargazing. It's a dream destination for frugal adventurers!
5. New Orleans, Louisiana
Do you fancy a vibrant urban center with lively music, unique cuisine, and rich annals? New Orleans is the place to be! For jazz, head to Frenchmen Street, where you'll find bars and clubs with gratis or low-priced live performances. Take advantage of costless attractions like the French Quarter and beautiful City Park.
To save on shelter, try an economical hotel or guesthouse outside the French Quarter. For dining, how about delicious and accessible po' boy sandwiches or visiting the historic Café du Monde for beignets and café au lait?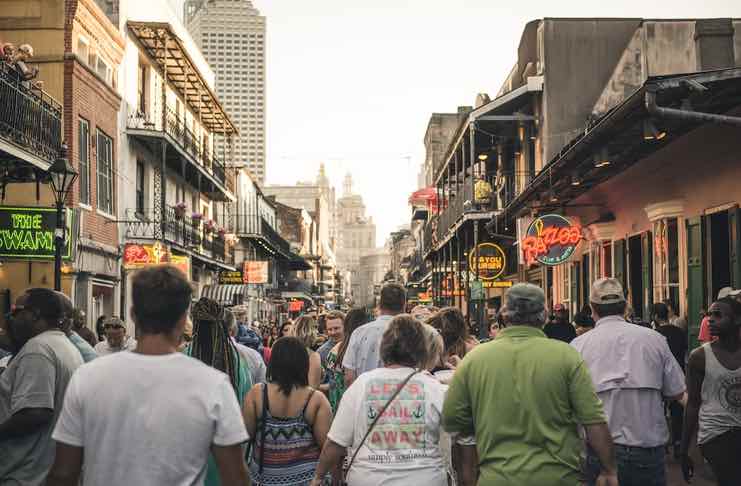 6. Washington, D.C.
Attention past buffs and museum enthusiasts! Washington, D.C., is a must-visit destination, boasting complimentary attractions like the Smithsonian museums, the National Gallery of Art, and the monuments along the National Mall. Plus, the urban center hosts free events and festivals, such as the National Cherry Blossom Festival.
For cheaper lodging, consider staying in a nearby suburb and taking public transportation into the city. Don't worry about dining – D.C. offers wallet-friendly options like food trucks and ethnic restaurants, so you can enjoy tasty meals without breaking the bank.
Check out this video for some more tips:
7. Portland, Oregon
Portland is a quirky and eclectic metropolis known for its beautiful recreational areas, vibrant arts scene, and unique attractions. Visit the International Rose Test Garden with over 10,000 rose bushes for free. Additionally, the urban area offers complimentary or discounted events like street fairs, outdoor concerts, and art walks.
To lower expenses, consider staying in a low-priced hotel or hostel or renting a room through a home-sharing platform. Portland also has a thriving food scene, with numerous food carts and reasonably priced restaurants offering delicious meals at affordable prices.
8. San Antonio, Texas
San Antonio is rich in chronicle and culture, offering wallet-friendly attractions for frugal travelers. Delve into the city's famous River Walk, a picturesque network of walkways along the San Antonio River, at no cost. Visit historic sites like the Alamo, which offers gratis admission.
Reduce housing expenses by staying in an inexpensive hotel or motel outside the downtown area. San Antonio has various affordable dining options, including Tex-Mex cuisine and delicious street food.
Watch this video to get a glimpse of San Antonio and what you can do there:
9. Eureka Springs, Arkansas
Eureka Springs is a charming Victorian town in the Ozark Mountains, offering a unique and cost-effective getaway. Explore its well-preserved historic district on foot or take a cheap trolley tour. Visit commons and natural attractions like the Blue Spring Heritage Center and the Turpentine Creek Wildlife Refuge.
Regarding lodging, consider staying in a wallet-friendly bed and breakfast or motel or renting a cabin with friends or family. The town has reasonably priced dining options like cozy cafes and family-owned restaurants.
10. Myrtle Beach, South Carolina
Myrtle Beach is a popular coastal destination known for its beautiful beaches, family-friendly attractions, and accessible accommodations. Enjoy the beach for free and budget activities like mini-golf, amusement parks, and live entertainment.
Choose economical hotels, motels, vacation rentals, and campgrounds for housing. The city has many affordable dining options, including seafood buffets and casual restaurants.
Ready To Discover The Land Of The Costless?
These budget-friendly travel destinations across America provide diverse experiences for thrifty travelers. Investigating these accessible options shows that extraordinary travel experiences don't need a staggering price tag.
So, don't wait any longer – seize the moment and start planning your next unforgettable adventure today! Your journey toward incredible memories and budget-friendly experiences in the U.S. begins now!