Are you looking for fashionable and functional men's travel clothing that will keep you comfortable, stylish, and prepared to explore the world? From lightweight jackets made with breathable fabrics to multifunctional shirts designed for maximum versatility, sunglasses to leather shoes and footwear, these wardrobe staples offer function without sacrificing style. Here is a list of the latest must-haves of attire that are perfect for any destination.
So, without further ado, read on to discover what men's travel outfits are.
Travel Clothing Outfits Ideas
You want to look good and feel comfortable when traveling, but also make sure that you pack efficiently. Whether you're traveling for business or pleasure, these travel outfit ideas will help men learn how to dress smartly and stylishly when they're in transit.
1. Cotton and Linen Shirt
If you're planning a trip soon and wondering what to pack, look no further than cotton and linen shirts. These fabrics can keep you comfortable during long hours of travel. Also, they're perfect for a day of exploring a new city. Cotton shirts are breathable and lightweight, allowing you to stay cool in hot weather. Linen shirts are similarly breathable and offer a laid-back vibe perfect for vacation. Pair them with comfortable pants and sneakers for a stylish yet practical outfit that will turn heads. For more about the best fabrics for travel, read this article.
2. Straight Jeans
Straight jeans have effortlessly taken the throne in men's travel wear. With their versatile style, straight jeans can match any outfit and occasion, making them the ideal outfit solution for men on the go. With so many options available, from classic cuts to distressed or ripped styles, there is a pair of straight jeans for everyone.
3. Casual Shoes
As men seek practicality and comfort in fashion, casual shoes have become a go-to for travel outfits. Whether exploring a new city or hopping on a long flight, the right pair of casual shoes can keep you looking stylish while prioritizing your comfort. From classic canvas sneakers to trendy slip-ons, a wide range of options are available to fit any personal style or preference.
4. Dress Shoes
Dress shoes are not just reserved for special occasions anymore – they are a must-have for any stylish traveler. A perfect pair of dress shoes can elevate any outfit and give you that extra boost of confidence while exploring new cities or attending important meetings. From classic leather brogues to sleek loafers, plenty of options will pair perfectly with your favorite suit or even with more casual attire.
5. Joggers and Shorts
With summer in full swing, it's no surprise that joggers and shorts have become the go-to outfit for men who love to travel in style. Whether you prefer the sleek and sophisticated look of joggers or the classic sportiness of shorts, there's no denying the versatility and ease of these trendy pieces. A combination of comfort and trend makes these outfits the perfect choice for wandering through new cities or strolling along sandy beaches.
6. Jackets
Jackets are one of the best travel clothes for men. They can keep you warm during chilly flights and train rides. With so many styles, materials, and colors, you're sure to find a jacket that fits your style and needs. Jackets are the go-to choice for men to wear as a travel outfit. Whether you prefer a classic leather bomber, a sleek wool overcoat, or a rugged denim jacket, it's a trending style for men.
7. Suits
As men strive to look their best while jet-setting across the globe, the suit has emerged as a go-to outfit for traveling in style. Whether you're heading to an important business meeting or want to elevate your airport look, a well-tailored suit is perfect. Not only does it exude confidence and sophistication, but it also provides comfort and convenience during long flights. You can choose suits in various shades, such as classic black, navy, and gray.
8. Striped Sandals
A pair of striped sandals are essential to men's travel fashion attires. These sandals add a pop of color to any outfit. They are also comfortable and functional for exploring new destinations. Whether strolling along the beach or sightseeing in the city, these sandals are the perfect accent to any outfit.
9. Sunglasses
Unsurprisingly, sunglasses are trending for men while traveling, as they serve both a practical and stylish purpose. Good sunglasses protect your eyes from harmful UV rays and add sophistication to any outfit, whether walking along a sunny beach or exploring a new place.
Tips on Choosing Trending Travel Outfits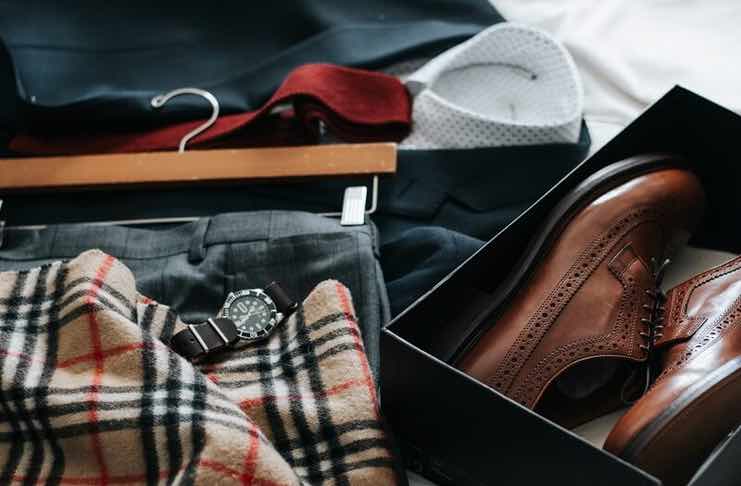 For men, selecting comfortable travel wear and on-trend can be a challenge. Luckily, there are some essential tips to keep in mind:
Opt for versatile pieces that can be mixed and matched throughout your trip. Neutral colors like black, gray, and navy are always safe, but don't be afraid to inject a pop of color or print for some added personality.
Regarding shoes, choose styles that are comfortable for walking and stylish enough for some nighttime activities.
Layer up with lightweight jackets or sweaters for any unexpected weather changes.
With these tips, you'll be ready to hit the road in style and comfort. There are many trends with the most popular men's travel clothing. From ultra-lightweight fabrics to comfortable linen, there is something for everyone who loves to explore the world. The selection of items depends on personal preference and climate or weather, but for any season, you can easily find items that match your needs.
Men's travel apparel has also become an invaluable asset for on-the-go people who still want a touch of elegance in their wardrobe choices. An investment in comfortable pieces you can confidently wear when traveling the world will be well worth it throughout the years!