Fishing is one of the most popular recreational activities in the U.S., with approximately 55 million people indulging in this experience annually. From pre-teens to senior citizens, fishing is an exciting activity for all age groups. You can sit by the river bank soaking in nature's warmth while vigilantly waiting for a tug on the line. As you reel in the catch after the first pull, the excitement builds to the point where you lay your hands on your mystery fish.
Fortunately, with several enchanting natural destinations in the U.S., you can plan a fishing trip any day. One such top-listed place is the Great Smoky Mountains National Park. Located between North Carolina and Tennessee, the national park welcomes more than 11 million visitors annually.
The park has a diverse topography with mountains, forests, valleys, and more than 2000 miles of rivers and streams. The scenic beauty at the Great Smokies is unparalleled and welcomes fishermen from across the country.
If you're planning a fishing trip to the Great Smokies, we've provided a detailed guide below to help you along the way and make your experience worthwhile.
Do you need a license?
The most important prerequisite for fishing in the Great Smoky Mountains National Park is a North Carolina or Tennessee fishing license, allowing you to take home fish from the park's waters. There are different kinds of licenses offered for residents and non-residents, which allow visitors to fish all year round or even for as few as three days.
Anyone can get a permit for fishing in the Great Smokies at very affordable rates. If you're interested in applying for a fishing license, you can do it in person from the nearest town: Pigeon Forge, Gatlinburg, or Sevierville. If you plan to save time, you can do it online too.
Why fish in the Smokies?
Those who haven't been to the Great Smoky Mountains would want an insight into the fishing experience at the national park. Though the peak fishing time is during spring, the national park is open to fishermen all year round- so if you like silence and serenity, you can visit the park in the fall when it receives fewer folks.
Moreover, with over 800 miles of water with fish, you can discover the perfect fishing spot where you'll find a variety of catches in abundance. With barely a few areas restricted to protect certain species, the park generously welcomes visitors to fish 30 minutes before sunrise till 30 minutes after dusk.
If you're new to fishing, you can enjoy a guided trip with an experienced local who'll help you get the best catch without wasting much time.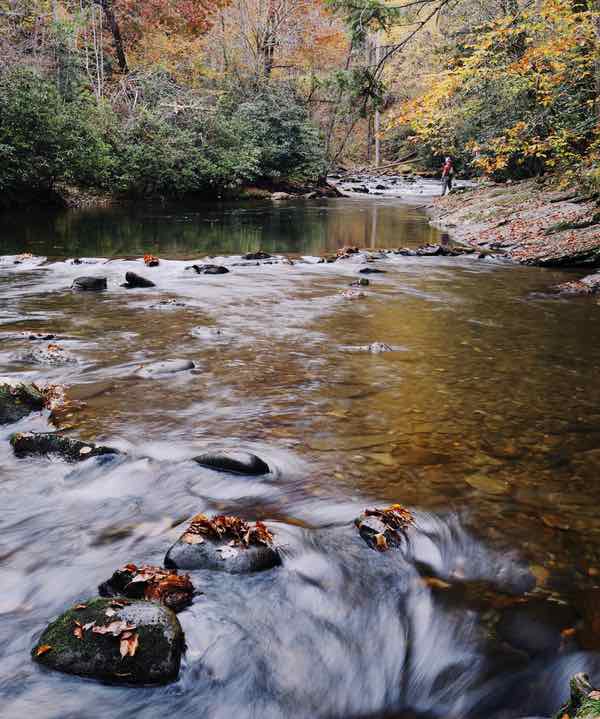 What rules do you need to follow?
The authorities at the national park have outlined clear rules and regulations for fishing in its waters. The catch limit per person for visitors with a fishing license is five brook, rainbow, or brown trout and five small-mouth basses. However, if you are fishing for rock bass, the limit is 20 per person. A useful tip is always to check the limit before fishing since they change depending on the season.
Furthermore, natural baits, including single worms, cheese, pork rinds, and flies, are prohibited. You can also not chum the water with bread or corn. You can visit the park's official page to read more about the guidelines for fishing in the national park.
What kinds of fish can you find locally?
Those heading towards The Great Smoky Mountains National Park can expect plenty of fish in the water with considerable varieties. The streams are home to wild trout, including Appalachian brook trout, brown and rainbow trout, and headwater trout. You'll also find plenty of smallmouth bass swimming in the local streams.
What are some popular fishing spots in the Smokies?
If you're planning to fish without a local guide, it would be best to know all about the popular fishing spots at the Great Smoky Mountains National Park. Spread across over 500,000 acres of land, this park offers several stops at different locations dedicated to fishing. You can pick one or more to visit before you head out with your rod and reel.
Hazel Creek
Hazel creek is located in the southwest corner of the Great Smokies, where you'll see plenty of trout. You'll find brown trout in the lower creek, but if you go higher up, you'll be able to get your hands on brook or rainbow trout.
Douglas Lake
Located within a few miles from Pigeon Forge and Gatlinburg, Douglas Lake is located at the foothills of the mountains. The destination is popular for fishing bass and crappie. Also known as the Douglas Reservoir, the spot welcomes 1.7 million visitors annually.
Little Pigeon River
The Little Pigeon River is divided into three forks, streaming towards Sevierville, Pigeon Forge, and Gatlinburg. The river is an ideal location for trout and small bass fishing.
Abrams Creek
Like the Little Pigeon River, Abrams Creek is an excellent stop for trout and small bass fish. It is located in Cades Cove along the Abram Trails at the western end of the mountains. It's also a welcoming destination for campers who love exploring nature.
Conclusion
If you're fond of fishing or want to experience it for the first time, the Great Smoky Mountains National Park is a premium location to visit. Not only does the park offer fish like trout and bass in abundance, but it also has several different fishing spots with amazing views. Since the park's open all year round, you don't have to worry about rushing there in the peak season: spring!
However, the authorities at the park take great care in ensuring the sanctity of its marine life. There are certain regulations that visitors must abide by, starting with acquiring a fishing license. There is also a limit for the number of fish caught per person. The park offers guided trips by locals who help visitors with fishing basics, ensuring you have that line tugging in no time.