You can view millions of pictures of El Giza's Three Great Pyramids, nonetheless, they're not on the same level of magnificence as being up close. Feeling how they hover over you in the loftiest way possible, building their way up, close to piercing the sky, is indescribable.
What works wonders on most visitors, is when the sun reflects its binding light on their three tapering edges creating triangle gray shadows that reflect on the spacious grounds of the Giza Plateau where they stand. At this point, you'll be drowned by those gray shades, which will act like a complete paradox of the bright blinding sun of the plateau.
Dwelling and Cost
Cairo has a vast selection of high-quality hotels that are all ample and spacious, sufficiently sanitized, and with elite supplies and copious hospitality. They also come with spectacular views.
Each of them is categorized under a certain level of sublimity with different scales of loftiness when it comes to amenities. Starting from the quality of the hotel to the room services, to the quality of the meals along with other facilities.
Your Trip To the Pyramids
A trip to the pyramids will be one of the most incomparable breathtaking experiences of your life. You'll love every piece of it. Being surrounded by the trails of the ancient Egyptians and pharaohs, for sure, will leave imprints that'll be sealed in your mind forever.
You need to just follow the rhythm of the trip and see what wonderful places and sights it has to offer. There's a variety of trips to the pyramids offered that are comparable mainly based on the means of transportation, which are:
A day trip from Hurghada to the pyramids by plane, costs start from 200$.

A day trip to the pyramids by bus, costs start from 150$.

A day trip to the pyramids by private car costs start from 120$.
Your Load For Your Day Trip
To have enough space to move more comfortably and not be distracted by the never-ending chaos of packing is the most burden-some way to enjoy a trip, to my opinion. You need to keep your load as light as possible, as you need only toiletries and personal items, clothing depending on the season, travel documents and passport, spare cash just in case, not to forget extra sanitizers and masks for safety measures, and a pair of practical shoes to be flexible during your trip.
How to Get There
There are three possible ways to get to the pyramids that can also be decided according to your budget, services as well as distance, and the trip duration. However, it's not a big deal to worry about, as no matter what kind of transportation you choose, it'll be as lofty as the others.
You can go by plane, as there's no faster way to get to your destination other than flying, of course. The flight to Cairo is estimated to be 402 KM distant from Hurghada which means an-hour flight. Then you'll have a private car ride to El Giza which would be about an hour and 16 minutes for a distance of 45 KM.
You can also take a private car. This way, you'll be transferred from your hotel in Hurghada all the way directly to the Giza's pyramids by a private car. In this case, your trip will be a 458.5-KM far with an estimated four hours and forty-five-minute ride.
Another within-hand-reach transition option is by bus. You can be transferred from your hotel in Hurghada to the city's bus station to catch your first-class bus to Cairo. In this case, your trip will last for six hours, with an approximate distance of 462 KM. Upon reaching Cairo, you'll have to take a transfer to the pyramids with a private car ride that's about 40 minutes from the complex and about 21.1 KM far.
Egyptians Creativity: The Spectacular Giza's Pyramids
Travelers are able to capture the Pyramids' silhouette coming to step into the glamourous Giza Plateau. The pyramidal constructions take over the core of the plateau in a way that works its magic on every visitor who steps into their domain. Next, they'll be welcomed by the greatest guardian ever, "The Great Sphinx", erected a few miles far from the triple wondrous constructions.
Giza's Great Pyramid
The Great Pyramid, or as it's also known, the pyramid of Khufu, was built back in 2560 BC by ancient Egyptians, who worked in extreme conditions to construct it. This exact sight is the biggest ever, in terms of historical value and construction. Not to mention that it's the very last wonder that made it unscathed out of the seven wonders of the Ancient World. This place can bring emotions out of every single person, from amazement to appreciation to wondering.
The Pyramid of Khafre
The Pyramid of Khafre, which also goes by Chephren, is the second biggest pyramid standing all tall and sturdy in Giza Plateau. The whole construction process of the site was finished back in 2570 BC.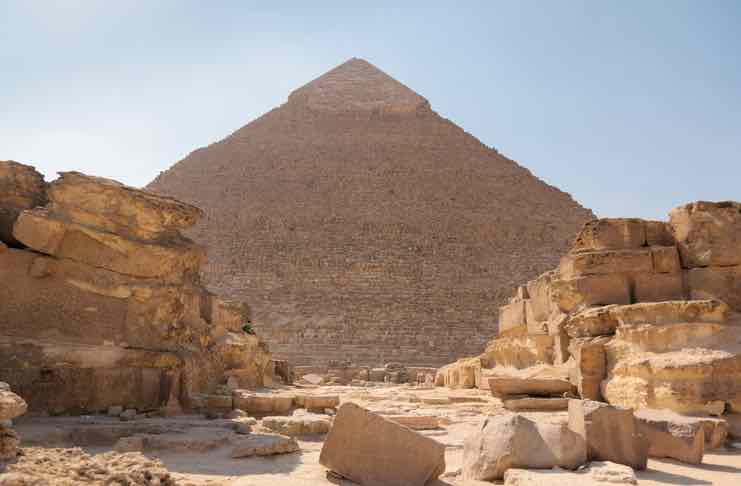 Furthermore, it was devoted to the Wise King, Khafre, of the Fourth Dynasty. It's no less phenomenal and striking than the Great Pyramid, as it has the purposes that it was built for, from being a necropolis to being a presentation of the hard work of the king.
Every piece of this pyramid was built one after another following an accurate scheme to give us another vivid depiction of how impossibly great the ancient founders and kings, and pharaohs were.
The Pyramid of Menkaure
Although the Pyramid of Menkaure is the smallest out of the three Grand Giza Pyramids, its structure is still such a wondrous sight for the wandering eyes. It was built in 2510 BC to commemorate King Menkaure. The enormous pyramid extends 65 meters high in the Giza Complex, close to piercing the sky with its tapering edge.
Watch this to get a glimpse of the Pyramid of Menkaure:
The Sphinx
The extraordinary sphinx has maintained its structure for more than 4500 years. It has this up-normal construction of a humanoid figure that combines a leonine physique with the facial features of a human that are the majestic King, Khafre's.
The Great Sphinx was portrayed as the pyramids' guardian with its posture that radiates dominance and overprotectiveness. Even more, it was carved out of one stone, limestone, which makes it even more incredible and unique. When you see it up close, you can appreciate how limitlessly skilled and promised the ancient Egyptians were.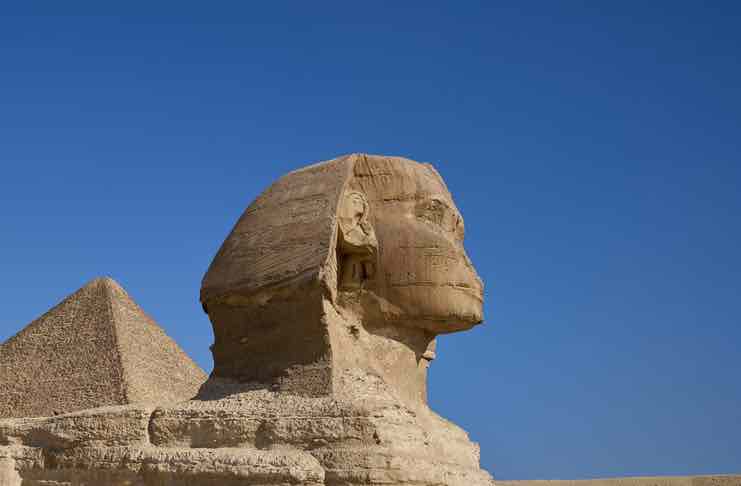 Protect Yourself Against Covid-19
Letting no chance for any other loathing imprints caused by the rapid spread of the Corona Virus , here are some health precautions when you visit the Pyramids:
Maintain your distance from other citizens.

Don't remove your mask indoors or in crowded places.

Wash your hands on a regular basis with alcohol-based sanitizers.

Get vaccinated at the first chance possible.

Use tissues in case of coughing or sneezing.

Seek medical care if you have a sore throat or a bad fever.
Pick A Customizable and Trustworthy Agency
The travel agency is the tunnel that'll get you to the most adventurous parts and destinations in your trip, so you need to make sure that you choose well. You need to make sure that the Travel Agency your select is worth your money. Make sure it's a legitimately registered agency by checking up the agency travelers' reviews. Also, choose the agency that you can afford. Furthermore, select an agency that offers 24/7 availability with good customer service.
One of our recommendations is Tours from Hurghada travel agency, which offers a lot of very useful services that can make your trip much more memorable. Those services are usually what get a traveler's dreams, come true, and without effort. Also, it has Hurghada Excursions as an undivided part of it, which means good offers for travelers when it comes to a trip to the pyramids.