If you want to enrich your upcoming vacation with action and get a lot of memories, what can be better than doing exciting sports? Here are some winter adventure ideas you can try during your next winter vacation:
1. Snowmobiling
If you've been planning to learn how to ride a snowmobile, then you should definitely get to know snowmobile tracks. These will help keep you dashing through the snow. For example, if you plan to spend your winter in the mountains, a composit tracks m770 will help you travel easily. Snowmobiles can be daunting for beginners, but they are definitely worth at least trying!
Here are some places where you can go snowmobiling:
Vatnajökull and Langjökull, Iceland

Hokkaido, Japan

Lapland, Finland

Swiss Alps

Lake Baikal, Russia

Queenstown, New Zealand
2. Snowshoeing
This was one of the best winter adventure ideas I gave my parents, many years ago, and they made this their regular sport. If you want a more relaxed hike up the snowy mountains, then walk on the top of the snow rather than get through it with a snowshoe! If you're looking for a more challenging type of hiking, snowshoeing will be a great option. Not to mention, it also burns about 500 calories per hour!
Some of the best places to snowshoe are as follows:
Black Hills, South Dakota

Bariloche, Patagonia (Argentina)

Sandia Crest, Mexico

White River, Oregon
3. Mountaineering
Mountaineering through snow and rocks will require the appropriate hiking gear for you to be able to climb and reach your destination. Traditional outdoor climbing, skiing, and Via Ferrata (a route in the Alps and other locations) are all related activities. Some people consider bouldering, sport climbing, and indoor climbing to be a part of this sport, as well.
Top-recommended mountaineering destinations are as follows:
Mount Kilimanjaro, Tanzania

Mt. Blanc, France

Damavand, Iran

Mt. Khuiten, Mongolia

Torres del Paine, Argentina

Matterhorn, Switzerland
4. Snowboarding
Developed in the 1960s and now included in the Winter Olympics and Winter Paralympic Games, snowboarding has been a popular sport ever since. Although this sport may not be for newbies, you can still try to learn it during your winter getaway.
Compare snowboarding to surfing – but instead of waves, you ride on snow. You go down a snow-covered slope while controlling your snowboard. Remember not to be stubborn and follow a trained professional's advice.
Here are some places where you can snowboard:
Hokkaido, Japan

Whistler Blackcomb, Canada

Biarritz, France

Breckenridge, Colorado

Wanaka, New Zealand

Innsbruck, Austria

Barcelona, Spain
5. Ice Skating
The ever-popular ice skating will never get out of style. It attracts many people because ice skating is easier to learn. In case you miss the snow, you can also visit your local skating rink to practice.
Additionally, it's an affordable winter sport where your primary focus should be to find the right skates that fit. You also have every right to dress however you want, as long as you're comfortable and can move about.
Some great ice skating rinks you can try are:
Vienna Ice Dream (Vienna, Austria)

Gorky Park or Red Square (Moscow, Russia)

Weihnachtzeit (Berlin, Germany)

Kungsträdgården Square (Stockholm, Sweden)

Somerset House (London, England)

Winter Village (New York City, USA)

Hôtel de Ville (Paris, France)
6. Dog Sledding
If you prefer a more relaxed sport and want to be accompanied by cute dogs, sledding is the one you should go for! Are you wondering why some sledding can be so expensive even if the snowmobiles are just stored when unused? It's because the dogs need care all year round. Dog sledding was inspired by the usual Eskimo transportation, and you can even participate in sledding races if they're available.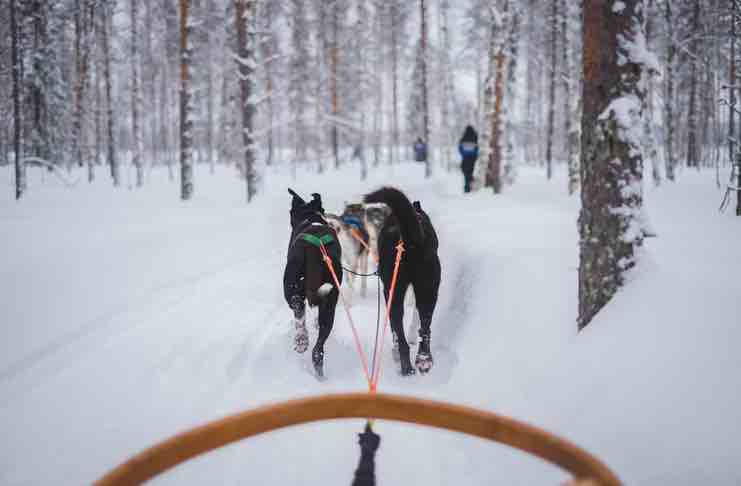 Get some sledding action in:
Anchorage, Alaska (USA)

Tromsø, Norway

Kiruna, Sweden

Rovaniemi, Finland

Ilulissat, Greenland

Akureyri, Iceland

Canmore, Alberta (Canada)
7. Skijoring
Derived from the Norwegian word "skikjøring," which literally means "ski driving," you'll be on your skis and will be pulled by skijoring huskies or even horses. All you need is skis, towing, and your pet. If you're not up for some living animals, you can opt for a vehicle.
Try skijoring in:
Tabernash, Colorado

Quebec, Canada

Truckee, California

Minocqua, Wisconsin

Liberty, Utah
8. Ice Racing
Feel the rush and adrenaline while riding 4x4s, motorbikes, and driving cars in ice racing. Don't worry. It might sound dangerous, but the organizers of this event prepared everything – even the snow to ensure participants wouldn't sink or get into accidents. It's also more affordable than other races.
Previous ice racing championships were held at:
Oshkosh, Wisconsin

Sumner, Michigan

Campbellsport, Wisconsin
Turn Your Winter Vacation Mode On!
No matter how long or short your vacation will last, you can still make it worthwhile and try something you've never done before! Fill your winter vacation with fun and excitement through winter sports but always remember to prioritize safety.
Want to read more of our latest posts? Check out these 5 Yacht Mooring safety tips.