Let's face it. One of the best things about Miami is its beaches. There are remote beaches for those looking for a bit of a relaxed and secluded destination. And there are tourist-packed beaches for those who prefer more action. There's the famous South Beach, the family-friendly Bill Baggs Cape Florida State Park, Surfside and so many more. All these beaches, to my taste, are a beautiful show of nature at its best. And above all, of course, all beaches in Miami are open to the general public. In this post, we list our top favorites in a shortlist of 3 best beaches in Miami.
3 of The Best Beaches in Miami
1) Surfside Beach
Known as the city's Uptown Beach Town, Surfside is located between North Beach and Bal Harbour. With only 6,000 residents, where everyone practically knows each other, Surfside has a unique small beach town atmosphere that I love.
The special small "neighborhood" vibe of this Miami beach attracts both tourists and locals, and it's a great fit for families. There's a lovely picnic area on the beach, and most importantly – during the summer season – there are lifeguards on duty (!).
On Surfside beach, the beautiful sunrise is over the Atlantic Ocean, while sunset is behind the skyline. Use the stunning beach paths to go for nice strolls, jogging, or rent a bike and go for a joyful ride. However, don't forget one thing.
Do me a favor and mingle with the locals. People in Miami are super friendly, and they usually come to the beach for a few drinks, chill out in a bar and listen to live music. Mingling with the locals is truly my biggest recommendation for you, as it (almost) always produces the most awesome insider tips. And by the way – this is naturally true to each and every beach (or destination) you travel to.
By the way, you may very well fall in love with this place and even decide you want to move there. The pandemic was a huge catalyst to a mass exodus from large, dense cities and into spacious homes on the beach.
People are thinking about the next pandemic and want to be able to shelter in a beautiful home surrounded by nature. In lieu of this migration, waterfront beach homes have surged in demand and prices have increased, thereby attracting real estate investors as well. Waterfront homes, especially Miami Beach homes for sale have broken sales records in 2020, making it a very worthy investment.
2) Mid-Beach
This trendy section of Miami Beach was once packed with luxury hotels and glorious mansions. Back in the day, this area was known as "Millionaire's Row". However, things have changed since then.
Mid-Beach is practically the section between Miami's South Beach and North Beach. It stretches from 27th Street north to 63rd Street. Today, Mid-Beach has both residential condos and many great hotels. However, the atmosphere is more relaxed, cool, and not so crowded.
I personally love Bayshore. It's a neighborhood of Mid Beach that was originally built around Carl Fisher's Bayshore Golf and Country Club. This old golf course was designed by H.C tippet and opened back in 1923.
Mid Beach also has a nice raised boardwalk that separates the beautiful beach Collins Avenue which is filled with hotels, like the Hilton Cabana Miami Beach, Cadillac Hotel & Beach Club, The Collins Hotel, Oceanside Hotel and more. You'll find there a nice array of stylish bars and great eateries.
3) South Beach and Lummus Park
This legendary Beach, which is probably the most famous of all beaches in Miami, is actually a "Park Beach". Stretching from 23rd Street to the southern tip of the island, it was reinvented and redesigned back in the '80s, with lovely grassy sections, palm trees, and cool bars. I always pick a lively bar or restaurant on the boardwalk and watch the turquoise-blue ocean and the beautiful people play volleyball on the white sands.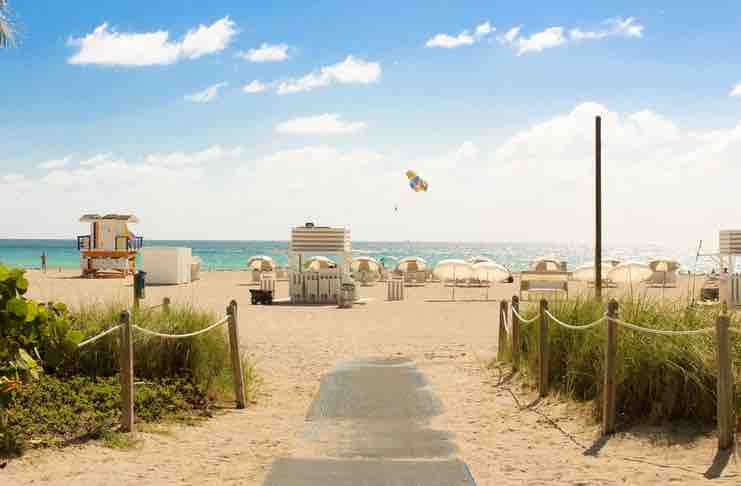 Lummus Park Beach is extremely photogenic and the perfect location for some Instagram photoshoots. Many scenes of the famous TV series Miami Vice were shot here. You can understand why as you see all the flashy cars, pretty girls and handsome guys, cool architecture and that special endless summer vibe.
The most active (and touristic) area of South Beach is between 5th and 15th Streets. There's also a Gay Beach section, which you'll recognize by the rainbow flags near the lifeguard stations on 12th Street. Safety is ensured by lots of lifeguards that stand along the beach. There are also lots of showers and toilets everywhere.
Already decided where you want to spend your days? Maybe you'll prefer to spend a day in each, or pick one that fits you most. There are beaches in Miami that are perfect for families, like Surfside, and there are beaches filled with action, bars and beautiful people. There's something to see and enjoy for any beach lover who visits Miami, or plans to move here.
Want to read more of our latest posts? Check out our short guide to Winter Fishing.