At the southern tip of Vancouver Island sits Victoria, a small city majestically surrounded by Pacific Ocean, misty mountains and seemingly endless sky. Its beauty, temperate climate and wealth of easily available adventures on both land and sea make it a utopia for outdoor enthusiasts.
If you're looking for fresh-air activities but also relish cosmopolitan pleasures of the more earthly sort, balanced Victoria offers plenty of both. Its compact dimensions means you can be immersed in crisp green landscapes just minutes from downtown. Hike, bike or kayak by day and dine on luscious farm-to-table cuisine at night. With one of the highest densities of restaurants in Canada, you'll have plenty of edible options.
Get Outdoors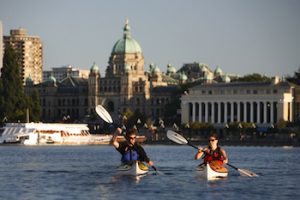 If you're up for a hike, there's such an abundance of trails that your biggest problem may be selecting the ramble that best suits you.
Gowlland Tod Provincial Park's 25 kilometers of trails provide spectacular visual payoffs just minutes from the city center. The moss-covered knolls present a velvety carpet of lushness, setting off vibrant seasonal wildflowers. Douglas firs, grassy meadows and old-growth forest will nourish those in need of a visual infusion of nature's bounty. Choose a trail that culminates with a view of Finlayson Arm, a majestic fjord.
Consider a guided hike with Mark Vukobrat, owner and operator of Hike Victoria. He knows this area like the back of his hand and will help to select a hike that suits you to a tee. Mark will pick you up at your hotel and you'll soon be submerged in world-class scenery. He provides healthy snacks, water and even expertly photographs the experience.
Victoria's abundant waterways offer some of the best kayaking and canoeing that you'll find in any North American city. Book a trip with Ocean River Sports and you'll paddle amidst spectacular scenery and wildlife.
Spot gray, humpback and minke whales just off shore when you take a whale-watching cruise. With three pods of orcas living in Victoria's waters, you've got an excellent chance of glimpsing these incredible marine mammals. Book a cruise with Eagle Wing Tours, Canada's first carbon neutral whale watching tour.
Eats + Drinks
Victoria's seafront location and proximity to prolific farmland provides a windfall of fresh ingredients and plenty of options for those who gravitate towards clean eating.
OLO expands on the locavore concept in a thoroughly delicious way. The kitchen overflows with Vancouver Island-raised beef, fish from local waters and just-picked produce from British Columbia farms.
The island's terrain nourishes an eclectic mix of grapes, including pinot gris, pinot noir and Ortega. Passionate producers make this area a true find for wine aficionados, and OLO provides ample opportunity to sample the local vino.
Tease your appetite with crispy fried semolina cubes, perhaps paired with a gin cocktail made with one of the island's numerous local gins. If you're a fan of the fermented, try the kitchen's tasty selection of fermented veggies. Made-in house pastas are the ethereal essence of Italy. Service is so warm and friendly, you may feel the urge to ask your waiter to sit down and join you.
Stay
Just steps from Victoria's picturesque harbor, the family owned Magnolia Hotel & Spa entices with its unbeatable location and welcoming service. If staying at an eco-aware establishment is important to you, the Magnolia has earned 4 Green Keys under the stringent Green Key Eco-Rating Program.
The lobby has just been refurbished and the 24-hour complimentary coffee service encourages caffeine-craving guests to relax in convivial company day or night. Rooms are a decadent treat complete with large soaking tubs, live orchids and high-quality linens topping comfy beds.
Victoria is considered a Canadian cycling capital. For active visitors, the Magnolia's ten new loaner bikes are available on a first come, first served basis. They provide guests with detailed bike maps, so get ready to pedal.
Insider Tip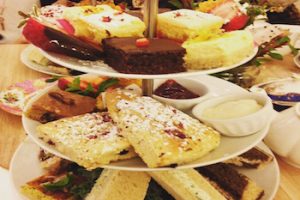 Victorians are mad about afternoon tea, a nod to their British forbearers who settled this city. Today, teatime has evolved to include non-traditional ways to consume this venerable beverage.
Head to Chinatown and savor a vegetarian afternoon tea at Venus Sophia. The owners take pride in each delicate teaspoon and lacy napkin, so expect an experience that is beautiful and delicious.
If you like your tea with a harder edge, head to Spinnaker's, Canada's oldest brewpub. Try their Little Sunshine Sour beer, daringly infused with tea from Silk Road, respected local tea shop.
Getting around
Walking and cycling are the best ways to traverse Victoria.
For additional trip planning information visit www.tourismvictoria.com and www.hellobc.com
Photo credits: Mark Vukrobrat / Hike Victoria, Marisa Cuglietta, Magnolia Hotel, OLO, Tourism Victoria and the author