21st century China is defined by lightening fast growth and ultra-speedy urbanization. Swift development and rapid-fire economic expansion has encouraged a lifestyle that is overloaded with metropolitan headaches. Traffic, pollution and construction noise are as plentiful as teashops. Is finding inner-city serenity in China as impossible as finding lasting love on Tinder?
A healthy serving of peace and calm can be yours if you journey to refined Suzhou. This cultural darling is just far enough off the Beijing-Shanghai path to feel like a discovery, yet its tourist infrastructure is flawless. Life here moves at a gentler pace, so a visit acts as an instant elixir.
Located a reasonable 30 minutes from Shanghai via high-speed rail, Suzhou's tranquil beauty is reminiscent of yesteryear China. Called the Venice of Asia thanks to its scenic canals crisscrossing the city, it's famed for its multitude of magnificent gardens. These green spaces offer a glorious oasis in the middle of the city. If you're considering an Asian adventure that blends urban and green in perfect proportions, here's why Suzhou should sit at the top of your list.
Get Outdoors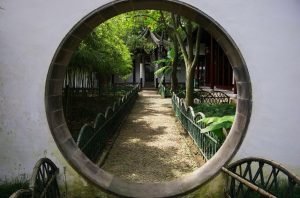 Nine are of Suzhou's numerous gardens are designated UNESCO World Heritage Sites, making it the garden capital of Asia. Classical Chinese gardens are highly curated affairs that masterfully manipulate nature, so don't expect wild pastures or haphazard floral positioning. Gardening techniques strive to create miniature landscapes that highlight the delicate yin and yang between man and nature. Each Suzhou-style garden is a combination of four elements: rocks, water, trees and plants and pavilions. Suzhou's masterful gardeners achieve the high-wire act of incorporating these distinct features in just the right proportions.
The Humble Administrator's Garden's slender saplings, iconic moon gates, quizzical rock formations and softly flowing streams present a marvel of landscape design. Its beauty, tinged with just the right dose of melancholy, has inspired poets and artists for generations.
Tiger Hill's vast collection of diminutive Bonsai trees are dainty delights, but its pagoda is what draws the crowds. If you thought the only leaning tower was in Pisa, you're in for a surprise. This ancient 7-story pagoda has been leaning slightly to the northwest for over 400 hundred years. Meander the paved paths and soak in the visual magic.
If you're in the mood for an evening jaunt, the Master of Nets Garden presents nightly performances of local Kunqu-style of opera with a sublime floral backdrop. This garden demonstrates local horticulture designers' skill for synthesizing art, nature and architecture to create metaphysical masterpieces.
Getting Around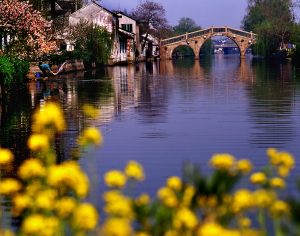 Suzhou's labyrinth of canals are mesmerizing to gaze at, but it's even more fun to hop on one of the old-fashioned wooden boats and join the intoxicating atmosphere.
If you prefer staying on solid ground, cycling and China go together like cookies and milk. Suzhou's efficient bike share program provides dozens of bike kiosks scattered around the city. You'll need your passport to apply for a membership card.
Stay
The Shangri‐La Hotel's central location, fine service and English speaking staff assures a comfortable stay. The breakfast buffet is a bountiful morning treat. When you need a diversion from sightseeing, consider a refreshing dip in the Olympic-sized indoor pool.
Eats + Drinks
Suzhou's culinary traditions are revered throughout China, so anticipate mouth-watering meals. For a casual bite, head straight to Tongdexing, a venerable noodle shop on bustling Pingjiang Road. Enter and you will be presented with a Cadillac-size bowl of steaming broth flavored with a large chunk of meat hiding under a tangle of hand-pulled noodles.
Insider Tip
Internationally recognized architect I.M. Pei traveled back to his ancestral homeland to design the showpiece Suzhou Museum. The museum's sophisticated architectural concept is simultaneously traditional and avant garde, preserving Suzhou's heritage while looking towards the future. The collection features ancient ceramics and important cultural relics with a fragrant lotus pool at the museum's center.
For more information, visit www.traveltosuzhou.com