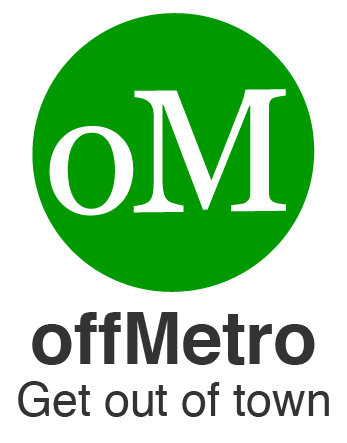 FOR IMMEDIATE RELEASE
March 7, 2012
MEDIA CONTACT
Lauren Matison, offMetro.com, Publisher
lauren@offmetro.com
offMetro Expands to San Francisco, Boosts Car-free Travel Around the Bay and Beyond
SAN FRANCISCO (March 7, 2012) — At a time when the average price of gas is over $4 in California, travelers are increasingly looking for clever ways to save while still indulging their wanderlust. offMetro.com, the Internet's premier online resource for car-free getaways near NYC, announced on Wednesday that it has expanded to the West Coast with offMetro SF. The site is dedicated to coverage of unique escapes from San Francisco that will help keep the wallet heavy—and the carbon footprint light—for residents and tourists.
Since 2009, offMetro NY (formerly offManhattan) has been inspiring New Yorkers to experience off the beaten path destinations and nearby cities via alternative modes of transportation. "A big part of traveling to a city is figuring out how to get OUT of the city. offMetro is one of my favorite resources for getting out of the city and really traveling like a local," said CBS News Travel Editor Peter Greenberg, author of New Rules of the Road. "And with fuel prices rising, having options that are car-free make the experience even more valuable."
To incentivize car-free travel, offMetro SF has teamed up with the likes of Amtrak, PUBLIC Bikes, BART, and the Sierra Club to bring readers exclusive discounts, big giveaways, and expert tips for how best to green a road trip. "With its adventurous, eco-minded spirit, the city of San Francisco is a natural fit for launching offMetro's second market," said oM publisher, Lauren Matison. "We look forward to shedding light on all the great getaways that are available to our readers, who no longer need to depend on the car to enjoy a jaunt out of town."
With categories such as "Get Off Here," which recommends activity ideas near BART, Caltrain, and ferry stops, and sections like San Francisco Bike Guide, devoted entirely to bicycle travel, news, and tips, oM aims to deliver a wide range of high quality content that will mobilize urban dwellers to rediscover the Bay Area and reconnect with California—without worrying about traffic, parking, or any pain at the pump.
Condé Nast Traveler's Word of Mouth editor, Eimear Lynch, said, "It's easy to decide where to go on vacation if you've got thousands of dollars and a week or more to spend, but planning a quick, cheap day or weekend away is surprisingly difficult—which is why offMetro is a great idea!"
To celebrate the San Francisco launch, oM is promoting a new contest giveaway every Monday this spring, featuring exciting prizes, like a romantic weekend escape to wine country, a dinner cruise for two, private stand up paddle board lessons, and an all-inclusive, week-long getaway to Vancouver. To read more about the contest, visit offmetro.com.
About offMetro.com
offMetro is a travel resource for urban dwellers wanting to get out of town. The website's staff reports on the best car-free getaways near New York City, San Francisco, and around the world. Lauded by Lonely Planet as one of the "top 11 most reliable websites in responsible travel," oM promotes a "greener" lifestyle through coverage of outdoor adventures, eco hotels, and sustainable restaurants that are easily accessible via alternative modes of transportation, be it by bus, bike, train, or ferry.
Follow oM on Twitter at @offMetroSF and @offMetroNY
MEDIA CONTACTS
Lauren Matison, offMetro.com, Publisher
lauren@offmetro.com
Suzanne Russo, offMetro.com, Managing Editor
suzanne@offmetro.com