Italian Old Fashioned Doughnuts
By Roopa Kalyanaraman Marcello of raspberryeggplant.blogspot.com
Winner of the Judge's 1st Place Award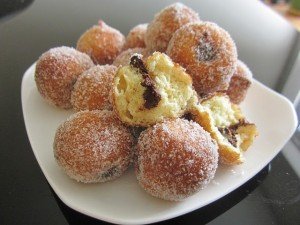 Makes approximately 30 1" round doughnuts
For the filling
2 ½ ounces 60% dark chocolate
2 ½ ounces (¼ cup + 1 tablespoon) heavy cream
1 tablespoon rye whiskey
For the bitters-scented sugar
¼ teaspoon freshly ground fennel seeds
1/8 teaspoon freshly ground cardamom
Large pinch freshly ground coriander
Dash of ground cloves
1 turn freshly ground black pepper (make sure to grind on the finest setting)
Scant ½ cup sugar
For the blood orange-ricotta doughnuts
½ cup all-purpose flour
1 ½ teaspoons baking powder
¼ teaspoon fine sea salt
2 eggs
¾ teaspoon blood orange zest (1 orange should provide this amount)
½ teaspoon vanilla extract
1 cup ricotta cheese
2-3 cups vegetable oil for frying
Make the filling
Finely chop the chocolate and transfer to a medium bowl.  Heat the cream until it is just bubbling around the edges (you can do this in the microwave or on the stovetop – I used the former).  Pour the hot cream over the chocolate and let it stand for 1 minute, then whisk until all the chocolate has melted.  Pour in the whiskey and whisk well to combine.  Let the ganache sit at room temperature until it is thick, about 2 hours.  [You can refrigerate the ganache to set it more quickly, but make sure to stir it occasionally and not let it get hard.]
When the ganache is set, transfer it to a piping bag fitted with a small round tip (I used Ateco #8).

Make the bitters-scented sugar
Combine all the ingredients in a bowl and set aside.
Make the doughnuts
Pour the oil into a small, heavy pan (I used a tall 2 quart pot) and fill it to a depth of 2".  Turn heat to medium-high and bring the oil to 350 degrees F.  Place a rack on a baking sheet and line it with two layers of paper towels.
While the oil is heating, make the batter.  Put the flour, baking powder, and salt in a small bowl and whisk to combine.  Put the eggs, sugar, and blood orange zest in a medium bowl and whisk well.  Add the ricotta and whisk until the mixture is completely smooth.  Add the flour and whisk gently to create a smooth batter.
When the oil has reached 350 degrees, use a small scoop (I used a 2 teaspoon scoop) to drop the batter into the oil, making sure not to overcrowd the pan – I fried in batches of 6.  Cook until the doughnuts are golden brown, 3-4 minutes, making sure to flip them over halfway through (although most will flip themselves).  Transfer the doughnuts to the rack to drain.  Make sure the oil is at 350 before frying each subsequent batch.
Roll the warm doughnuts in the sugar.  To fill the doughnuts, insert the piping tip ¾ of the way into the donut and fill with ganache.  Serve warm.