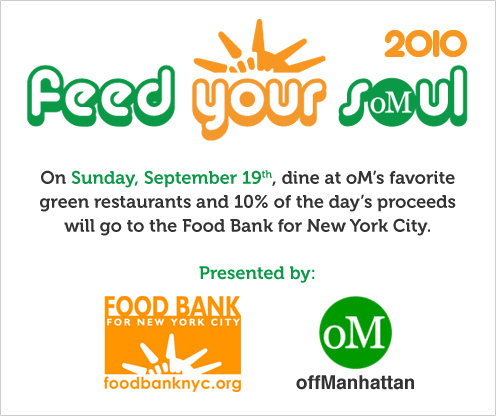 On September 19, 2010, offManhattan.com and the Food Bank For NYC will host Feed Your Soul, a one-day charity event taking place throughout the boroughs of New York City. oM's favorite "green" restaurants will donate 10% of the day's proceeds to the Food Bank For NYC.
Every dollar raised through the program goes to providing 5 meals for New Yorkers in need.
Please help fight the war against hunger simply by enjoying a delicious feast on September 19 at the following environmentally-responsible restaurants in NYC:
iCi Restaurant
246 Dekalb Ave, Brooklyn
Franny's
295 Flatbush Ave, Brooklyn
Bare Burger
3321 31st Ave, Astoria
Brooklyn Farmacy
513 Henry St, Brooklyn
Sage General Store
24-20 Jackson Ave,
Long Island City
Rose Water
787 Union St, Brooklyn



Spring Street Natural
62 Spring St, Manhattan



Palo Santo
652 Union St, Brooklyn



GustOrganics
519 6th Ave, Manhattan



Van Leeuwen Artisan
Ice Cream
Five NYC trucks and one shop in Brooklyn
If you have questions or would like to participate, please email lauren@offmanhattan.com.
Become a fan of the event at facebook.com/feedyoursoul.
Feed Your Soul Restaurant Locations

View Feed Your Soul Restaurants & Truck Locations in a larger map