Recipe by Andrew Gottlieb
Winner of the Nick Suarez Prize for his Pork Pops w/ Rye Whiskey Sauce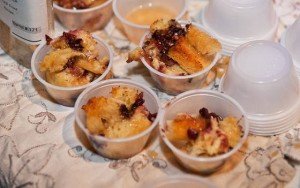 1 extra large Brioche or Challah bread, or 2 medium loafs
1 cup dried cherries
1/2 cup bourbon
1 TB butter
3/4 cups sugar
2 1/2 cups heavy cream
2 1/2 cups whole milk
4 eggs
1 egg yolk
1 tablespoon vanilla
1/4 teaspoon salt
1/2 teaspoon nutmeg
1/2 lb chocolate chips
2 tablespoons bacon fat – do not use bacon with any/heavy smoke
1. 1 day ahead, cut bread into 1 inch cubes and dry on the counter in a single layer.
2. 5 hours ahead soak cherries in bourbon till plump, stir occasionally and add a bit more bourbon if necessary
3. Butter 13×9 baking dish with butter and put in freezer to set.
4. Bring eggs & dairy to room temperature, then combine sugar, cream, milk, eggs, vanilla, salt & nutmeg – whisk to combine to make a custard.
5, Reserve 20% of the bread cubes and toss the remaining 80% with the custard and the drained cherries combining well, then set aside 30 minutes. Preheat oven to 350 degrees
6. Layer the soaked bread cube mixture into the buttered pan, then set the unsoaked cubes on top.
7. Brush the bacon fat over the unsoaked bread cubes and bake for 35-45 minutes. If the top if browning to fast, loosely cover with foil to prevent further browning while pudding sets
8. Bread Pudding is done as soon as the custard and bread set. If not full brown at that point, broil quickly without taking your eye off the dish
9. Cut pieces and top with Bourbon Caramel sauce
Bourbon Caramel Sauce
1 cup sugar
1/4 cup light brown sugar
1/2 cup filtered water
1/4 cup light corn or cane syrup
1 tablespoon lemon juice
1 1/2 cups heavy cream
3 tablespoons bourbon
1. Combine sugars and water over medium high in a stainless steel pan (larger than you think) to dissolve, stir occasionally.
2. Add corn/cane syrup and lemon juice, then bring to a boil over med-high heat. The liquid is dangerously hot, do not touch it or taste it without cooling. Once the liquid begins to shift color, watch it carefully – you are looking for deep amber, but not browning/burning. Swirl pot and adjust heat as necessary.
3. Pull pot off flame, then slowly add cream in a thin stream while whisking steadily, mixture has a tendency to boil up and increase in volume as you add the cream.
4. Place pot back over medium-low heat and whisk until fully combined.
5. Increase heat to medium/med-high and reduce stirring regularly until reduced and thickened
6. Remove a tablespoon at a time, cool separately and taste to check flavors – adjust as needed
7. Stir in 2 tablespons of bourbon and taste again. Add last tablespoon at your own discretion.