Between entertaining out-of-towners and amassing a collection of white elephant castoffs, you'll be needing an eleventh-hour escape. And Brooklyn's Red Hook neighborhood provides exactly that, a few hours of relief from the crush of New Year's crowds and demands. Before bundling up for the trip, try to eschew any ill reputes regarding this port of call (that it's stodgy, sketchy, and rampant with abandoned dockyards).
It's become our favorite quick getaway for local artisan crafts, inexpensive eats, and an unparalleled view of the Statue of Liberty a mere twenty minutes from Manhattan. Read on for our top things to do in Red Hook.
On weekends, transportation to the historic area is free thanks to IKEA water taxis, which ferry across New York Harbor between Wall Street and Red Hook. The outer borough journey then begins with fig-and nutmeg-chocolate cupcakes on Van Brunt Street, Red Hook's main thoroughfare. Baked, a café brightened by burnt orange furnishings and a woodsy aesthetic that would make any hip lumberjack feel at home, is sure to fuel excursions down cobblestone roads and boutiques.
The Baked story started with two colleagues who left advertising jobs to pursue the perfect cake. The pair's painstakingly created desserts captured national attention when the likes of Martha and Oprah took notice and the rest is local lore-in-the-making. Neighbors wander in before noon for muffins, scones, and savory "hot pockets" (veggie version also available), while the rest swing by with laptops through the day to make the most of brownies and free wi-fi. When it comes to Baked cakes, we are hopelessly devoted to the Red Hook Red Hot cupcake, a red velvet treat made with Valrhona cocoa topped with cinnamon buttercream. But we'd also recommend the signature Sweet & Salty, which combines decadent dark chocolate cake with caramel chocolate ganache. It's not an award winner for nothing.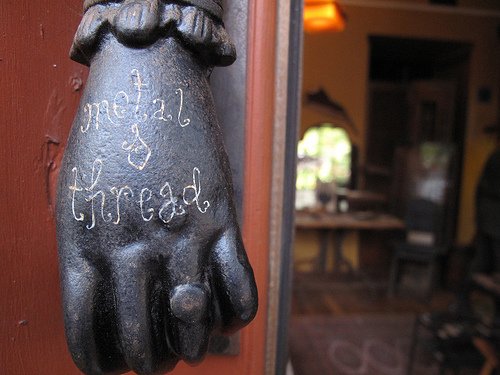 Riding the wave of your sugar high, drop by Erie Basin for those 'just because' gifts like 19th century jewelry or antique home furnishings. We promise an object d'art from here will leave even the most discerning receiver impressed by your shopping savvy, but it'll probably cost you a (very) pretty penny.
A few doors down, longtime collaborators Denise Carbonell and Derek Dominy sell their sturdy, whimsical wares at Metal and Thread (closed). Working with local artisans, the shopkeepers encourage creations made from salvaged materials to illustrate the relationship between invention and recycling for environmentally sound art. Denise's quilts, for example, combine strips of second-hand fabric to form vivid one-of-a-kind tapestries. And Derek, a skilled blacksmith, reuses metal, which results in the likes of iron shelving with, not only handmade appeal, but a past life too.
For lunch, head down the road to corner café-bar Fort Defiance (currently closed due to Sandy damage), which attracts bookish locals from eight in the morning until midnight or 2 a.m. on weekends. The daily-changing menu boasts New American dishes with a penchant for French, Italian, even Asian cuisines. (We're especially keen on the return of a certain Vietnamese bánh mì.) The muffaletta, the celebrated Sicilian sandwich from New Orleans, sated our craving for cured meats and cheeses dressed in olive salad; it's sure to lead Louisianans down memory lane.
Revitalize the troops for the rest of the afternoon with a cup of Counter Culture Coffee prepared in Fort Defiance's custom-made brew rail. Amiable baristas measure out whole beans and freshly ground them for each cup so you know this dose of caffeine is as fresh as it gets. It's a time-consuming method, sure, but the attention paid to each cup is worth the wait. Besides, the pouring procession is kind of fun to see.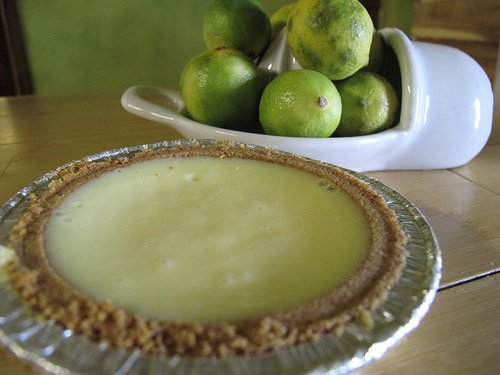 Cup in hand, stroll to Valentino Park and Pier to see the remnants of Red Hook's once active shipping industry. Today the site is a small industrial park where families toss footballs, fly kites, and do handstands on the green patches of grass in more clement weather. Even on brisk days the pier attracts visitors with its head-on view of the Statue of Liberty and quiet vantage point on picturesque New York Harbor. (Factoid: General Hospital was recently filmed here.)
As you retrace your steps to Van Brunt Street, take a detour and follow the signs to Steve's Authentic Key Lime Pie (currently closed due to Sandy damage) where kitschy seaside knick-knacks inadequately convey the gravity of New York City's ultimate key lime pie. Don't let the luau décor fool you—these are serious pies made from fresh squeezed limes the size of golf balls. Get the single-serve tart or go chocolate-dipped with the "Swingle." It's fine to share, but you probably won't want to. (New Year's hosts please note: Key lime pies make for unexpected but popular alternatives to your standard fruit pie.)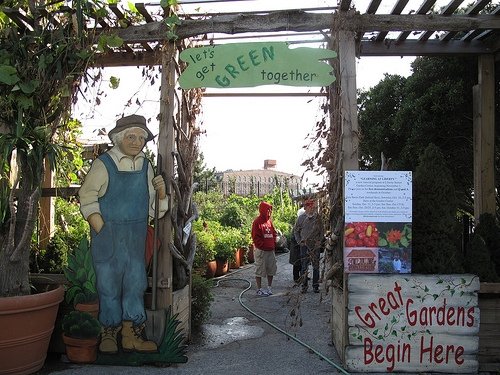 With sated bellies, meander through the Liberty Sunset Garden Center where exotic plants, including 20-foot Yucca trees, elephant ears, water lilies, and a collection of exotic cacti mingle with shrubs and trees. We're quite positive we saw a (very green) pineapple in its early stages amid a tangle of leaves last time.
As we ambled back to IKEA to catch a Manhattan-bound ferry, we discovered Saipua, a florist and soap shop, tucked in what appeared to be the front half of a large garage (we later learned their workshop is located out back). The storefront is easy to miss given its position off the main strip, but for those who find them, Saipua captivates passersby with its small, elegant setup—like a stage for pretty things, complete with fragrant bouquets, drawn curtains, and a friendly dog named Nea.
How to get there: Hop on a water taxi from Wall Street, Pier 11 by South Street Seaport to the IKEA Terminal in Red Hook ($5 Monday-Friday; free on weekends. Schedule here.) Alternatively, take either the B61 or B77 bus to Van Brunt Street.
Photos: Amy Cao
Map of Things To Do In Red Hook

View Red Hook Things To Do in a larger map