While there is buzz among some tourism boards that the simple, sylvan setting in Pennsylvania known as the Poconos is looking to re-brand its destination, one of the area's biggest resorts is holding steadfast to the past, and for good reason. Ninety miles west of New York City, Woodloch Pines Resort has got all the region's year-round trappings; tranquility, a 15-acre lake, an 18-hole championship golf course, ski slopes, sailing, Bald Eagles, and miles of pristine hiking trails that city folk all too often forget about as they jitney the opposite way to Long Island shores.
To be certain, this property has joined the 21st century; Woodloch won accolades in 2009 as the Best Green Resort by Global Renewable Energy Expo, and offers Guitar Hero championships, free wi-fi, and a state-of-the-art spa. But it's the other stuff, the 51 years of unwavering tradition, that puts Woodloch in a league of its own and draws loyal generations of families decade after decade. (And it doesn't hurt to be named one of the top ten best winter resorts by Parents Magazine this November.)
Your weekend begins off Route 590 at the main lodge that oozes with predictable rustic coziness and festive holiday spirit. Entering the 1,200-seat dining room, however, you need a moment to get your bearings.
Every Wednesday and Saturday, guests are treated to a different theme night from a bygone era. "It's Dirty Dancing meets Disney," said Laurie McEvoy, Woodloch's marketing director. On this particular night, in addition to sailor-waiters and nautical decor, the "Cruise Night" event involves a conga line of characters like the Little Mermaid, Sponge Bob Square Pants, and Winnie the Pooh, then a "Cruise into the 1970s" show featuring classic hits from the Doobie Brothers, Lynyrd Skynyrd, The Temptations, and Grease, a surprise act, and finally a stand-up comedy performance by Brooklyn native Gary Delena.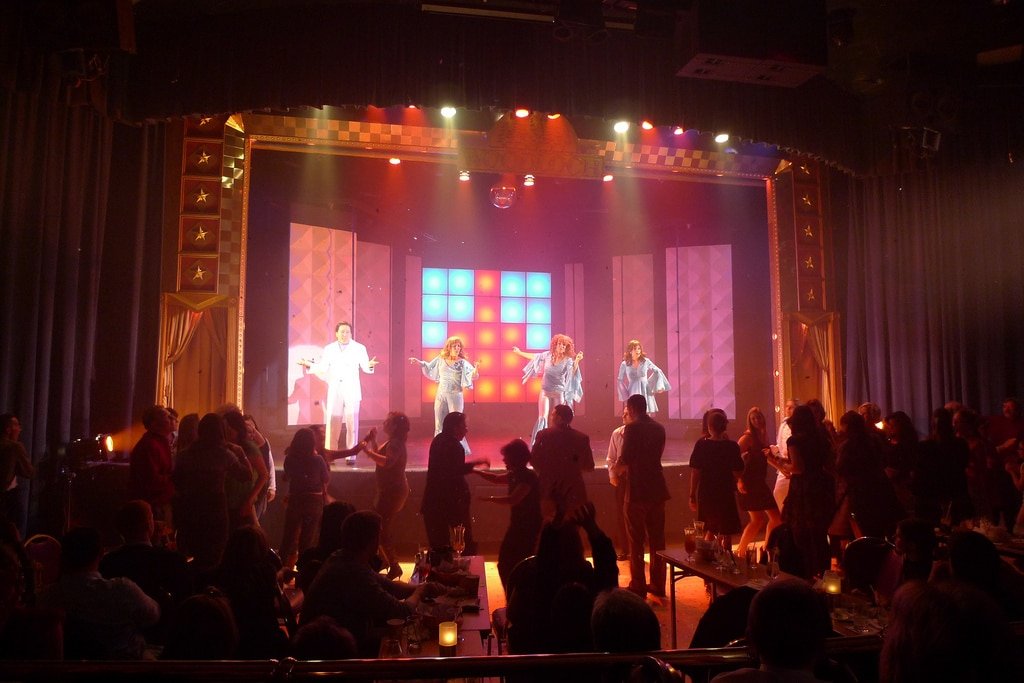 There is no menu (another longstanding family-style tradition) and as the plates arrive one after another, there is the sense that the entire experience served at Woodloch is comparable to the food: comforting, memorable, and in abundance. "There's just so much to do," said 11-year-old Jake, before sliding down the hill on a snow saucer. "We come the first weekend of every December, and this is our ninth year," said Joe, Jake's father. "We get our Christmas tree from the nearby farm, and what brings us back is the beauty, the staff's friendliness, the relationships you make with other families." Panting up the slope, Jake interjects, "Yeah, and you're never bored here."
Indeed, on any given visit, guests are presented with a schedule packed with (mostly free) activities; for kids, that can range from paintball and a petting zoo (including donkey rides), to go-carting, water-skiing, and arts & crafts; and for parents, late night dancing and drinks in the bar in the North Lodge, fishing, relaxing by the pool, or an afternoon at the spa.
On one mild winter day, a fresh layer of snow on the ground, two groups of families took to the trails with Woodloch-rented gear to test out the official snowshoe destination of New York, New Jersey, and Pennsylvania. An hour later, the voice of a teenage Upper West Sider could be heard bouncing off the sides of oak and maple trees; apparently, everyone would soon be hopping the Woodloch shuttle to ski Big Bear at nearby Masthope Mountain. (Ski packages are offered at $425/midweek, $595/weekends for a family of four; the Ski & Spa package offers free skiing in January with rates starting at $119/night – review this and other specials here.)
On paper, this place may appear to be a well-oiled vacation machine, lacking that personal touch. Except that founding owner Harry Kiesendahl's entire family tree is involved in every level of operation, which results in a deep, genuine degree of hospitality that's seldom found in resorts responsible for sheltering over 1,000 people across 75 acres of private property—including the sister property Lodge at Woodloch, which Woodloch Pines Resort now operates. "We have a serious passion for what we do. We live here, and our guests are like family. It's not commercial," said owner John Kiesendahl, fondly known as the "guy with the silly pants." For both suburbanites and metropolitans, Woodloch is the panacea for overworked minds and bodies. It is a familial sanctuary, where old-fashioned entertainment coincides with a natural Deepak-Chopra-level of serenity, both of which will hopefully remain as is.
How to get there: Take the Short Line Bus from Port Authority to Hawley, PA. The ride is 2.5 hours, and once you have arrived at the station, a Woodloch shuttle will be there to escort you to the resort. Kids under 12 stay for free. For more information about special packages at Woodloch and to review the schedule, visit woodloch.com. (Woodloch Pines Resort, RR1 Box 280, Hawley, PA 18428, 800.966.3562)
The co-founder and editor-at-large at offMetro, Lauren is a sustainable travel specialist and freelance journalist with frequent bylines in National Geographic, Bicycling Magazine and Shape. Follow Lauren's adventures at @laurenmati.