In his timeless essay, "Once More to the Lake," E.B. White recalled the "peace and goodness and jollity" of the Belgrade Lakes in Maine. His words still ring true for this author who spent good portions of her childhood summers there at camp, learning to windsurf and hit the bull's eye with a rifle. Returning to the lakes this fall, no longer concerned with boy cooties and saltine eating contests, I found that in addition to the adventure-filled outdoors there is an entire adult playground in town worth visiting during any season, as E.B. also discovered: the general store and cafés, the charming Bed & Breakfasts, hikes, pristine bodies of water, and those fresh lobster feasts.

Get yourself a lay of the land
"Maine is one of the most beautiful states in the Union, and Belgrade is one of the most beautiful of the lakes of Maine," wrote E.B. White in his "Pamphlet on Belgrade Lake (1914)." "This wonderful lake is five miles wide, and about ten miles long, with many coves, points and islands. It is one of a series of lakes, which are connected with each other by little streams. One of these streams is several miles long and deep enough so that it affords an opportunity for a fine all-day canoe trip."
Central Maine's premier lake area for recreation, Belgrade Lakes is located just an hour from the coast and from various mountain ranges. Great Pond (not to be missed) is the largest of the Belgrade Lakes—a watershed containing 14 lakes and over 5,000 acres of conservation land.
Your own cabin near the woods
"There were cottages sprinkled around the shores, and it was in farming although the shores of the lake were quite heavily wooded." –E.B. White
Belgrade Lakes Four-Season Cottages | belgradecottages.com | 207.495.9217 | Daily rates start at $125
Situated on 8,500-acre Great Pond, the six cozy and traditional Maine "camps" are within a short cast's distance from fishing for Northern Pike, Small Mouth Bass, and Brown Trout.
Among the Lakes B & B | amongthelakes.com | 207.465.4900 | Double occupancy begins at $145
Camp Runoia alums, Polly Beatie, and Sandy Famous, own and operate this beautiful white B&B in North Belgrade.
Belgrade Lakes House B&B | belgradelakeshouse.com | 207.495.2786 | Rates start at $135 per room
Conveniently located in Belgrade Lakes, this B&B offers comfortable lodging in a classic 1843 home, overlooking the picturesque Long Lake where boating and fishing (and swimming in the warmer months) are readily available.
Food even better than the Mess Hall
"Up to the farmhouse to dinner…There was a choice of pie for dessert, and one was blueberry and one was apple." – E.B. White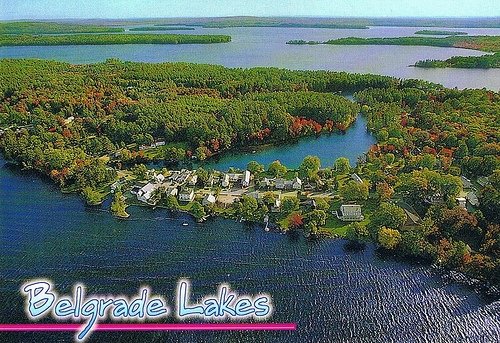 Splurge: Revel in a five-course prix-fixe meal at Wings Hill Inn and Restaurant, which includes an appetizer, soup, salad,  entrée, dessert, and homemade baguettes. Priced at $55 per person, this intimate dinner will be prepared for you by the innkeepers, a husband-and-wife team who met at culinary school. The restaurant (that is part of the inn) but open to the public with advanced reservations) serves locally grown and raised food whenever possible and has a BYOB policy. The most popular recipes are posted on the site for those interested in bringing a piece of Belgrade home.
For a local bite: Head over to The Tavern at The Village Inn for tasty grilled flat bread pizzas, lobster crepes, and sirloin burgers (only $8.95). To be reminded that you're not in New York anymore, slurp down some thick New England Clam Chowder or savor the plumpest Maine Lobster Crab Cakes, while watching the mallard ducks quacking out on the pond. Dinner hours are 5pm-9pm, and you'll need to call ahead for reservations.
Stop in for lunch: The Lazy Lab Cafe, just up the street from the post office and next to the Enchanted Swan and Antique shop, is the perfect place to stop in for a bite mid-day. Serving great coffee, cappuccino, lattes, smoothies, sandwiches and salads for lunch, the Lazy Lab also has warm pastries and muffins for breakfast, High-speed Internet access, and stock of wonderful old books to cuddle up with in the colder months.
Snack: A trip to Belgrade Lakes is simply incomplete without a visit to Day's General Store. Pick up a few snacks in the afternoon, or for the late night munchies; you can find almost anything here—from live lobsters to delicious fresh-baked doughnuts—in this brown house-cum-general store.
Hikes, hikes, and more hikes
Mount Phillip: Jump on the "Hemlock Trail/Bradley" and wander up the trail to enjoy lovely views of Great Pond (where later in the day/weekend you'll enjoy swimming, canoeing, and maybe a spot of fishing as well). Take a 5-6 minute taxi from town, or bike there in about 20 minutes. It is about 20 minutes to the summit.
French Mountain: This hike is in Rome, Maine, just about a quick taxi ride from town. You follow the signs to the Rome Strawberry Patch. It will only take about 15 minutes to summit, and when you do, the views at the top span Whittier Pond, Long Pond, the village, and Great Pond. Wings Hill Inn has a great listing of the local, moderate hikes and scenic overlooks as well.
Boating
Arrange to go (ice) fishing, rent a boat, sea kayak, or canoe, and call Whisperwood Lodges & Cottages for great guided trips around the lakes.
How to get there: Bus or train it to Boston. Depending on your budget, Amtrak is an easy, quick option; BOLT Bus is a cheap alternative and takes approximately 4 hours total travel time. From Boston's South Station, take the Greyhound Bus from Boston to Augusta, ME (approx. 3 hours travel time). Taxi, or arrange pick-up from your accommodations, about 15 miles up the road from Augusta to the town of Belgrade Lakes. It may be a longer trip 'off Manhattan,' but it is worth it for the cleanest lakes, fresh mountain air, and that carefree feeling of escape. Bring or rent a bike to toodle around town during your stay.
"The arriving had been so big a business in itself, at the railway station the farm wagon drawn up, the first smell of the pine-laden air, the first glimpse of the smiling farmer, and the great importance of the trunks and your father's enormous authority in such matters, and the feel of the wagon under you for the long ten-mile haul, and at the top of the last long hill catching the first view of the lake after eleven months of not seeing this cherished body of water." – E.B. White