Toronto is not just Canada's most populous city; it's also a melting pot of nationalities, traditions, and cultures. Oh, and it has plenty of amazing things to see and do to keep even the most adventurous city travelers busy!
And if you're on the hunt for the perfect Instagram-worthy shot, you've come to the right place. In today's blog post, we'll go through the top 5 locations in Toronto that are most popular with selfie-takers. So gear up, get that camera ready, and start taking notes!
1. Toronto Islands
If you're looking for the perfect backdrop for your photos, you can't go wrong with a view of the mighty Lake Ontario. And, if it's summer, you'll be blessed with a landscape that many people can only dream of.
The Toronto Islands (see the featured image above!), or the Island (as the locals call it), is a grouping of 15 islands that connect with each other through a series of pathways and bridges. So, you can take a stroll from one end of the Island to another (it's about 5 km in length). Oh, and there's a hidden amusement park on Center Island where you can take lots of impressive and unique photos!
To get there, you have to take the ferry from downtown Toronto (it's about a 13-minute ride). The boats leave from the Jack Layton Ferry Terminal at the foot of Bay St. and Queen's Quay.
2. CN Tower
Once the tallest freestanding structure in the world, CN Tower is a 553-meter-high communications and observation tower and one of the world's most recognizable landmarks. But if you're looking for the best selfie, your interest lies at the top of the tower, where you'll find an observation deck located 346m above ground.
From here, you have an unencumbered 360-degree view of the city and its surroundings. If you're lucky and you get a clear day, you may be able to see Niagara Falls or as far away as New York State.
And if you get hungry, CN Tower is a short walk to Byblos, one of the best restaurants to try in Toronto.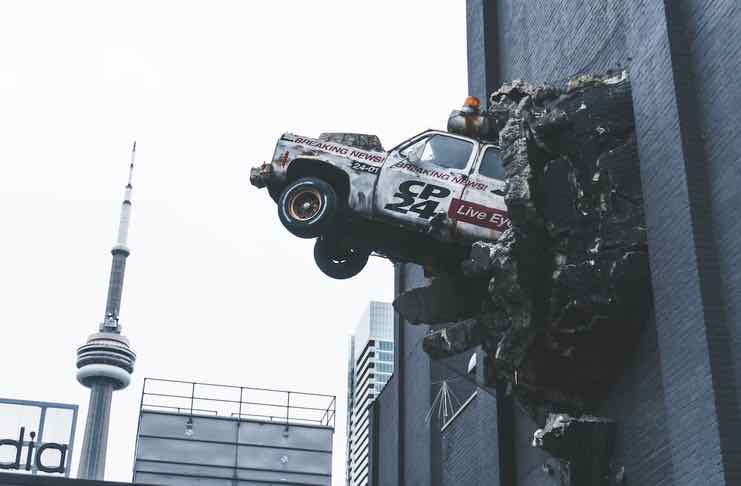 3. High Park
Trees, meadows, lakes, and nature in general provide amazing spots for jaw-dropping selfies. High Park is the largest public park in the city and features green spaces, vegetation, an adventure park, picnic areas, and plenty of open space for people and dogs to roam around (each in their own areas).
If you time it well, you may catch the cherry trees in full bloom (between April and May), which makes for the perfect background for a photo shoot. In fact, the area is so impressive that you'll find it difficult not to fill your camera's memory with breathtaking nature photos.
Watch this to get a glimpse of High Park:
Overall, High Park is the perfect location to take photos you can use to decorate your walls, make a collage, or for photo books.
Quick tip: If you love collages like us, you can make a picture collage with BeFunky, for example, in a couple of minutes if you have the images ready for upload.
Oh, and there's a mini-zoo where you can see several impressive animals, such as llamas, buffalos, bison, deer, peacocks, and even cats! Not to mention, the admission is free.
4. Distillery Historic District
If you like urban photography and unique locations, you can't go wrong with the Distillery Historic District.
What was once the largest distillery in the British Empire is today a pedestrian-only area filled with cute coffee shops, top-notch restaurants, impressive art galleries, and lots of opportunities for refined entertainment.
The Distillery Historic District is the beating cultural heart of Toronto, where the visionaries, creatives, and artistic minds go to relax and get inspired. It's also a great location for shopping and a fantastic location to get lost in both time and space.
Watch this to get a glimpse of this wonderful place:
The buildings keep the Victorian industrial architecture, and the streets are narrow and brick-paved, so you can see why this could be the dream of any urban photographer.
5. Scarborough Bluffs
This is another breathtaking location popular among nature photographers and outdoor enthusiasts alike. The area includes 11 natural parks, one white sand beach, and a 15-km stretch of bluffs that rise about 91m above the lakeshore.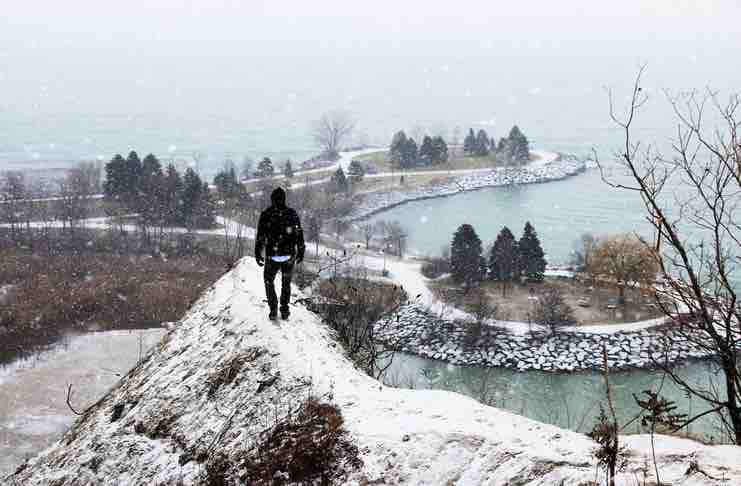 From the cliffs, you can get a perfect view of Lake Ontario and the surrounding area which is covered in vegetation. It's also a great spot to take aerial shots if you have a drone or even do a live stream on one of the many trails that lead to the lake.
But once you're done with the photos, take a step back and try to immerse yourself in the atmosphere of the Scarborough Bluffs. Let the breeze caress your skin, and take in all the natural sounds. The experience will give you a sense of peace and calm, and if you come here early in the morning or late in the evening, you can marvel at the sunrise or sunset.
Key Takeaway
The Toronto area is filled with picture-perfect locations that will make you quite popular on Instagram. But once you get there, don't forget to set the camera aside and immerse yourself in the experience.
Alex is a computer geek, programmer, who loves traveling. Not the usual mix, but Alex is always with his laptop – no matter how high the mountain he's hiking on. On every peak he reaches, he writes a story that captures it all.