Every time we decide we want something new to eat, we might head for Italian. It is just our nature to do this. Even in New York. We walk in our neighborhood and usually find places to go. But sometimes we want to try something different. Not the same pizza. Of course, here in New York, it is always the same. It looks the same. It tastes the same. It tastes like the American version of Italian food.
But then we find something different. You walk by a restaurant and look inside. You see walls lined with books from floor to ceiling. It is not a large place. It has only a few tables and low lights.
It looks like the reading room in a library you might have not visited in years. Not in today's world anyway. Yet, maybe you walk inside and learn you are in a new Italian restaurant. You are invited to sit down and stare at the walls. You look down on the table and see a menu. Maybe it is time to read. And learn.
Welcome to OSTERIA ACCADEMIA: TIME TO LEARN SOMETHING NEW
Our hostess at Osteria Accademia, Stephanie, came over to speak with us. Like a librarian, she is soft as she speaks. You can ask questions and she has answers. To start with she provides additional information about a beverage. All wines here are special. This is nothing that is made for a large audience. She provides a list and gives you time.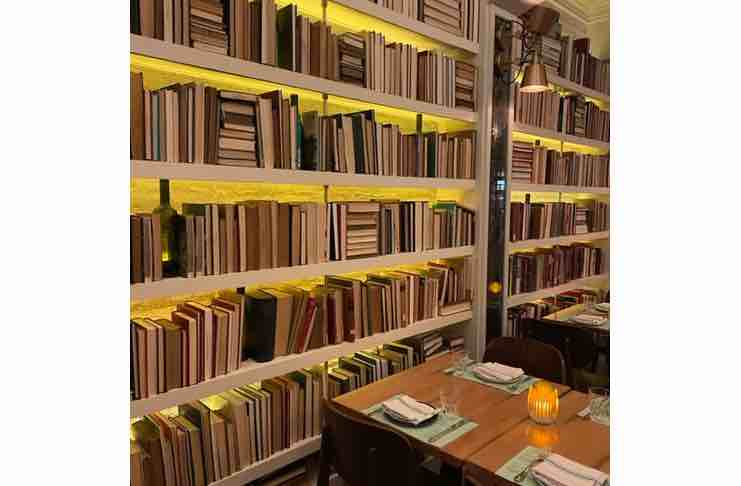 Stephanie also discussed the specials for the evening. It was all freshly made that day. Nothing is old. She will recite everything from the appetizer to dessert. If you have another question she will answer. By the time she was finished, we were already locked on the specials. It sounded wonderful what we could have and could not wait to try it.
One item in Osteria is that there is no rush. You are here to try something new and enjoy your visit. They are here to help.
The first thing we did was order a glass of wine. One thing to remember is that when you order a single glass it is like receiving two glasses. This is not filling the glass to the top. You fill it as you would if you were at a wine tasting. It is a portion at a time, so it becomes two glasses.
For us, we ordered a PICO MACARIO. This is a salmon-colored wine that is fresh and airy. It is touched with strawberries, cranberries, and watermelon. It is refreshing but modest. It does have a velvety texture which is ideal in Italian food. A good way to start, especially with the homemade bread they have put forth. Just enough to start, and wait.
OPEN TO LEARN AND START
Appetizers are the way to start the meal. Again, there is no rush. This is the way you can experience something different with each bite you take. For us we started with the SALUMIE & FORMAGGI. We went for three items. You can go for five. We selected Speck and Mortadella, along with Piave as our cheese.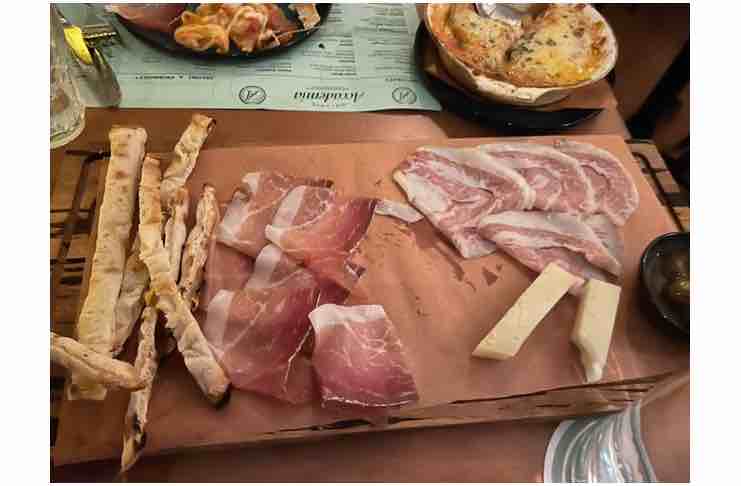 This is not what you buy in a store or a local deli. These are the items you will find if you went to Italy for dinner. The Piave is something you find in the northern part. It is firm, solid, and has a taste you will enjoy when you take a bite.
Since you are having wine you understand how to eat as you complement each item. Take some Piave, then take a slice of Speck or Mortadella. The meats are handmade. They have been aged properly to develop the taste and richness you would expect. They could have been the meal itself. They were delivered with slices of fresh bread that is ideal with the selection you made.
The Eggplant Parmigiana
Naturally, this was delivered with our EGGPLANT PARMIGIANA. This is not as you might expect. This was definitely something you would have in Italy. The eggplant was lightly sliced and thin. The sauce was made that morning and was tasty. Not spicy. It had the right ingredients and spices to give it the right flavor.
Over pasta, this would be ideal. But with the eggplant it was wonderful. Topped with mozzarella that was baked for a few minutes this alone could have been dinner. And it was by what we saw when someone came in for a light meal. This portion as an appetizer can be shared with four individuals to start. But for us we enjoyed the entire dish. It was not heavy. It was light and had the flavor you want before you continue. Check out this recipe for Eggplant Parmigiana if you want to try it at home.
Once we were finished with the appetizers we went into our first course. In this case we decided to share it since it was the pasta course. Today it was the special. GNOCCHI.
The difference is that it was gnocchi in a cream sauce that was mixed with some cheese and a fresh variety of mushrooms. Perfect for the fall season. It too was homemade today by the pasta maker in the kitchen. This was light and airy too. It was not heavy. It did not taste like dough and eggs and butter. It was rolled and cooked.
It could have been eaten alone, but with the special lightly creamed sauce it was ideal. And the mushrooms were freshly made. It is all local. This is not out of a can. It is found here and selected for the item you are having. Once more, this could have been a meal itself but was shared by two of us.
ON TO THE MAIN COURSE: Scallops with Artichokes
Being in Osteria Accademia you are enjoying your time as you enjoy your meal. No rush to leave as you are trying something new and learning from each bite you take. For entrees, we naturally had one of the specials of the day. Fresh SCALLOPS with ARTICHOKES. For someone who likes seafood, this is special to have. With its smooth texture and mild flavor, a scallop can be quite a delicacy.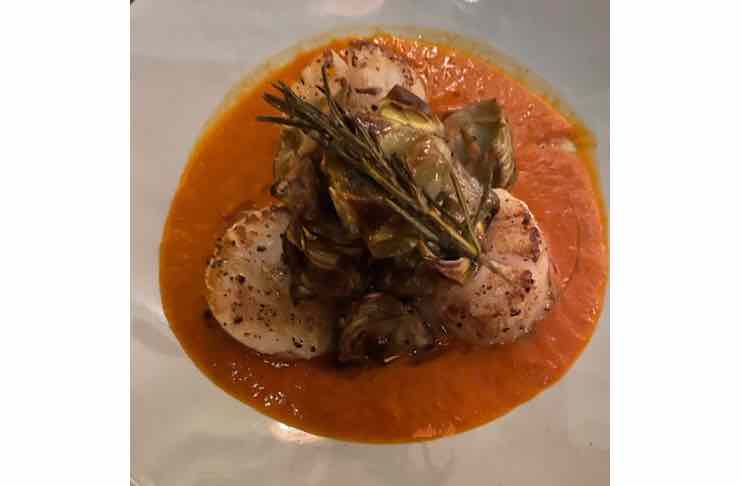 Here you receive three large Diver Scallops resting in a light tomato and cream sauce. It is topped with fresh artichokes that were first fried in a pan and then baked. They are gentle to cut with a fork. Their flavor compliments the scallop that is pan-fried lightly so that the item is fresh and not overcooked. It is as it should be ready to enjoy. I had to take a small slice and enjoyed it. I have never had this like this. Excellent.
The Ravioli and Veal
The other selection was the RAVIOLI and Veal. It is served with butter, sage and a light Parmigiano. Being an individual that likes Parmigiano this was good. Very light to add a slight flavor. The ravioli was made that morning and perfect. The veal was also freshly made for a perfect selection of veal.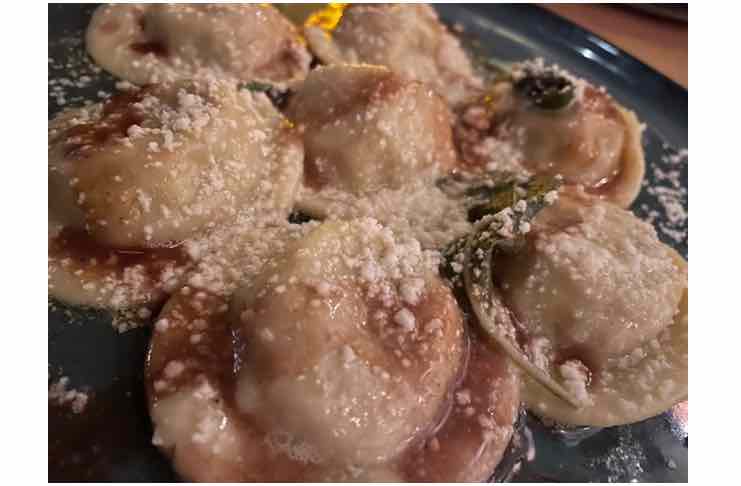 The sage and butter is a good mix, especially for the fall. Not like the ravioli you might have at home or in another restaurant, this ravioli is as you would have in Venice. Just enough sauce gives a slight touch to the ravioli itself.
This was easy to enjoy, and it went too fast. As other people were sitting down and placing their orders many were selecting the same items. The interest was interesting. People wanted to try a traditional meal but in a new style. Something that was not expected for New York in another Italian place. This was as it appears in Italy.
MAIN TEST – DESSERT
Once you finish the meals you feel like you have finished eating. But in Italy, you need room for dessert. And these are the normal desserts you might receive over there. They are light and not sweet. Very typical. They are large enough to have a bite and enjoy while finishing the evening. It is different.
For us, we had to have the CANNOLI to start. Once more, this is what you would have overseas. It was not sweet. The crust was freshly made and crisp. It was a good flavor to have.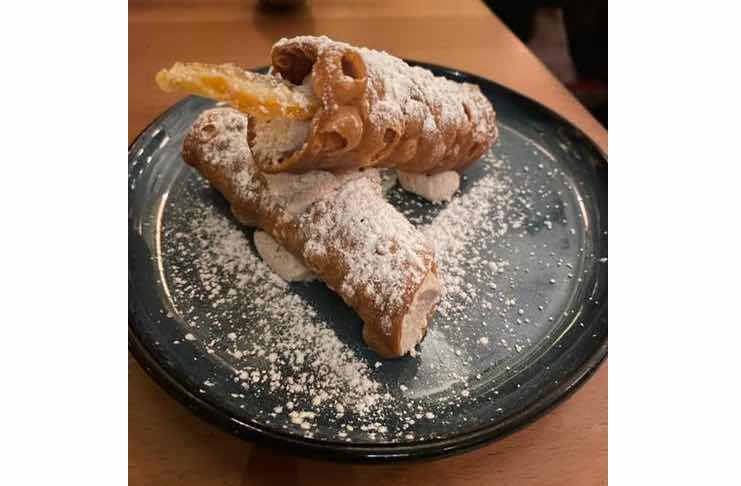 The inside was ricotta cheese with some cinnamon for a little flavor. There was also a touch of lemon flavor thanks to the slice of limoncello, which alone could have been a snack to have. It is a good item to enjoy with the cannoli. And there were two of them for us.
Naturally, you have to try the MOCHA TIRAMISU. This is very Italian. It is a mix of ??chocolate and coffee flavors with a creamy filling to create a scrumptious dessert. There is enough to share if you do not decide to eat the entire dessert yourself. It is just right after a meal you have had. This was very good.
Of course, you can not have dessert with an Espresso. That I did need to enjoy with desserts. This was very traditional. This is not from a box or a can. This was handmade in the kitchen and put in the espresso cup. It does not look like much when you receive it. But when you start you know it is the real item. I did have a single but could have had a triple. I liked it so much. And that is normal for me, a triple.
THE FINAL BOOK
To make the feeling you were here complete, even the invoice you receive comes in an old library book. That makes you smile and laugh. It goes with the atmosphere of the place. You might want to take the book home with you and return it when done.
Spending time in Osteria Accademia you have learned a great deal. You have seen something new. You tried something different. You could ask questions. You can enjoy something you did not think possible.
This was not what you expected. Instead, you stepped inside and went over to enjoy what you could enjoy in Italy. Having spent a few weeks in Italy this summer I thought I was back in Venice where I went to a new restaurant smaller than this but presented something I did not expect. Here, at Osteria Accademia, they did the same.
First, it does start with great chefs. These are the individuals that have the recipes and can create a meal you could only imagine. They knew how to make something the way it is made there.
This is not slow cooking, except for the sauce. Everything is made when you order the item. It's homemade daily. It is fresh. The flavors are correct. The spices are used the same way as in Europe. Just the right portion to provide the flavor but not cover the taste.
You wonder if this is Northern Italy. Maybe Tuscany or maybe over to Ionia which mixes several areas in the region. It is how taste and ideas make a combination of recipes that you will have there but not here. Unless you find it.
Next is the team to help you. Rinor leads the team in service. He provided much information about Osteria. That it has only been here for one month. That is all. It has about 32 seats at 11 tables inside and several tables outside for guests. Why it has bookshelves was something without details but does make you wonder and provides a good atmosphere that is warm and makes you think.
Stephanie was our hostess/waitress who helps you learn and experiment with something new and exciting to try. I asked what she would order and what she liked. She told me her items she enjoyed. That helps a great deal since you learn what someone else likes and that helps you decide what to try based on their suggestion. It is a good way to try something you might never have tried before.
Visiting will not make you feel full. The meal is fresh and light and tasty. It is a flavor you might have had from home. Like a mother or aunt would make. Osteria Accademia is a place for you to start and go on. You can eat. Talk. Drink. Experiment. Learn. Talk some more. Enjoy. Perfection.
Welcome to Osteria Accademia. Walk into a library like you used to, and learn about a new way to dine. Today.
Grazie. Prego.
Check more reviews on Yelp.
LOCATION:
OSTERIA ACCADEMIA
646 Amsterdam Avenue
(corner of 91st Street)
New York, New York 10025
Phone: 212-685-0305
RESERVATIONS ARE RECOMMENDED.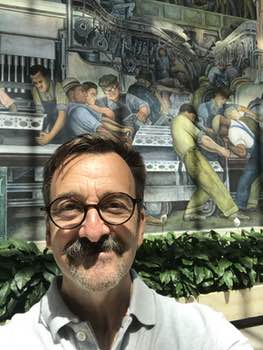 "The Jaded Traveler". Ron Rossi was born and raised in New York. A globalist at heart, Ron is a marketing director by trade, and has lived and worked around the world including Asia, Europe, Africa, and South America. Food is one of the best ways to learn about a country, a people and a culture. So, Ron is always looking for the best in mid-range to budget and street food. He is always on the hunt for a good meal anyone can afford. It is the food of the average citizen that excites him. And with having visited close to 100 countries on 6 continents so far, there have been some pretty good meals.