Planning a special weekend getaway to the Capital with your loved one? If you're searching for a few fun date ideas in Washington DC – you've reached the right place.
Our capital is home to world-class attractions that can create unforgettable memories for you and your special someone. From playing Mini Golf in a very special place, cozying up in a wine bar, going on a cool brewery tour or a romantic hike, there's something for everyone.
So let's start with our 5 top fun date ideas in Washington DC – that you should definitely consider this year.
5 Super Fun Date Ideas in Washington DC:
Organizing a special evening or short getaway with your special one is key for growing (and maintaining) your relationship. With the fun date ideas below – you won't have a problem planning your unforgettable Washington DC getaway.
1. Swingers Mini Golf: A Unique Experience You'll Never Forget
Looking for a romantic and fun date that will spark some beautiful nostalgic memories of the past? There's no better place than Swingers Mini Golf in Dupont Circle. This 20,000 square-foot adults-only mini golf course has become a hit place for locals and tourists.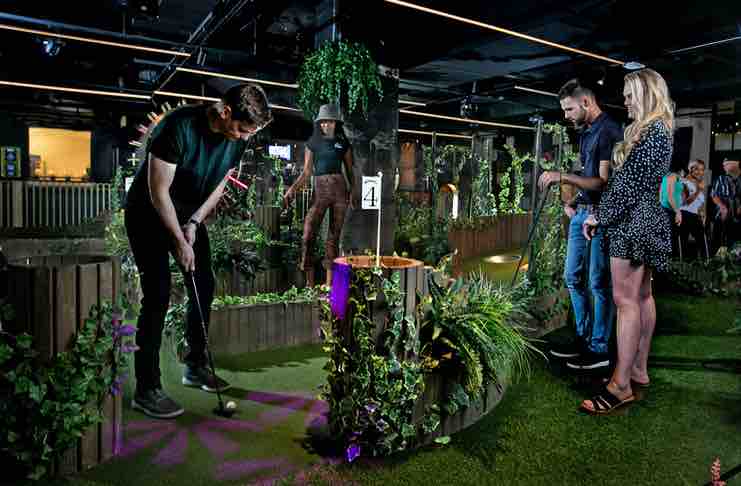 Swingers in DC marked the 3rd location worldwide and the 1st in the U.S for this unique fast-growing indoor golf playground, which also offers craft cocktails and a mini food hall with delicate food bites from local vendors. Co-founded by Matt Grech-Smith and Jeremy Simmons, Swingers started out in London.
The two Entrepreneurs conducted a market research in which they found out that people were looking for more than just eating out in a nice place. People today are looking for a fun activity that naturally includes good food, but it also has to look good on Instagram, TikTok and other social media. And from that, they reinvented the world of Mini Golf, and Swingers was born.
Swingers in DC includes two nine-hole golf courses with a wide range of obstacles, like windmills, swinging clock pendulums, and many more. But it's not just a beautifully designed Mini Golf playground. Swingers adds a unique food and drink element with gourmet street food that's provided by acclaimed local restaurateurs, and hand-crafted cocktails. Golf "caddies" run around delivering the food and cocktails while you're playing. There's also a great live DJ that makes this whole Golf experience incredibly cool, fun and memorable.
The Golf course itself is really challenging with lots of fun trick shots you can try. As you reach the last hole, there's a windmill. If you're good enough and hit a "hole in one" – you'll get to spin a wheel that offers cool rewards like a "free appetizer", "free drink" and more. And then, at the very end, there's a super cool Podium (for 1st place, 2nd and 3rd place) where you can get boomerang photos for free (they are sent to you via email). Isn't that awesome?
2. Get Cozy at a DC Wine Bar
While you may think it's a bit late in the year to head to a winery, in my opinion – anytime is good for a glass of great wine (as long as you're not driving!). A nice winery can also be the perfect place to take your special someone in order to get closer, and move that relationship a notch higher. Washington DC has many fabulous wine bars that you can choose from.
If you're looking for a nice outdoor wine experience, you can visit The Eastern which has a beautiful patio where you can enjoy your wine in class. For a more romantic date, you can visit Danny Liedo's Slate Wine Bar, or the Dickson Wine Bar.
The latter is a 3-level bar with a special intimate design. Every floor is illuminated with beautiful candles, creating the perfect romantic ambiance for your date. On top of that, there's a nice outdoor patio that is open during the summer.
3. Take a DC Brewery Tour
If you're more into beer, you and your partner can go on a fun brewery tour in DC. The craft beer scene in the capital is innovating and thriving. You can easily spend a day exploring a few fine craft breweries, tasting locally produced beers and great food.
There are more than 200 craft breweries across the region, which offer a wide array of beer styles, from malty, creamy, light or dark, you'll find your taste. You can enjoy small-batch beers at DC Brau, the capital's first packaging brewery founded in 1956. Hop later on to Hellbender Brewing Company, Bluejacket Microbrewery, or District Chophouse & Brewery where you can pair your beer with yummy seafood and steaks.
Naturally, you should avoid driving during a DC Brewery tour. So, if you don't want to walk or take public transportation – we suggest taking a tour guide like DC Brew Tours. These beer-travel experts offer daily tours to the best breweries, pubs and bars in the capital. Their 3-5 hour tours include tasting of up to 18 different craft beers, and some delicious food pairings, VIP access to a few breweries, and of course – round-trip transportation from the city center.
4. Go on a Romantic Hike (+Picnic)
Do you and your special someone share a love of being outdoors? Head out on a romantic hike. Washington DC has plenty of scenic hiking spots to choose from. All you need to do is choose the difficulty, length, and style of the hike you prefer.
If it's your first date, we suggest the gorgeous Theodore Roosevelt Island. Walk across the Key Bridge, where you can enjoy beautiful views of Georgetown and the Potomac.
If you're celebrating a special anniversary or something in the likes, take a drive to Great Falls Park. Located in McLean, Virginia, it's just a 15-miles drive from DC, and has 15 miles of hiking trails. Great Falls Park offers more than just hiking. You can go horseback riding (very romantic!), biking, fishing, and more. The park opens daily at 7am, but check for the latest conditions here. Want to end the hike with a romantic picnic? No problem, there are plenty of spots for this at Great Falls Park.
Watch this video to get a glimpse into the Great Falls Park:
If you're looking for more Picnic spots in Washington DC, here are just a few great options:
National Mall (Washington Monument, Lincoln Memorial)

Tidal Basin (Jefferson Memorial)

Rock Creek Park

Constitution Park

National Arboretum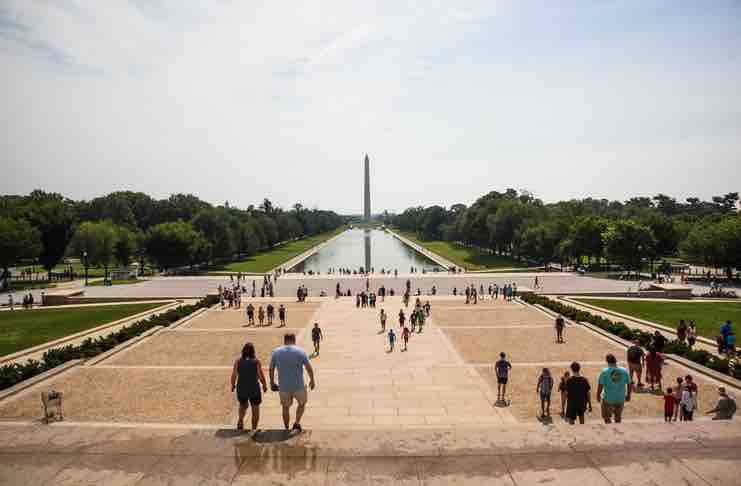 5. Visit a Museum
Last but not least, Museums are a great way to spend a day with your special someone. Everybody knows the Smithosonian – the largest complex of museums in the world. If you've never been to the Smithosonian – it should be on the top of your list. It's the largest complex of museums on the planet, created by the US government for "the increase and diffusion of knowledge".
Aside from the Smithosonian, DC has lots of other great museums where you can explore with your partner. Go on an exciting 007 adventure at the International Spy Museum, or visit the only major museum on the planet that is dedicated to promoting women's unique contributions to art. The National Museum of Women in the Arts was founded back in 1987, and it recognizes the best women artists of our time, while showcases exceptional women artists from the past.
To summarize, there are plenty of super fun date ideas in Washington DC. It doesn't matter if it's your first date or your 25th anniversary, you'll enjoy any of the above!
Want to read more of our latest posts? Check out these NYC Boat Tours you should try this year.
Alex is a computer geek, programmer, who loves traveling. Not the usual mix, but Alex is always with his laptop – no matter how high the mountain he's hiking on. On every peak he reaches, he writes a story that captures it all.