Searching for a detailed review of Oniro Taverna in Woodbury, NY? You've reached the right place. Read on…
Traveling east from NYC on a Sunday has become a get-away trip.
Local destinations are abundant as someone who has sat on Grand Central Parkway during these hot summer days in daily traffic.
It seems that no matter where your travel is headed you are not alone.
A year of homebound has created a surge in rental cars and new car owners which all result in a mass amount of motor vehicles looking for their daily excursion.
Why not Long Island. It is rich with beaches and sprawling homes. Communities that take pride in beautiful parks, historical landmarks, and local businesses.
Astoria is the place I call my home now.
Easy proximity to midtown and lively with culture. Greek is the first thing you think of when you say Astoria. Which made this Sunday's journey out to Long Island more interesting to me.
I have tasted many lovely Greek restaurants in Astoria. As well as Manhattan.
My first taste of Greek was the famous Greek diners. 12-page books as menus. Spinning tower of cakes and pies as you would enter.
Greek salad is by far still one of my top 3 choices.
Oniro Taverna in Woodbury is Not a Diner
Beautiful location and interior blanketed by crisp clean white walls. Arches everywhere with inconspicuous columns more to separate sections and tables so you can feel as if you have private seating.
Spacious yet inviting with hints of beautiful colored glass vases and a fish ornament here and there.
No murals of the Greek Isles. This is a family restaurant meant for large gatherings. Classy yet comfortable.
Food and Drink:
I had the spicy margarita and Michael had a Moscow mule. Served in a proper copper cup he said it was one of the best he's had.
My margarita was refreshing with a bit of a kick of spice at the end. Perfect for a summer afternoon.
We started with fried calamari and a Prasini salad
Prasini; Hearts of romaine, scallion, sweet pepper drops (cutest vegetable by far), crumbles feta, EVOO, and red wine vinaigrette
I told you Greek salad has always been one of my favorites. This was a Greek salad with a twist.
Oniro's Prasini was amazing. Presented more like a chopped salad yet instead of chopped it was shredded to proper eatable bites. Dressed perfectly. With such delicately presented vegetables, the chance of drowning is possible. Yet the dressing was light and proportioned exactly as it should.
Sweet pepper drops have now won the cutest vegetable of 2021. My own mental pageant of which the crown could be taken at any time.
I'm a big Trader Jose's fan, mostly for the unique offerings. Mini cucumbers, tiny tomatoes, tiny avocados. Anything tiny is adorable. If you can eat it, even better.
These sweet pepper drops may be tiny but held its own with taste and freshness.
The Fried Calamari
Yes… it's squid. It's called calamari but it's squid. No need for fear, it's delicious.
I like it.
This Fried calamari was the freshest cleanest dish one could imagine.
Oniro offers this as grilled or fried. I would want to try the grilled one day because the fried could not have been better.
Our entrée choice was Branzini and a Lobster Pasta.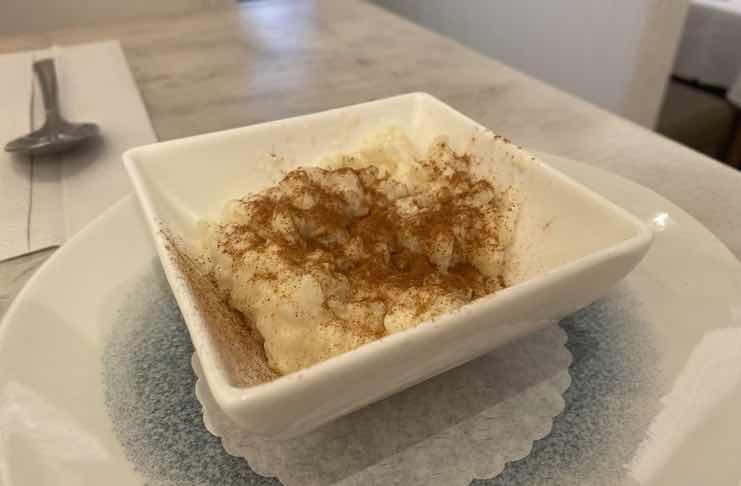 Branzini was suggested by our server as the staple of Greek cuisine.
The lobster pasta was a treat as Lobster is always a treat.
Both dishes were prepared with a light touch and generous portions.
Ending our meal with a rice pudding and Karidopita (walnut cake)
As I have noticed prices increasing post-pandemic and understandable. We are in recovery mode.
This is the best deal in town.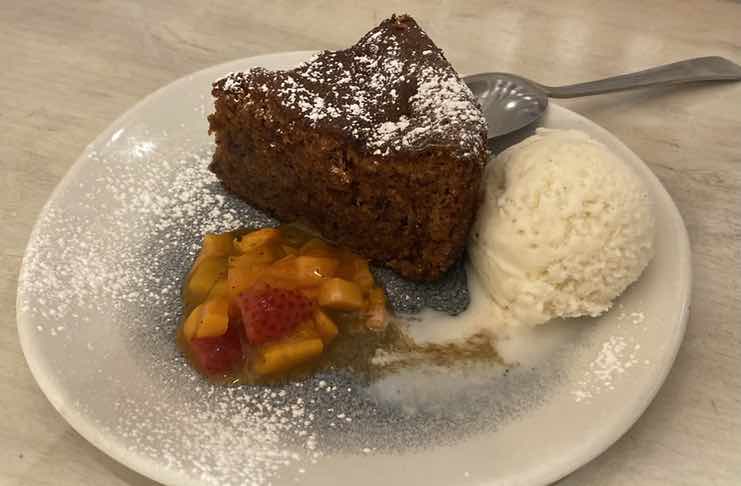 Dinner Pre-fixe for $34
A large selection of appetizers, main course, and dessert.
Add in $6 for a very healthy pour of red or white wine.
$40 for a 3-course dinner that will leave you full and satisfied.
Don't pass up on the cocktails. They are equal to the best mixologist in Manhattan.
Appetizers on the main menu is plentiful and diverse.
Woodbury is near Oyster Bay, one of the nicest parts of Long Island's north shore.
A great day trip to Oyster Bay or the historical Sagamore Hill. A childhood memory of Teddy Roosevelt's home.
Then make your way to Oniro Taverna to top off your mini travel.
Our day at Oniro Taverna was a pleasure with the professional and warm welcome by the charming Lia Amanatidis.
I have encountered many in management in hospitality and the distinct difference between good and great can make a guest experience 5 stars.
Hospitality has been a struggle of late. Management is held to create the atmosphere and positive vibe the staff can be proud to work with and guests will be patient while we all figure this post-pandemic world.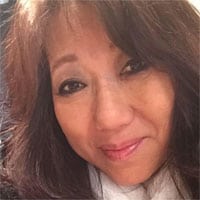 Living and loving in NYC, food has been a passion of hers. East Coast to West, Faith's goal is to explore and learn with the contribution of other like-minded foodies. Faith Rein has written for 2Girlsfromabar@blogspot.com. Youtube channel – faith.rein, love food love faith. You can find her @: Faith.rein/facebook (always looking to add friends) / faith rein@twitter / faith.rein@instagram /