We first mentioned Hotel Le Bleu in March in a story about bars with Manhattan views. Then we heard the news that its new restaurant, Vue, had its soft opening a few weeks ago, so we found our way over to Park Slope on the F train to view, or vue if you will, this new venue up close. While the small rooftop deck and bar certainly offer a full panorama of the city's skyline, we discovered that it's the neighborhood in the other direction that's worth exploring.
One avenue away from the heart of Park Slope's beautiful, vibrant neighborhood, Hotel Le Bleu is situated on a sparse section of 4th Avenue, next to a taxi garage and facing the Park Slope Ambulatory Infusion Center. Drop your bags off at the hotel that, despite its immediate surroundings, still manages to fit neatly into its luxury boutique category with rates equivalent to the Thompson Hotel, but cheaper than the Gansevoort. The digs are relatively spacious (320 square feet for a king and 340 for a double) and feature suitable, modern furnishings. One notable feature is the design of the bathroom. This area is completely open, which makes the room itself seem bigger. There is also a large glass walled shower that is especially relaxing after a long day of excursioning.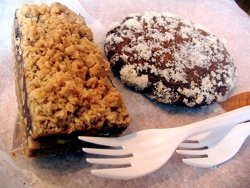 You'll want to start your journey through one of Brooklyn's more distinct neighborhoods with a stroll up towards Prospect Park. Any of the tree-lined streets (Garfield and 1st are recommended) will present a slew of striking, historic townhouses and picturesque churches. These building are just tall enough to block skyscrapers and create the atmosphere of being far away from anything resembling Manhattan. After arriving at the park and picking up some picnic accouterments at the brand new Movable Feast Café, plan to include at least a few of the following: Audubon Center, Grand Army Plaza, the Brooklyn Public Library, the Brooklyn Botanic Garden, and Wollman Rink—if you're up for pedal boating. On your way back, stop by Ladybird Bakery and buy a Turtle bar, a thick cookie that mixes chocolate, caramel, and hazelnut.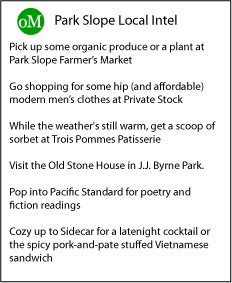 At night, there are even more options in Park Slope. If you need to make a wardrobe change at the hotel for evening outings, swing by Vue for the first round of drinks and to give a quick wink at Manhattan. Within two blocks of Le Bleu are Stone Park Café (New American) and Blue Ribbon (Japanese), two highly regarded restaurants and some of the best in Park Slope. Both rival Vue in price and will give you an upscale feel of the neighborhood and its locals.
For a more casual dinner, snag an outdoor table at 'Snice, which offers large portions of reliably delicious sandwiches and salads. One particularly good offering is their Brie Panini with arugula, pear, and raspberry mustard. Post-panini, head to the Gate, one of the better bars in the neighborhood and conveniently located across the street. If you're craving something sweet, get your decadence fix at the Chocolate Room.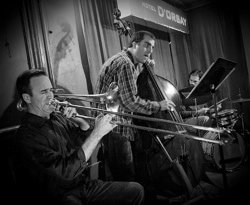 There is no shortage of rockin' creativity in Brooklyn, and now we're talking about the music scene. Barbès—the name is inspired by a northern Parisian neighborhood—houses one of the best African house bands in town, Mandingo Ambassidors, on Wednesdays at 10p.m.; but weekenders should come for Forro Da Madame and Oran Etkin. Barbès' repertoire also includes their Brooklyn Independent Cinema Series, shown every first Monday of the month. If you're curious what Gowanus has to offer, try the ever-eclectic The Bell House, right around the corner from Hotel Le Bleu on 7th Street. Whatever you do with the night, when you're done, you'll appreciate that your bed is right around the corner.
How to get there: Take the R, F or M subway train to the 9th St. / 4th Ave. station. Walk four blocks up 4th Ave to your destination. (Hotel le Bleu, 370 4th Ave, Brooklyn, NY, 718.625.1500, hotellebleu.com)
Map of Featured Locations

View A Day and Night in Park Slope in a larger map