As the art of Brooklyn and the Queens seem to get all of the attention, the Bronx art scene continues to grow in what could be called an artistic renaissance. Not only is the emerging art scene on display in the borough's many galleries and museums, but the community is actively investing and supporting local artists in pursuing their craft.
We compiled a list of art museums, galleries, and organizations that are furthering the mission of growing and sharing the arts in the Bronx. We urge you to put these on your radar and spend a day, night, or weekend checking them out.
The Bronx Museum of the Arts
The Bronx Museum of the Arts is a great way to start a tour of the Bronx's art scene. The institution specializes in contemporary art from diverse backgrounds and features Bronx-based artists. It provides free studio space to locals and gives them exhibition space to celebrate the uniqueness of the area. Best of all, the museum is free and is easy to get to.
Where: The Bronx Museum of the Arts is located at 1040 Grand Concourse.
Get there: B or D train to 167 St. Walk south two blocks. 4 train to the 161 Street/Yankee Stadium Station. Walk east three blocks to the Grand Concourse, then, walk north four blocks along Grand Concourse to 165th St.
The Andrew Freedman Home
The Andrew Freedman Home is an historic mansion that has been revitalized and turned into a multi-media hub for artists of all ages. Inside they have studios, where artists live and teach free-of-charge art and music classes and workshops. The Andrew Freedman Home exhibits their art through both galleries and installations on the grounds. They also have a Cultural Arts and Media Center for people interested in film production, video, TV, animation, and graphic design. The Andrew Freedman Home also offers after-school programs and summer camps for local youths.
Where: The Andrew Freeman Home is located at 1125 Grand Concourse.
Get there: Take the B/D train to 167th Street and walk 3 minutes, or the 4/5 to East 138th Street to the Bx1 bus.
En Foco
En Foco is a non-profit art gallery that supports photographers of color and of diverse cultures. It has a permanent photography collection and rotating exhibitions that are dedicated to creating programs for underserved communities and the general public. Their featured art covers complicated issues such as sexuality, relationships, race, and immigration. The team at En Foco has created hundreds of exhibitions, workshops, fellowships, and a permanent collection that spans four decades of photographic work. They also publish the Nueva Luz photographic journal which is dedicated to the works of photographers of Latino, African, Asian, and Native American heritages and have an annual Photography Fellowship Program designed to support photographers of color which awards ten fellowships $1,000 per artist.
Where: En Foco is located at 1125 Grand Concourse.
Get there: Take the B/D train to 167th Street and walk 3 minutes, or the 4/5 train to East 138th Street to the Bx1 bus.
BronxArtSpace
BronxArtSpace is a non-profit gallery that promotes the innovative ideas of underrepresented and emerging artists and curators. They offer writing, collages, and portrait workshops, open mics, panel discussions, curatorial tours, and other events that highlight local artists and advance local arts education initiatives. A recent exhibition called "Artists Respond to Politics" explored the diversity of responses among 13 cis and trans women and gender non-conforming artists to the current political times and the #MeToo movement. They also recently hosted an event with NYC designer fabrics, leather, and trim, all of which have been saved from landfill, for sale at thrift store prices–all of which have been saved from landfill.
Where: The BronxArtSpace is located at 305 E 140th Street, 1A.
Get there: Take the 4/5 train to 125th St and transfer to the 6 train for one stop to 3rd Ave/138th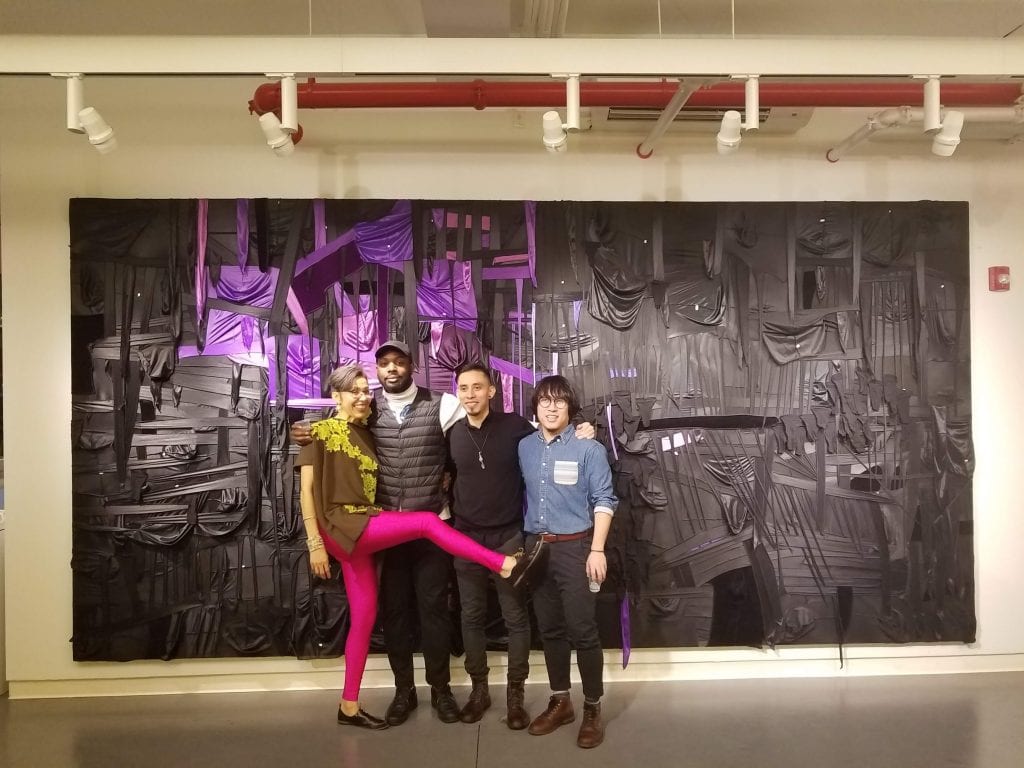 Bronx River Art Center
Bronx River Art Center (BRAC) is a multi-arts non-profit gallery which recently underwent a twelve million dollar renovation. BRAC provides a creative forum for underrepresented emerging artists and youths, presents contemporary art exhibitions and performances,and also offers art classes and workshops. Their weekly Education, Exhibitions, and Presenting Programs cultivate leadership in an urban environment and stewardship and include after school and weekend youth programs in painting, drawing, cartooning, and ceramics. They also offer a free Teen Project Studio and fee based classes for adults. Their exhibitions provide a resource for artists and guest curators by giving them a local platform.
Where: The Bronx River Art Center is located at 1087 E. Tremont Ave.
Get there: Take the 2/5 train to West Farms Square/East Tremont. Walk one block east to Bronx Street.
The Bronx Academy of Arts and Dance
The Bronx Academy of Arts and Dance (BAAD!) is home to the award-winning contemporary dance company Arthur Aviles Typical Theatre and hosts the Bronx Dance Coalition which supports professional Bronx dancers. BAAD!'s newest program, the BAAD! Muse/Artist in Residency Project, fosters the development of artists who are creating challenging art, dance, and performance in the Bronx. BAAD! supports the development of contemporary dance and all creative disciplines with a unique focus on women, People Of Color and the Lesbian, Gay, Bisexual, Transgender, & Queer communities. It produces four annual festivals (The BAAD!ASS Women Festival, the Boogie Down Dance Series, OUT LIKE THAT! and the BlakTin@ Performance Series) and the seasons for Arthur Aviles Typical Theatre. You'll also find annual productions of Los Nutcrackers: A Christmas Carajo, The Boogie Down Dance Series, and the BAAD! Muse Artist in Residency Program.
Where: BAAD! is located at 2474 Westchester Avenue.
Get there: Take the 6 train to Pelham Bay Park Train to Westchester Sq. or Zerega stop.
The BxArts Factory
The BxArts Factory is a crucial part of the Bronx's growing art scene. This grassroots organization connects artists and the community via sponsored art exhibitions and helps artists through networking events, art and writing workshops (called "Unlocking the Artist"), services, and educational programs. Events include a monthly unique arts and crafts project in a DIY workshop, such as a self-care night, and other types of art programming that incorporate education and showcases a variety of art genres. Their "Nesting the Art" project brings children and parents together to create art. BxArts Factory sponsors yearly art exhibitions with a community and cultural focus. Exhibitions are curated by the team at BxArts Factory, as well as by guest curators.
Where: The events are held at various locations around the Bronx. Check the web site for further information.
Art Galleries Not to Miss
The B Shop, 79 W 162nd St, Bronx
Lehman College Arts Gallery, 250 Bedford Park Blvd W, Bronx
Longwood Arts Gallery, 450 Grand Concourse, Bronx
To_Bridges_, 2422 3rd Ave, Bronx
Wallworks, 39 Bruckner Blvd, Bronx
Header photo: Useless: Machines for Dreaming, Thinking, and Seeing Photo by Argenis Apolinario
Holly Rosen Fink is a marketing consultant and culture and travel writer living in Larchmont, New York