If you're looking for an art-infused town with a waterfall-heavy landscape, stunning scenery, mountain bike and hiking trails and some of the state's most savory southern cuisine, consider a weekend in Brevard, North Carolina. It's a southern spring fling of the best variety.
Get Outdoors:
Since you're in the Land of Waterfalls—250 to be exact!—lace up your hiking boots, head to Gorges State Park, and follow Rainbow Falls trail, a newly built four-mile out-and-back gravel footpath, which leads to the spectacular Rainbow Falls, Turtleback Falls and Drift Falls. (Download the Land of Waterfalls app before you go.)
From the back alleys to the myriad galleries on and off Main Street, the town's artistic charm is what locals are most proud of—after waterfalls, of course. Follow the Brevard Sculpture Trail, pop into the quirky Local Color shop, and explore the Brevard Lumberyard Arts District.

Eats + Drinks
Local road and mountain bikers kick start their day at Sycamore Cycles with a freshly baked good and a King of Pisgah smoothie. Pedal your rented wheels (from $35/day) up the street to Pisgah Forest, where the refreshing spray from 60-foot Looking Glass Falls is the perfect way to begin a summer ride.
For Brevardians, beer pairs best with an outdoor adventure. Book Headwaters Outfitters' two-hour Cruise then Booze trip ($30/pp), which takes you up the French Broad River and back to Oskar Blues Brewery every Friday night, June-August. If you'd prefer a self-guided tour, rent a single kayak or tandem canoe (from $40/pp for three hours).
Taste the region's best local bounty with a French Quarter twist at Jaime's Creole Brasserie (closed). While Chef Jaime Hernandez prefers to cook what's in season, the chocolate-slathered beignets and mug of andouille sausage gumbo are among the menu's dependably delicious staples. 
Where to Stay: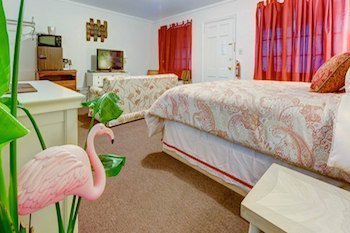 The retro-chic Sunset Motel is popular with cyclists for its close proximity to the biking trails of Pisgah National Forest, the on-site bike wash and breezy three-minute ride (or 10-minute walk) to downtown Brevard. And you can't beat the nightly rates from $79.
Insider Tip:
 For a scenic picnic, stock up at the Saturday Farmers Market and head to 10,000-acre DuPont Forest for, you guessed it, more waterfalls. The set of films like Last of the Mohicans and The Hunger Games, Triple Falls is a three-tier cascade and an idyllic backdrop for a picnic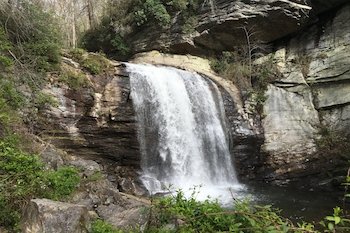 .
Brevard is home to the rare white squirrel, descended from an escaped carnival animal in 1949. To catch a glimpse of this surprisingly beautiful creature, plan an early morning stakeout at Brevard College.
Get There: Fly from NYC to Greenville, SC in two hours. The Asheville Airport Shuttle to Brevard takes one hour and costs $60.
Photo credits: the author
The co-founder and editor-at-large at offMetro, Lauren is a sustainable travel specialist and freelance journalist with frequent bylines in National Geographic, Bicycling Magazine and Shape. Follow Lauren's adventures at @laurenmati.