There's always something brewing in Providence. Its riches include the provocative collection at the RISD Museum of Art and a culinary scene that rivals any in New England. If you crave innovation, imaginative WaterFire lights up the night with over 80 torch-lit braziers illuminating the river. Plenty outdoor adventures as well.
If you're in the market for an impromptu getaway, look no further; Providence is bubbling with new sounds, sights and tastes that will inspire you to pack your bag and see what all the buzz is about.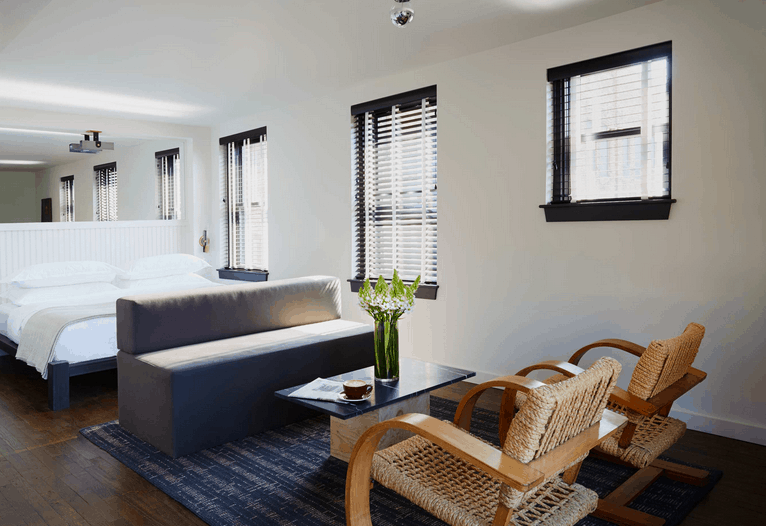 This 52-room boutique hotel is in the vanguard of urban chic. Once home to a seedy strip club, it's been transformed into a stylish property in the heart of town. Rooms start at $109 and range from a budget-friendly quad with retro bunk beds to a luscious suite. Vintage furniture, fixtures and textiles made in New England add local spice. Free loaner bikes are the perfect mode of transportation. Don't miss your chance to get festive at The Boombox, Providence's only karaoke lounge. Night owls will appreciate that it stays open until the wee hours.
Eat: Garde de la Mer (closed)


Recently opened Garde de la Mer is making a big splash in this food-crazed town. It serves a menu of local seafood with a dash of Gallic panache. Fresh coastal ingredients are taken to inspired heights when they are placed in the hands of the talented culinary staff. Start with a few briny tidbits from the raw bar, with its selection of crustaceans from Rhode Island and Cape Cod. For the main course, you can't go wrong with halibut, scallops, bouillabaisse or any of the dishes featuring aquatic delights. This is not the night to count calories, as the irresistible desserts are made in house. The impressive granite bar, sleek décor and top-notch service make it all extra special.
If your shopping proclivities lean toward independently owned stores, cosmopolitan Arcade Providence is an alluring stop. Built in 1828, it's the oldest indoor shopping mall in the nation. Redeveloped in 2012, it is now home to 16 new micro-retail shops and restaurants. Check out the assortment of vintage accessories and Rhode Island-made costume jewelry at Carmen & Ginger. Nude will appeal to the fashion-forward. This cooperative space exposes the clothing of talented young designers. They do custom work for reasonable prices. When you need to refuel, Livi's Pockets uses locally grown ingredients to enhance their Middle Eastern street food menu. Healthy wraps, salads and soups are full of zest and zing.
This is the only coffee shop in the country where you can sip single-island origin coffee from the tiny Republic of Vanuatu. This remote island in the Pacific Ocean produces some of the planets most aromatic and flavorful coffee beans. They are grown without fertilizers, pesticides or even compost. The plants flourish thanks to ever-present ash plume from the active volcano continually replenishing the soil. Happy coffee plants makes a delicious brew, but you'll need to come to Providence (or Vanuatu) to taste for yourself.
Rhode Island's "Creative Capital" kicks it up a notch with a brand-new arts festival that uses this revitalized city as its canvas. On Saturday, June 13 (with extended programming to June 14), hundreds of artists, musicians and performers will create a cultural corridor that demonstrates the transformative power of the arts. The scope and scale of the festival's inaugural edition promises to impress, with dozens of public art installations and 15 stages enriching the city's already dynamic art-scape. Performance highlights include the Earth Harp Collective, featuring the world's largest stringed instrument, physical and aerial theater by Wise Fool New Mexico and the magical puppetry of hometown favorite Big Nazo. Don't miss the pop-up tape art murals that will decorate several public buildings. The nonstop events are all free and family-friendly.
How to get to Providence from NYC
Amtrak from Penn Station to Providence takes three hours. Megabus or Peter Pan bus lines from Port Authority are budget alternatives. For more information, go to www.goprovidence.com.
Top photo: liz west
Allison is a native New Yorker, who has lived in Rome, Tuscany, Melbourne, Toronto and Los Angeles. She frequently contributes travel pieces to Family Travel Forum, using her own children as guinea pigs as they travel the globe. She is fluent in Italian and Spanish and laughably adequate in French. Her background as an Early Childhood Educator gives her an added understanding of what it takes to travel with kids in tow. She firmly believes that the most important part of education takes place outside of the classroom, on the road, around the world. She never misses a chance to sample local delicacies, as her love for travel goes hand-in-hand with her love for food and wine. Follow Allison at @gourmetrav.