Culinary cognoscenti may ponder whether a taste beyond bitter, sour, salty and sweet exists. For those with a refined visual aesthetic, a restaurant's view might just be the umami that adds the fifth flavor dimension to a meal.
The following gourmet getaways provide panoramic vistas that enhance the already delectable gastronomic offerings. Spring is the perfect time to dine by a roaring waterfall, on a rooftop overlooking Boston's Public Garden, or by the Hudson River with a view of the longest pedestrian bridge in the world. Meet three restaurants with flavor-boosting views.
The Tavern at Diamond Mills | Saugerties, NY

Fresh food ambassadors agree that the Hudson Valley is an agricultural Valhalla. The Tavern at Diamond Mills exploits the region's riches, offering a refined menu loaded with meat, cheese, produce, wine and spirits from neighborhood purveyors. The catnip is the elegant patio that provides diners with a sweeping view of Esopus Falls, Ulster County's answer to Niagara. The colorful illumination and the sound and sight of rushing water create a one-of-a kind setting for a memorable meal.
At the core of all these fresh flavors is Chef Giuseppe Napoli. He graduated from the C.I.A., but his training began at his mother's apron strings, where he learned the secrets of the Sicilian kitchen. She prepared nourishing family meals in the same simple, self-sustaining way her ancestors had been doing for generations. Keeping with family tradition, Chef Napoli's menu changes according to what is ripe and ready.
As you soak in the view, prepare your palate for a patchwork of local cheeses on the artisanal cheese board. Dairy-rich dazzlers like the lush Sprout Creek Ouray and creamy Old Chatham Camembert are served with quince jam, smoked almonds and crispy house-made bread sticks. Try the retro tavern salad, a galvanizing take on a traditional wedge salad, with house-smoked bacon and pungent local blue cheese adding savory oomph. Produce is seasonal, but expect heirloom tomatoes, diminutive cipollini onions, a rainbow assortment of baby beets, earthy mushrooms and newly foraged ramps. The pasta dishes are authentic and exceptional. Desserts include bittersweet chocolate budino and a cheesecake trio so pillow-y, you might be tempted to rest your head on it. Time your visit to coincide with Saugerties First Friday celebration on the first Friday of each month and you'll be privy to a buffet dinner for only twenty bucks.
The Digs
The adjacent Diamond Mills Hotel is a boutique property with waterfall views, so plan to stay the night.
The Directions
Adirondack Trailways goes directly from Port Authority to Saugerties. If you're staying at the Diamond Mills Hotel, they offer complimentary pick-up from the Amtrak station in Rhinecliff.
Taj Boston's Rooftop Sunday Brunch | Boston, MA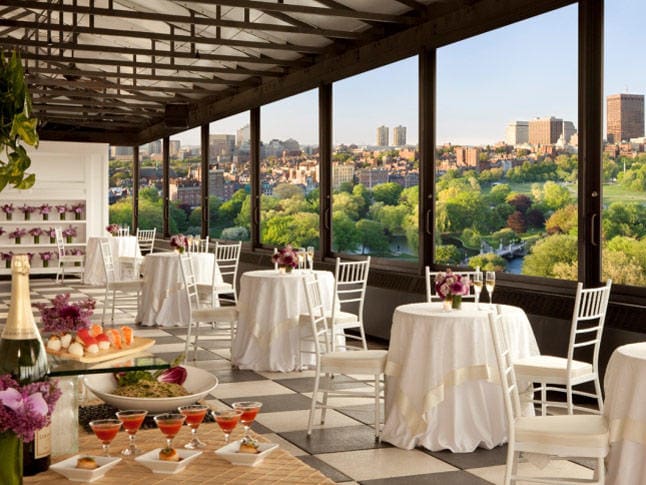 Feast on a multi-cultural array of delectable dishes accompanied by eye-candy views of Boston's cityscape when you brunch at the Taj. Take the elevator to the roof and enter the glassed-in aerie high in the sky. The culinary creations include delicious-but-predictable New England seafood and made-to-order breakfast standards such as omelets and waffles. It is the authentic Indian dishes, prepared by a Punjabi chef and his highly trained brigade, that elevate the dining experience to a celestial level.
If you are new to Indian cuisine, prepare to be dazzled by exotic aromas and aromatic spices that add flavor but not necessarily heat. Culinary drama is achieved by carefully combining flavors, colors and textures in the perfect proportion. Punjab is the birthplace of the traditional tandoor oven, and several dishes are prepared in this clay vessel. Freshly made breads are served flaky and piping hot, perfect to absorb all the sauces. New England meets New Delhi in the crab curry, the sweet crustacean slow simmered in rich coconut milk. The Indian buffet doesn't skimp on vegetarian offerings, such as mutter paneer (cottage cheese with peas) and lasooni del palak (yellow lentils and spinach tempered with garlic).
If your taste buds prefer the cuisine of Japan, a master sushi chef is on hand. A fantasy-fulfilling dessert buffet is brimming with a dazzling array of chocolate, fruit and pastry confections, so you will end on a sweet note. The brunch comes with free-flowing Champagne for a splurge-worthy $79. The view of the Boston Public Garden puts the Swan Boats and Frog Pond in easy sight. The rooftop repast is served each Sunday from late March until November.
The Digs
The Taj is one of Boston's finest properties, so check in and digest your meal before heading out to explore the city.
The Directions
Amtrak or Megabus to South Station. See our Boston Transportation Guide for more information.
Ice House on the Hudson | Poughkeepsie, NY
Once down-and-out, Poughkeepsie is working hard to reinvent itself. Lovers of the quaint should head a few miles up river to Rhinebeck, because despite a fresh coat of paint, Poughkeepsie retains a plentiful supply of urban grit. The Walkway over the Hudson anchors the city's push for urban renewal. It's a landmark railroad bridge connecting Dutchess and Ulster Counties that has been transformed into a linear park and trailway. This 1.28 mile pedestrian bridge has attracted new businesses, including scores of eateries. Visitors can work up an appetite hiking, biking or jogging the span of the bridge, while the blossoming restaurant scene will satisfy their post-exercise cravings.
The Ice House on the Hudson is located right at the riverside, with dynamic views of the walkway. Sit in the outdoor patio in warm weather, though the spacious windows offer picture-perfect views from indoors too. Whichever you choose, the vibe is casual, the menu peppered with regional ingredients. Taste the sap of locally tapped trees and order one of several dishes enhanced with Crown Maple's nuanced syrup. The Hudson Valley duck grilled cheese features slow cooked duck raised on La Belle Farms in nearby Sullivan County. Pasta, salads, creative sandwiches and substantial desserts are menu mainstays at lunch or brunch.
At dinner, trained chefs from the Culinary Institute of America put their cooking chops on display with delights like wild mushroom risotto, Falconwood Farms brook trout and a soul-soothing Murray Farms chicken pot pie. The restaurant does not yet have a license to serve distilled liquor, but don't fret. Beer and wine flights are popular and the inventive cocktails are made with substitutes such as sake, port and Champagne, so you won't miss the hard stuff.
The Digs
The Buttermilk Falls Inn, a 10-minute taxi ride from the Ice House, has an on-site farm, cooked-to-order breakfast, and Henry's restaurant, and has become a travel worthy dining destination for New York gourmands.
The Directions
Metro-North from Grand Central Station to Poughkeepsie takes 90-minutes, making this an excellent day trip. The train station is only a few blocks from the Ice House. It currently takes about 15-minutes to walk from the station to the Walkway over the Hudson. An elevator is scheduled to open in June that will conveniently whisk you from the train station directly to a scenic point on walkway.
Allison is a native New Yorker, who has lived in Rome, Tuscany, Melbourne, Toronto and Los Angeles. She frequently contributes travel pieces to Family Travel Forum, using her own children as guinea pigs as they travel the globe. She is fluent in Italian and Spanish and laughably adequate in French. Her background as an Early Childhood Educator gives her an added understanding of what it takes to travel with kids in tow. She firmly believes that the most important part of education takes place outside of the classroom, on the road, around the world. She never misses a chance to sample local delicacies, as her love for travel goes hand-in-hand with her love for food and wine. Follow Allison at @gourmetrav.